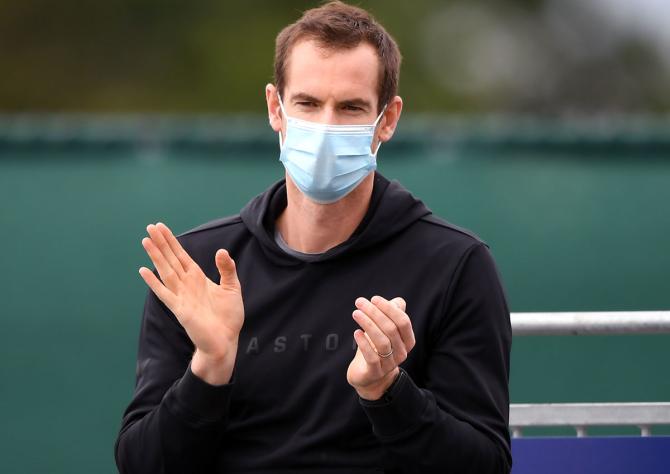 Andy Murray said a delay in receiving his COVID-19 test result on his return to Britain made him wait to seek treatment for a pelvic issue, but he was fit ahead of the French Open, which begins on Sunday.
Murray reached the second round at the U.S. Open this month in his first Grand Slam after hip surgery last year, but after developing a pelvic issue at Flushing Meadows the 33-year-old had to wait for a few days at home before meeting his doctor.
The BBC reported a scan later showed Murray had tendonitis of the psoas - a muscle which runs from the lower back to the top of the leg.
"We had to get a (COVID-19) test when we got back from New York and test negative before we could leave the house," Murray was quoted as saying by the BBC on Friday.
"There was a bit of an issue with my test. It took five or six days to come back, so I was in my house and I couldn't get that checked out."
Former world number one Murray, a finalist at Roland Garros in 2016, said he had since been practising without discomfort having arrived in Paris for the year's final Grand Slam.
"Once I started practising on the clay, I actually felt pretty good. I've been playing, I think, quite well," Murray, who received a wildcard entry to the French Open, said.
"Usually, it feels like it takes quite a long time to get used to the surface again, and it didn't feel like it had been three and a bit years since I had last played on it. It was better than what I expected."
Murray will meet Stan Wawrinka in the first round at Paris.
Verdasco questions French Open COVID-19 testing protocols after withdrawal
Spain's Fernando Verdasco questioned the French Open's COVID-19 testing protocols on Friday after having to withdraw from the tournament due to a positive result, which he deemed was false.
Verdasco, 36, pulled out of the final Grand Slam of the year in Paris on Thursday, alongside Canada's Milos Raonic and Switzerland's Belinda Bencic.
The Spaniard said he had returned a negative result on several occasions before he arrived in Paris, including at this month's Italian Open in Rome, where he lost in the qualifiers.
The world number 58 criticised the French Open's testing procedures after he was denied a re-test.
"In August, I passed the COVID-19 asymptomatically," he said in a statement on Twitter.
"Since then I have done multiple PCR tests, with negative results... I tested negative again a few days ago in the test I took before going to Hamburg...
"My team and family travelled to Paris on Tuesday... they all tested negative except me. I explained my history and situation to try to request another test...
"The Roland Garros organisation refused to do another test, even taking into account all these circumstances, and that there were enough days to repeat the tests before the competition and the draw ceremony. Still, I was disqualified."
Verdasco said he had undergone two Polymerase Chain Reaction (PCR) tests and an antibody test since his withdrawal from the French Open and returned a negative result in all three tests.
"I want to communicate my total frustration and outrage with the organisation of Roland Garros for taking away my right to participate even without giving me the opportunity to take another test with a new sample to confirm that the result of the first could be an error," he said.
On Wednesday, Bosnian Damir Dzumhur said he was taking legal action against the French Open organisers after he was barred from entering the qualification round after his coach Petar Popovic tested positive for the virus.
The French Open, moved from its usual late May-June slot due to the novel coronavirus pandemic, begins on Sunday.