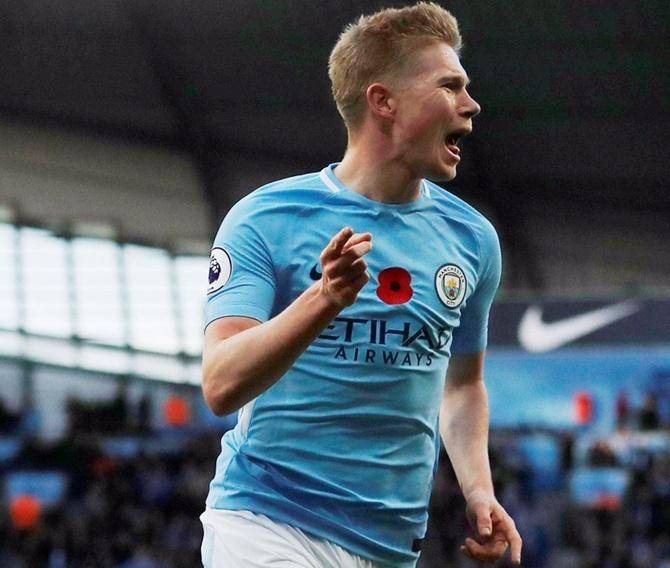 Manchester City midfielder Kevin De Bruyne has deferred his retirement by "two more years" after the coronavirus lockdown made him realise how much he will miss football when he finishes his career.
The pandemic has brought global sport to a virtual standstill with events postponed, suspended or cancelled. The Premier League season has been suspended until at least April 30 after positive cases in several teams deemed it necessary.
After an injury-plagued 2018-19 campaign, De Bruyne was back to his best this season, leading the league with 16 assists and on course to break the Premier League record of 20 in a season before the league was suspended last month.
"I told my wife I'm going to play a little longer," De Bruyne, 28, said in a live video on his Instagram page.
"After this lockdown, I cannot stay at home. I told her I'm going to take two years more.
"It's time to play football again. I miss it and it's difficult. But we are not important, football is not important. People love football... but you need to stay safe."
De Bruyne said he and his family were in self-isolation after his children fell ill last month, which is why he did not travel back to his native Belgium.
"I've been at home now for two weeks," De Bruyne added.
"At the beginning, my family and my kids were a little bit sick so that was a little bit worrying but they are alright now.
"It took eight or nine days... but now they're better luckily as you never know what is going to happen.
"People ask why I'm not in Belgium. It's because I'm self-isolating in England. I live here so I'm here with my kids and wife."
City were second in the league standings and leading Real Madrid 2-1 after the first leg of their Champions League last-16 tie before the season was suspended.
Griezmann missing football 'tremendously', Solskjaer appreciates family time
Barcelona's Antoine Griezmann said that he is missing football 'tremendously'.
"I miss football tremendously, but nothing can be done. I have no idea when the competition will resume or when we will resume training," the club's official website quoted Griezmann as saying.
Griezmann, like the rest of his peers, is spending his days at home due to the coronavirus pandemic.
As the coronavirus pandemic has made all footballers stay at home, Manchester United manager Ole Gunnar Solskjaer said that they can use this period 'to work on something special'.
"Yeah, the players have got individual programmes and they've got their own diets, of course, and this period could be used to work on something special, something specific for them and their roles and tasks," the club's official website quoted Solskjaer as saying.
"I'm good. The family is good. One of the downsides of football is you don't get too much time with your family and the flipside now is you get loads of time with them. It's been nice to spend some time with them," he said.
Due to the deadly virus, the Premier League has been postponed until at least April 30.
The virus has taken a huge toll on sports all across the globe and forced the postponement of several competitions including the 2020 Tokyo Olympics.
There are 754,948 people worldwide who have been infected with the coronavirus, announced the World Health Organization adding that 36,571 have died from it so far.
The virus has spread to more than 200 countries and territories since it emerged in China in late December.