Women's tennis star Serena Williams was named the 2015 winner on Monday.
Williams is the first woman to be recognized with the honor as an individual since Mary Decker in 1983, and the magazine took the opportunity to rename its award from Sportsman of the Year to Sportsperson of the Year.
Following is a list of winners of the Sportsperson of the Year award by Sports Illustrated magazine.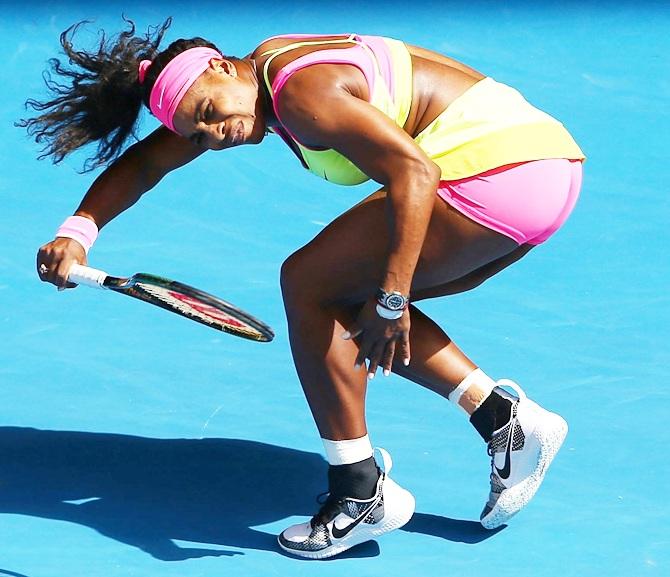 IMAGE: USA's Serena Williams plays a forehand. Photograph: Cameron Spencer/Getty Images
1956 - Bobby Morrow, Track
1957 - Stan Musial, Baseball
1958 - Rafer Johnson, Track
1959 - Ingemar Johansson, Boxing
1960 - Arnold Palmer, Golf
1961 - Jerry Lucas, College Basketball
1962 - Terry Baker, College Football
1963 - Pete Rozelle, Pro Football
1964 - Ken Venturi, Golf
1965 - Sandy Koufax, Baseball
1966 - Jim Ryun, Track
1967 - Carl Yastrzemski, Baseball
1968 - Bill Russell, Pro Basketball
1969 - Tom Seaver, Baseball
1970 - Bobby Orr, Pro Hockey
1971 - Lee Trevino, Golf
1972 - Billie Jean King, Tennis; John Wooden, College Basketball
1973 - Jackie Stewart, Auto Racing
1974 - Muhammad Ali, Boxing
1975 - Pete Rose, Baseball
1976 - Chris Evert, Tennis
1977 - Steve Cauthen, Horse Racing
1978 - Jack Nicklaus, Golf
1979 - Terry Bradshaw, Pro Football; Willie Stargell, Baseball
1980 - US Olympic Hockey Team
1981 - Sugar Ray Leonard, Boxing
1982 - Wayne Gretzky, Pro Hockey
1983 - Mary Decker, Track
1984 - Edwin Moses, Track; Mary Lou Retton, Gymnastics
1985 - Kareem Abdul-Jabbar, Pro Basketball
1986 - Joe Paterno, College Football
1987 - Athletes Who Care
1988 - Orel Hershiser, Baseball
1989 - Greg LeMond, Cycling
1990 - Joe Montana, Pro Football
1991 - Michael Jordan, Pro Basketball
1992 - Arthur Ashe,Tennis
1993 - Don Shula, Pro Football
1994 - Bonnie Blair, Speed Skating; Johann Olav Koss, Speed Skating
1995 - Cal Ripken Jr., Baseball
1996 - Tiger Woods, Golf
1997 - Dean Smith, College Basketball
1998 - Mark McGwire, Baseball; Sammy Sosa, Baseball
1999 - U.S. Women's National Soccer Team
2000 - Tiger Woods, Golf
2001 - Randy Johnson, Baseball; Curt Schilling, Baseball
2002 - Lance Armstrong, Cycling
2003 - Tim Duncan, Pro Basketball; David Robinson, Pro Basketball
2004 - Boston Red Sox
2005 - Tom Brady, Pro Football
2006 - Dwyane Wade, Pro Basketball
2007 - Brett Favre, Pro Football
2008 - Michael Phelps, Swimming
2009 - Derek Jeter, Baseball
2010 - Drew Brees, Pro Football
2011 - Pat Summitt, College Basketball; Mike Krzyzewski, College Basketball
2012 - LeBron James, Pro Basketball
2013 - Peyton Manning, Pro Football
2014 - Madison Bumgarner, Baseball
2015 - Serena Williams, Tennis