A confident Rohan Bopanna will take on Thomaz Bellucci in the opening match of the Davis Cup World Group play-off tie between India and Brazil in Chennai on Friday.
The draw for the tie was held at the Nungambakkam stadium on Thursday, and M Karunanidhi, the chief minister of Tamil Nadu, did the honours.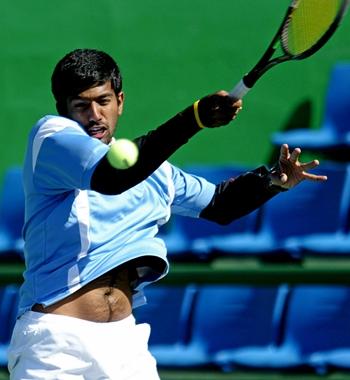 Somdev Devvarman, India's top-ranked player (at 113), will take on the Brazilian No 2, Ricardo Mello, in the second match.
Bopanna, riding high after his good show at the recent US Open, will nonetheless have a tough task on hand against a fast rising player. Bellucci is ranked at No 27 as opposed to the Indian's No 476.
However, his recent form as also the fact that this is a home tie for India, are factors that Bopanna felt would work in his favour.
"It is going to be a tough match for sure," said Bopanna, on a cautious note. "But I will play my best and hopefully come out as the winner," he added.
Somdev, on the other hand, seemed confident about his chances against Mello.
"I have been playing some quality tennis in the last few weeks and, therefore, I like my chances tomorrow," he said.
The 25-year-old was quick to add that the player who takes his chances will emerge triumphant.
"I feel both of us have similar playing styles, as in both of us happen to be counter-punchers," said Somdev, adding, "It will be a game of few chances and the ones who takes them will come out as the winner."
Meanwhile, the ever-reliable doubles team of Leander Paes and Mahesh Bhupathi will take on the Brazilian combine of Bruno Soares and Marcelo Melo in Sunday's doubles clash.
The draw:
Friday: Thomaz Bellucci vs Rohan Bopanna; Somdev Devvarman vs Ricardo Mello
Saturday: Leander Paes and Mahesh Bhupathi vs Bruno Soares and Marcelo Melo
Sunday: Somdev Devvarman vs Thomaz Bellucci; Rohan Bopanna vs Ricardo Mello.