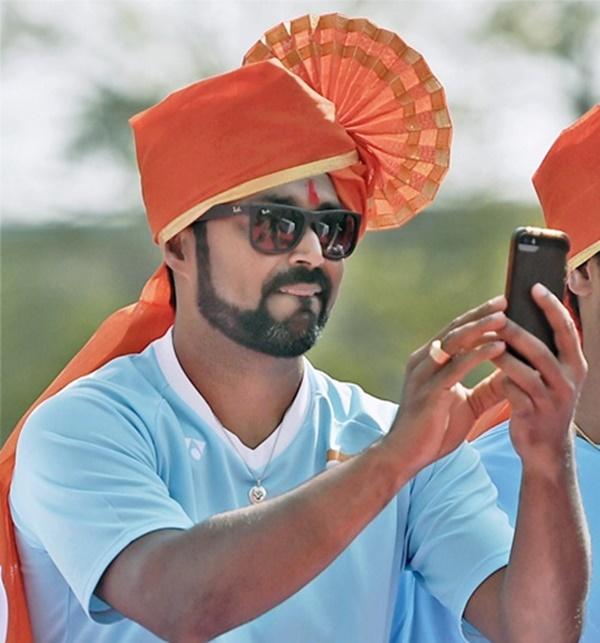 IMAGE: Indian tennis players Leander Paes. Photograph: PTI
India's Davis Cup non-playing captain Mahesh Bhupathi picked Rohan Bopanna for the Davis Cup match against Uzbekistan in Bengaluru from April 7 to 9.
Bhupathi said that the focus should be on winning all the matches instead of obsessing over one. India will take on Uzbekistan in an Asia/Oceania Zone Group 1 tie.
India's doubles combination for the tie has been a subject of speculation ever since Bhupathi picked four specialist singles players for the tie.
His decision to keep veteran Leander Paes and Rohan Bopanna in reserves raised quite a few eyebrows but one of the two was certain to make the squad after Yuki Bhambri pulled out owing to an injury breakdown.
Paes' Davis Cup world record will have to be put on hold. The 18-time Grand Slam champion is tied with Italian Nicola Pietrangeli for most wins in doubles in Davis Cup history. The two players have 42 wins.
Paes, who made his Davis Cup debut against Japan in 1990 at Jaipur, has been dropped from the Davis Cup team on form for the first time in 27 years.
Bhupathi instead selected Rohan Bopanna to pair with Sriram Balaji in the second round Davis Cup tie in Group 1 of the Asia/Oceania zone to be played at the KSLTA.
Bopanna and Balaji will feature in the doubles match against Farrukh Dustov and Sanjar Fayziev. Bopanna is ranked 23rd in the world -- 34 spots above Paes.
Ramkumar Ramanathan will now spearhead India's singles challenge in place of injured Yuki Bhambri.
Ramanathan will face Temur Ismailov in the first singles rubber tomorrow. Prajnesh Gunneswaran, who replaced the injured Bhambri, will then take on Fayziev in the second singles rubber.
In the reverse singles on Sunday, Ramanathan will face Fayziev and Gunneswaran will play the final rubber against Ismai.