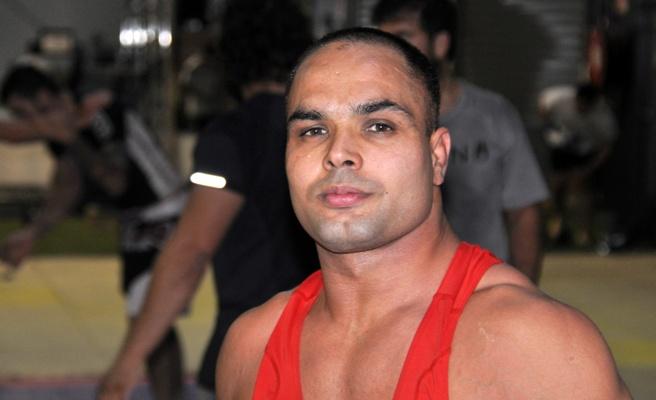 IMAGE: Wrestler Vinod Kumar is pictured during a workout session at a gym in Melbourne. Photograph: Ian Ransom/Reuters.
Australian wrestler Vinod Kumar failed a doping test during an Olympic qualification event in Algeria in April and is set to be dropped from the team for the Rio Games.
The Australian Olympic Committee (AOC) said in a statement on Friday both Kumar's 'A' and 'B' samples tested positive for an unspecified banned substance following the African/Oceania qualifier in Algiers.
"The Australian Olympic Committee has asked Wrestling Australia to withdraw the nomination of athlete Vinod Kumar for the Rio 2016 Olympic Games following an anti-doping violation," the AOC said.
"The international federation, United World Wrestling, has advised they will reallocate his position in the 66kg division to the next best ranked NOC."
The 31-year-old, who was born in India but emigrated to Australia in 2010 and first competed for his adopted country in March, has been suspended for four years but has 30 days in which to appeal to the Court of Arbitration for Sport.
He was one of two Greco-Roman wrestlers from Australia to have qualified for the Rio Games. Two other Australian freestyle wrestlers have also qualified.
Meanwhile, Kumar has hired lawyers in a bid to clear his name and compete at the Rio Olympics after he was hit with a four-year ban for failing a doping test during a qualification event.
His coach, Kostya Ermakovich, told Reuters that Kumar, who was training in Germany, was devastated and had no idea how he had failed the test.
"You should see how upset he is," Ermakovich told Reuters by telephone. "He's really depressed. He's 100 percent sure he didn't do anything wrong.
"He's got lawyers to fight this for him.
"We're going to appeal because we don't know what's going on."
Kumar emigrated to Australia in 2010 and first competed for his adopted country in March.
Ermakovich said he was uncertain what Kumar had tested positive for but insisted his wrestler was not a drugs cheat.
"I'm shattered by this ... The only thing he said he was taking was protein shakes," he said.
"I don't need to know about any of these things. But I said to all my athletes, 'you should never take proteins or supplements or anything'. I warned them all the time.
"Vinod's English is really poor. Maybe he couldn't read the labels properly or (the protein shakes) didn't have a full description of their ingredients."