Images from Day 5 of the Australian Open in Melbourne on Friday.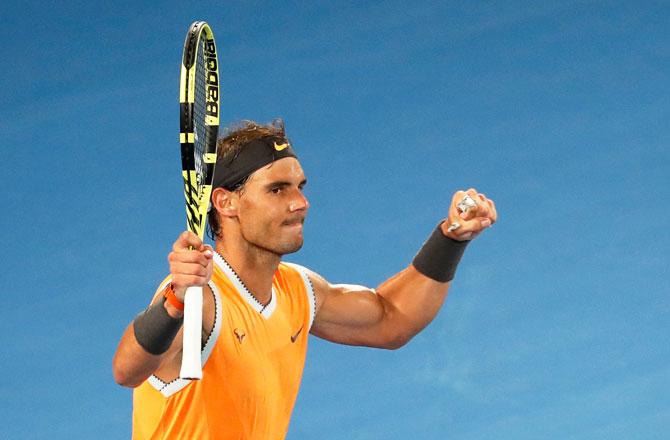 Rafael Nadal subdued Alex de Minaur 6-1, 6-2, 6-4 in their third round clash at the Australian Open on Friday after dominating the home town's top-ranked male player.
The second seed comfortably controlled baseline exchanges, forcing the young Australian to take ever greater risks to compete with the 17 times Grand Slam champion.
"I tried to make him feel that my ball was good enough that he was not (in) control of the point -- almost never," Nadal said.
The Spaniard has won three consecutive straight sets matches against Australians, and will play Czech Republic's Tomas Berdych in the fourth round.
Alarm bells started ringing at the packed centre court almost as soon as the Friday match started.
Nadal held his service game easily, while de Minaur needed 16 points to hold serve, raising immediate questions over whether the young Australian could keep up with his Spanish opponent.
It was the only game de Minaur won that set.
Nadal, who later described his opponent as probably the quickest player on tour, exerted similar pressure in the first game of the second set. This time he broke de Minaur's serve after a marathon 20-point game.
With superior firepower on his ground strokes, Nadal could take control of baseline exchanges without taking too many risks.
De Minaur tried to lift his tempo to prevent being bullied around the court - a tactic that naturally carries more risk, and one that he could not successfully sustain.
A packed centre court stadium tried desperately to encourage their charge, but the 19-year-old had his work cut-out trying to hold his own service games, let alone pressure Nadal on his.
"If I could have just held on a little bit more with my serve, applied a bit more pressure early on in the sets, then maybe I could have got... more chances on his serve," de Minaur said.
De Minaur saved five match points before succumbing in an identical scoreline to the pair's third round Wimbledon match-up last year.
Although mainly known for his aggressive ground game, Nadal recorded a very high first serve percentage (75), leaving his opponent very few opportunities.
The strong serving display also sounded a timely warning to the rest of the field that Nadal is a bona fide contender for the title despite coming into the tournament under an injury cloud.
Roger Federer and Novak Djokovic are both searching for a record seventh Australian Open title in Melbourne, while a younger generation led by Germany's Alexander Zverev are looking to unseat the aging champions.
Sharapova knocks out defending champ Wozniacki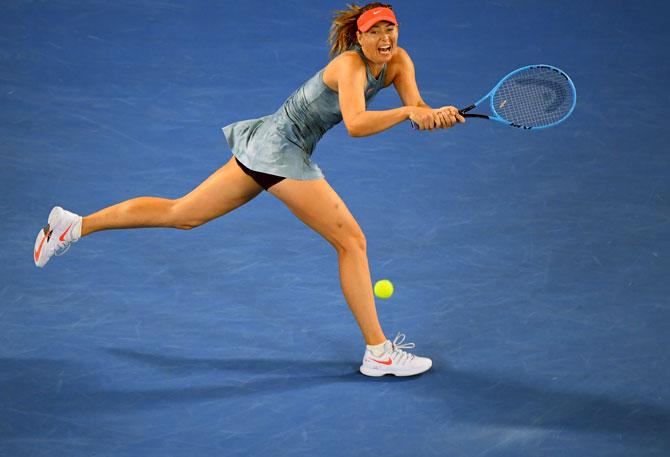 Maria Sharapova scorched the Rod Laver Arena with her aggressive tennis to eliminate defending Australian Open champion Caroline Wozniacki 6-4, 4-6, 6-3 in the third round on Friday.

Five-times Grand Slam champion Sharapova, who won her last major at the 2014 French Open, hit 37 winners against 10 from her opponent and converted her second matchpoint to set up a fourth round clash against Australia number one Ashleigh Barty.
Sharapova, who won the Australian Open in 2008, headed into the match with a 6-4 lead in their previous meetings and went for her shots from the first point making it difficult for the third-ranked Dane with a game built on defence.

"I thought the level was quite high. She is the defending champion of this event and it's no secret she loves this arena," Sharapova said in a courtside interview.

"These are the types of matches I train for so it's really rewarding to win that last point. I'm definitely not walking around thinking I have experience and think they're just going to give it to me."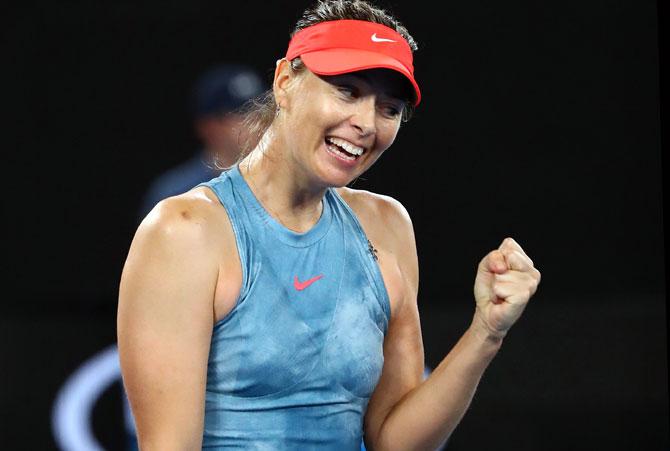 Wozniacki had the first break but handed the advantage back with a double fault before the Russian 30th seed, who was suspended for 15 months for taking banned drug meldonium in 2016, won three consecutive games to take the set.

After a trade of breaks, Wozniacki took the match into a deciding set after a double fault from Sharapova gave her a set point which she converted to level the entertaining encounter on Rod Laver Arena at 1-1.

Sharapova shrieked in delight after converting her third breakpoint in the seventh game with a scorching forehand and broke Wozniacki again to seal the victory in two hours and 24 minutes.

Sharapova will brace for a hostile crowd in the fourth round when she takes on local hope Barty, who beat Greek Maria Sakkari 7-5 6-1.

"I think her story is phenomenal, she loves playing here," Sharapova said of her next opponent. "I know it's going to be a tough crowd but I go out here to perform and play tennis."
Federer races into last 16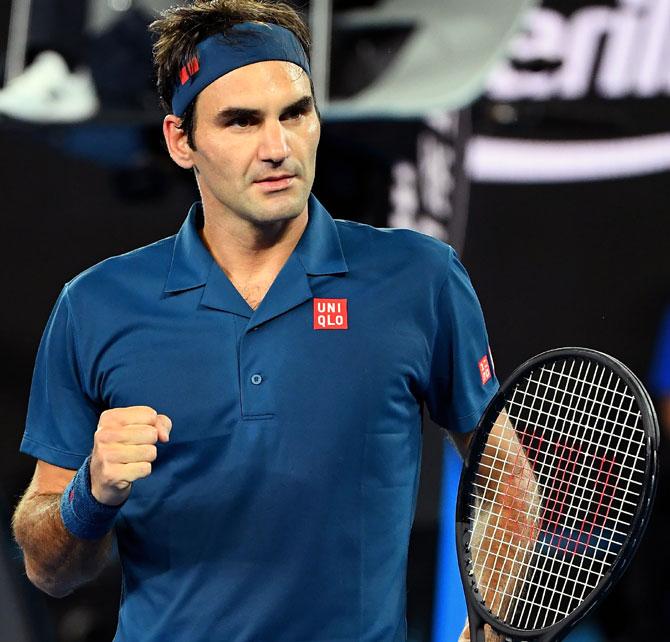 Roger Federer celebrated his 100th match at the Australian Open on Friday by giving young American Taylor Fritz a centre court schooling to reach the last 16 and set up a mouthwatering clash with 'Next Gen' champion Stefanos Tsitsipas.

Chasing a record seventh Melbourne title and his third in succession, the 37-year-old Swiss has been in ominous form at the year's first Grand Slam and his 6-2, 7-5, 6-2 masterclass at Rod Laver Arena was another warning to the Tour's upstarts.

Fritz, 21, was meant to offer Federer a meaningful test with his prodigious serve and powerful ground-strokes but was instead sent packing after less than 90 minutes.

Third seed Federer tied the American in knots with a sumptuous array of drop shots, angled volleys and winners conjured seemingly at will from behind the baseline.

Fans hoping for change at the top of men's tennis will look to Greek trailblazer Tsitsipas to give Federer a better shake.

The shaggy-haired 20-year-old, who capped a breakout season by claiming the Next Gen ATP Finals in Milan in December, has ridden a wave of support from Melbourne's huge Greek community at the tournament.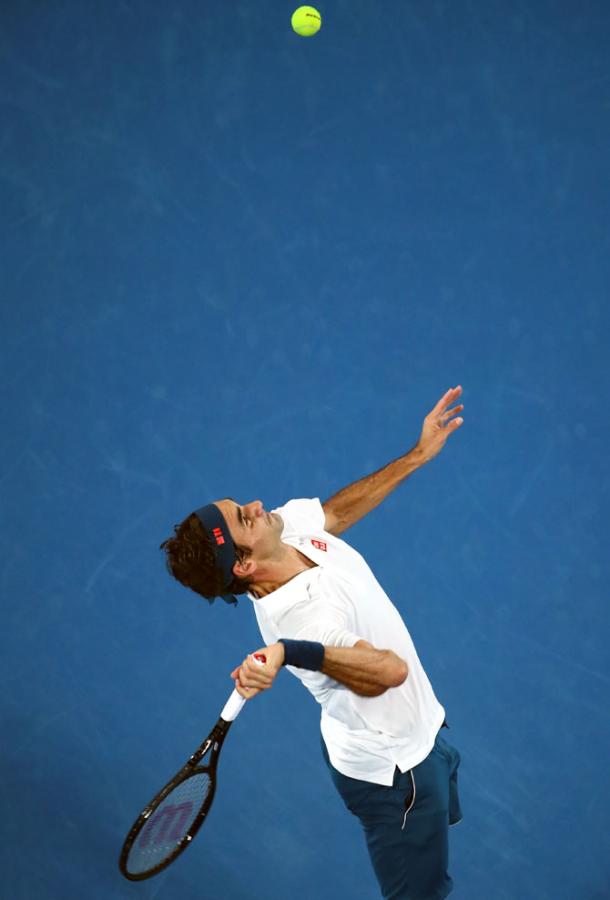 Federer has his own army of fans at Melbourne Park, however, and they hung on his every word as he delivered words of encouragement to the young pretenders seeking to knock him off the perch.

"They're doing great, what do you want me to tell you?" he told Jim Courier in his on-court interview.

"We all want them to win the big stuff but it just takes time ... I'm still giving them a hard time sometimes."

Federer has reached the fourth round of a Grand Slam for a record-extending 63rd time in the professional era and may still be the best equipped player to deny top seed Novak Djokovic from claiming a third Grand Slam title in succession.

Citing Jamaican sprinter Merlene Ottey, who won an Olympic silver at 40 and continued to run into her fifties, a reporter asked Federer whether his best might still be to come.

"No, I don't think so," he said bluntly.

"I think the last 10 years have been a lot of fun, maybe more fun than the first 10, I'm not sure.

"But yeah, I don't think with four children and with the career that I have had and my body, I want it to be somewhat healthy -- and healthy actually when I retire.

"I don't think that's a good idea, you know, to be quite honest."
Kerber completes Australian horror show at Rod Laver Arena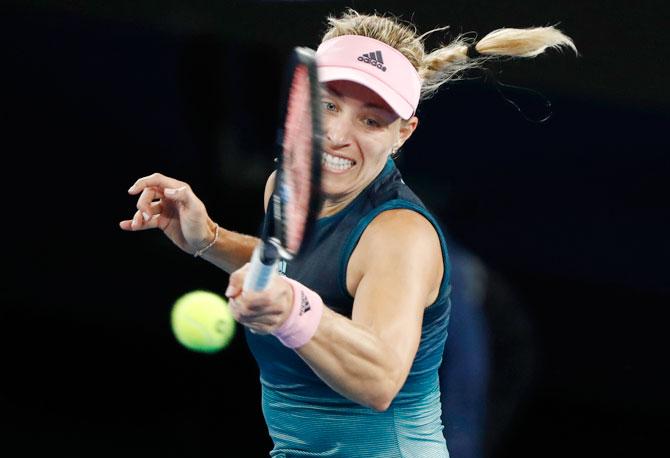 Birthday girl Angelique Kerber thrashed Australian wildcard Kimberly Birrell 6-1, 6-0 to reach the fourth round of the Australian Open on Friday and complete a late-night horror show for the locals at Rod Laver Arena.
On the day of her 31st birthday, the German former champion has enjoyed a stellar start at Melbourne Park and 240th-ranked Birrell had nowhere to hide in front of a packed centre court crowd.
The match followed Rafael Nadal's straight sets demolition of Australian number one Alex De Minaur.
Roaring through the first set in 27 minutes, Kerber's procession was held up briefly as Birrell saved three match points.
Yet the former World No 1 made no mistake on the fourth, rushing forward to hammer a forehand winner down the line to set up a clash against American Danielle Collins.
Dimitrov happy to fly under the radar in Melbourne
Grigor Dimitrov may have not featured in many Australian Open title prediction lists at the start of the tournament but he continues to grow in confidence under the watchful eyes of coach Andre Agassi.
The 27-year-old Bulgarian powered past Italian Thomas Fabbiano 7-6 (5), 6-4, 6-4 to reach the last 16 in just over two hours at Melbourne Arena on Friday, staying on course for a potential quarter-final against second seed Rafa Nadal.
Despite showing glimpses of his sparkling form of 2017 when he reached a career-high ranking of world number three, Dimitrov is happy to work away in the shadows without any added external pressures.
"I mean, it's great. Stealth," he told reporters at Melbourne Park.
"You just got to beat one opponent at a time. Doesn't matter on what stage you are, what round you are. For me, this is a great way obviously to start this tournament. Already have a few wins under my belt."
Dimitrov looked set to take the next step when he lifted the ATP Finals title in 2017 but his inconsistent form on the Tour, including three early exits at Grand Slams, meant he has dropped down to 21 in the rankings.
Having added Agassi to his coaching team at the end of last season, Dimitrov is now keen to draw from the American's two decades' worth of experience on the circuit.
"For him to sit in my box, spend whatever, eight, ten hours a day with me, it's already a plus. I mean, this is the most valuable thing: the time," he added.
"I feel like I'm learning so much on and off the court.
"He's travelled the road for so many years. Been there, done that. I feel I can relate to him in terms of whatever I felt, let's say after a match, during a match, we can kind of communicate easier."
Dimitrov will next face Frances Tiafoe, who is the last American man standing in the singles draw.
Tiafoe rips into fourth round with LeBron James-inspired celebration
Young American Frances Tiafoe has attributed his entertaining post-match celebrations to basketballer LeBron James after extending his stellar run at the Australian Open with a 6-7(3), 6-3, 4-6, 6-4, 6-3 third round victory against Italian veteran Andreas Seppi on Friday.
Tiafoe, who turns 21 on Sunday, has become a crowd favourite in Australia because of his shirt-ripping, fist-pumping routines which he said are spontaneous, but inspired by the basketball great.
"Just try to bring something in tennis," he said.
"Obviously you guys know I'm a big basketball fan. Love the team celebrations."
Asked by reporters after his match what he liked about the Los Angeles Lakers star, Tiafoe responded: "What don't you like about LeBron?"
Brimming with confidence after dispatching fifth seed Kevin Anderson in the second round, Tiafoe came from two sets to one down on Friday in his best ever Grand Slam run.
After unleashing a forehand winner down the line to seal the win, he tore off his shirt, pounded his chest and yelled "Yeah!" at the terraces.
He went back to his chair, pounded it with his hands like a drum before sitting down to soak up the moment as fans chanted his name.
"I love playing in big stages, I always play well," Tiafoe said.
"Now I just kind of thrive for those moments, I want those moments."
He will play Grigor Dimitrov, seeded 20, in the fourth round.
Tiafoe is the last American man standing in the singles draw in an otherwise disappointing tournament for US men's tennis.
However, the first major of the year does show the country has some fast-emerging talents after 17-year-old Amanda Anisimova stunned 11th seed Aryna Sabalenka to storm into the fourth round.
Khachanov 'ashamed' after early exit
Tipped to challenge the Grand Slam dominance of the old guard of men's tennis at the Australian Open, Russian young gun Karen Khachanov was instead left hanging his head after a stinging third-round loss to Roberto Bautista Agut on Friday.
The 22-year-old 10th seed was sent packing after a 6-4, 7-5, 6-4 defeat to Spaniard Bautista Agut, who has continued his fine start after knocking out injured former world number one Andy Murray in the first round.
Having stunned Novak Djokovic to win the Paris Masters in November, the hard-hitting Muscovite was rated one of the "5 Players" to challenge the Serbian favourite at Melbourne Park by the ATP's website.
However, he will head off after squandering a favourable draw and a good chance to crack his maiden Grand Slam quarter-finals.
"I'm a little bit ashamed of my attitude today," Khachanov told Reuters ruefully at Melbourne Park.
"That could be better. But again, I couldn't manage this during the match. Now I see it more clear, but it was too late.
"It wasn't about fighting, I wanted to play good, I wanted to win, but it was just about showing emotions.
"When you are angry, when you are scared, it takes away a little bit of concentration and a little bit of focus and it (showed)."
The more experienced Khachanov will not be among the young thrusters pushing deep into the Grand Slam, until at least the French Open.
"I don't think it's Grand Slam nerves," he said. "It's the first Grand Slam of the year, I think the other matches I played better.
"I think my game in general, there is always something to improve.
"Everything is a positive if you go forward with a clear mind."
Khachanov said he was still happy to be talked about as one of the tour's 'next big things' -- a title that has previously weighed heavily on players such as Nick Kyrgios and Grigor Dimitrov.
"Yes, I am. Why not?" he shrugged.
Barty party continues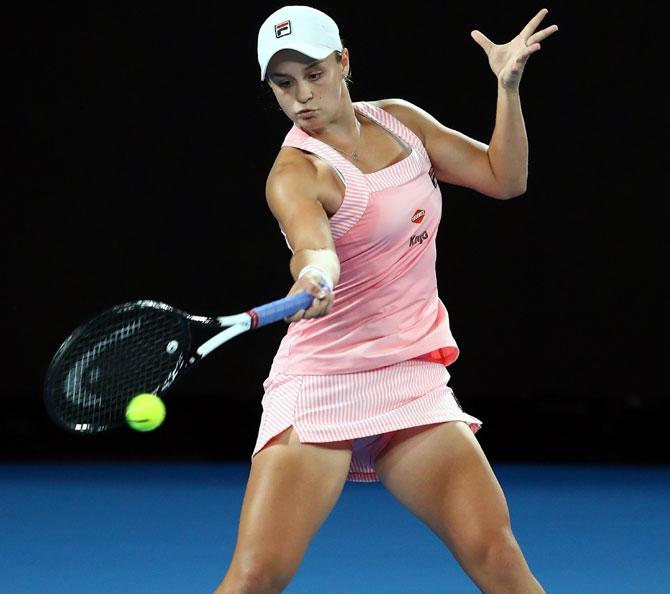 Ashleigh Barty eased past Greek Maria Sakkari 7-5, 6-1 to advance to the fourth round of the Australian Open on Friday, keeping alive local hopes of a home women's champion.

Australians have had limited success in the tournament despite boasting several Grand Slam singles champions like Samantha Stosur, Lleyton Hewitt and Pat Rafter since the 1990s.

No Australian man or woman has won the singles title at their home Grand Slam since the 1970s. The last women's finalist was Wendy Turnbull in 1980, while Hewitt lost the 2005 final to Russia's Marat Safin.

The 15th-seeded Barty arrived in Melbourne after a final appearance at the Sydney international, where she also beat world number one Simona Halep, and has looked untroubled in the year's first Grand Slam.

The 22-year-old has looked in control and was yet to lose a set in the ongoing tournament.

Under a closed roof at the Rod Laver Arena due to morning showers, Barty broke Sakkari twice in each set to seal the win in an hour and 22 minutes.

Barty, who has also played elite-level cricket, served 13 aces without a double-fault and matched her best Grand Slam showing after reaching the last 16 stage at the 2018 U.S. Open.

"You have to keep giving yourself the opportunity to do better and better," she told reporters. "It's all trusting in the process and the work that my team and myself has done in the preseason, and throughout the last 18 months, two years.

"We're continuing to chip away every single day and get better as a person and as a player every single day and continue to develop my game.

"It's getting to the point now where I'm feeling more and more comfortable on the court and can play my brand of tennis, which when I execute I know it works against the best in the world."
Teenager Anisimova dismisses Sabalenka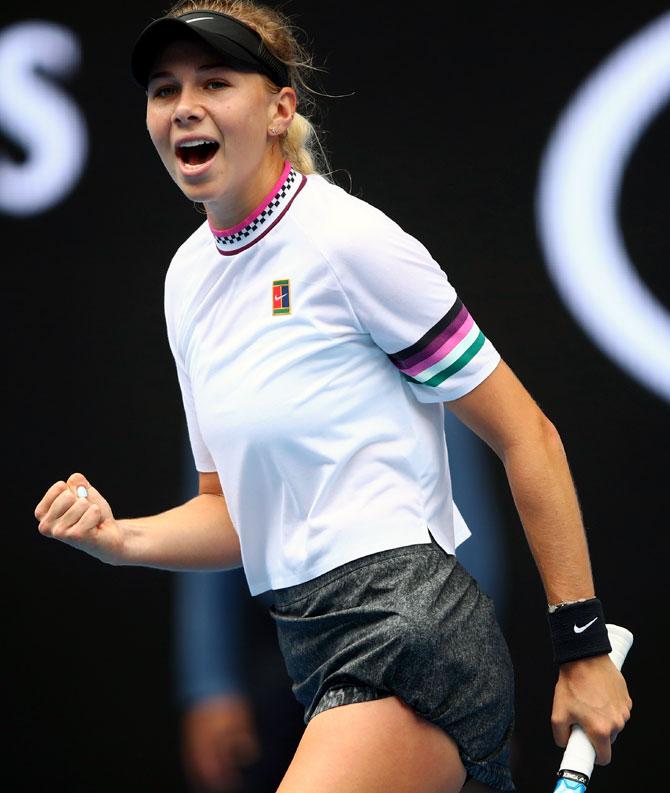 Young American Amanda Anisimova upstaged 11th seed Aryna Sabalenka 6-3 6-2, hitting her way into the fourth round of the Australian Open on Friday.
The fearless 17-year-old bullied her much higher ranked opponent who looked shell-shocked by the power being generated at the other end of the court.
It was Anisimova's third consecutive straight sets win, which included a 6-0 6-2 destruction of 24th seed Lesia Tsurenko, signalling the arrival of a genuine new talent in the women's game.
Anisimova, the youngest competitor in the draw, will play the winner of Petra Kvitova and Belinda Bencic in the fourth round.

Berdych quells Schwartzman challenge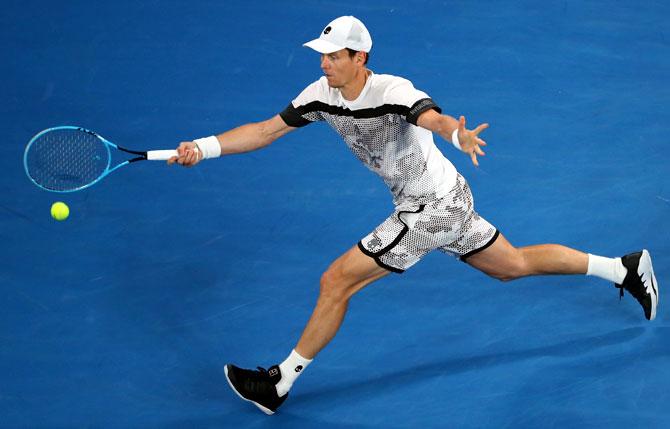 Tomas Berdych dropped the opening set but recovered to overcome Diego Schwartzman 5-7, 6-3, 7-5, 6-4.

The Czech missed the last six months of 2018 due to a back issue but has since returned to form, reaching the final of the Qatar Open earlier this month.