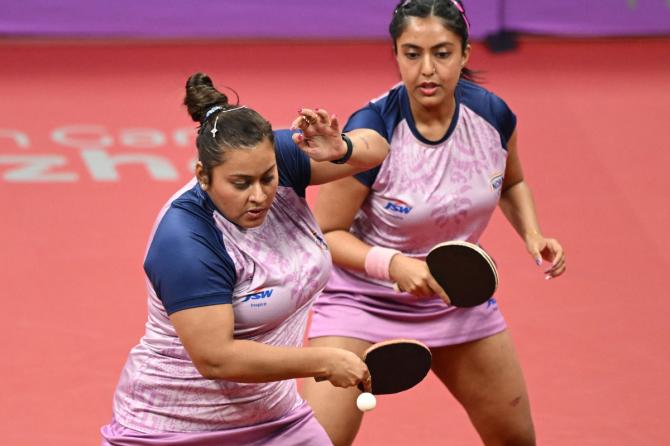 Sutirtha Mukherjee and Auhika Mukherjee's giant-slaying run ended with a historic bronze medal at the Asian Games after the Indian duo lost the closely-fought women's doubles semi-final 3-4 to North Korea in Hangzhou on Monday.
Sutirtha and Ayhika lost 3-4 (11-7, 8-11, 11-7, 8-11, 9-11, 11-5, 2-11) to Suyong Cha and Sugyong Pak but grabbed the bronze following a sensational victory over world champions from China on Saturday.
With the result, the Indian challenge ended at the Games. The medal came from an unexpected event with the Indian duo beating the Chinese pair of Meng Chen and Yidi Wang in the quarter-finals.
In 2018, India made history by picking up an unprecedented men's team and mixed doubles bronze.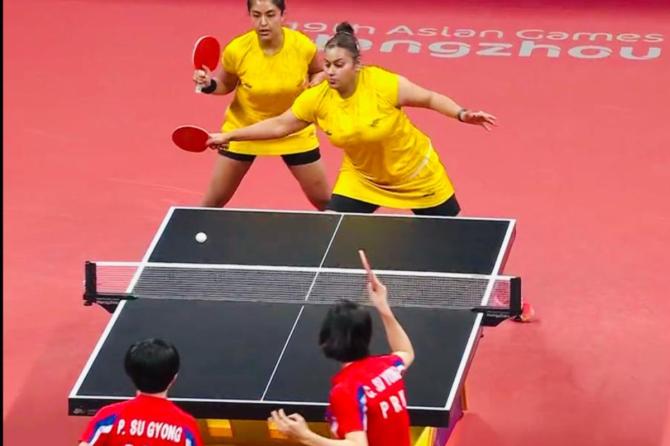 The difference in the contest on Monday from the quarter-final match was the fact that the North Koreans were not as troubled in the game by the anti-spin rubber of Ayhika unlike the rattled Chinese pair.
"We failed to show the patience, which they did. We were a little nervous in the last game and they attacked well to finish the points," said Sutirtha.
"But we are happy for a podium finish, the first in women's doubles," added Ayhika.
The Indians needed to sustain the attack in the last game but were not able to do so. In fact, the North Koreans went on a counter-offensive to take a 6-1 lead.
The spirited Indian pair had no answer to that and their fate was sealed when Sutirtha netted a forehand.
Nevertheless, it was still a monumental achievement by the Indians who are now ready to build on their success.