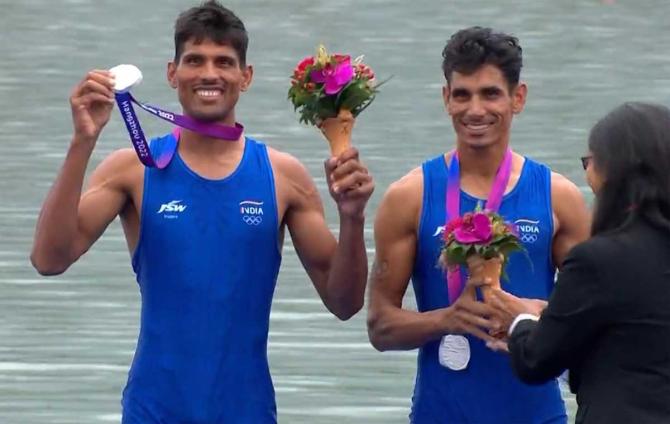 India's rowers powered their way to two silver and a bronze medal, launching their campaign in the Asian Games on a rollicking note in Hangzhou on Sunday.
On a pleasant morning with the conditions just perfect for rowing at the Fuyang Water Sports Centre, Arjun Lal Jat and Arvind Singh opened the country's account with a silver medal in the men's lightweight doubles sculls event.

The Indian duo clocked 6:28.18s to finish behind China's Junjie Fan and Man Sun, who won gold with 6:23.16s.

The Uzbekistan pair of Shakhzod Nurmatov and Sobirjon Safaroliyev bagged the bronze clocking 6:33.42s.

The silver was just the preview of the things to come as the gruelling men's coxed eight event saw a keen tussle between China and India before the latter finished second with a time of 5:43.01s, which was 2.84s behind the host team, which clocked 5:40.17.

The Indian men's coxed-eight team comprised Neeraj, Nareskh Kalwaniya, Neetish Kumar, Charanjeet Singh, Jaswinder Singh, Bheem Singh, Puneet Kumar and Ashish.

Indonesia, who clocked a time of 5:45.51s were third.

The achievement is all the more creditable given that rowers from powerhouse Uzbekistan and Japan finished fourth and fifth respectively.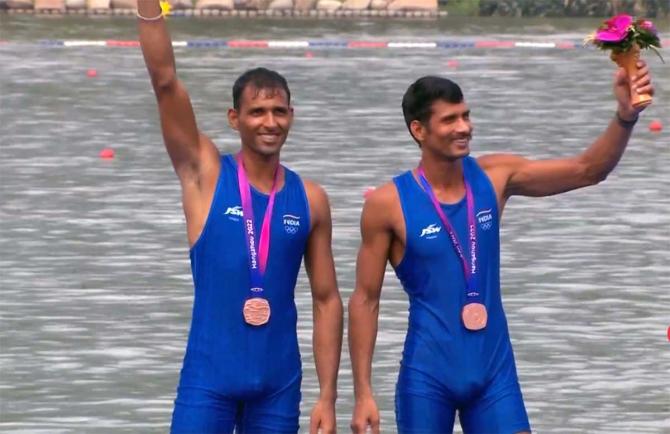 In the coxless pair event, India Babulal Yadav and Lekh Ram had to settle for bronze with a time of 6:50.41 sec, behind gold medallists Hong Kong, China (6:44.20 sec) and Uzbekistan 6:48.11.

India has sent a huge contingent of 33 rowers at the continental games.

Arvind, following his exploits in lightweight doubles sculls, said the pair was aiming for gold but an injury setback two months back had hampered training.

"We missed training for 20 to 25 days as I was having lower-back pain two months back. Otherwise, we would have won the gold medal," said Arvind.

He added that their next target will be to aim for glory at the 2024 Paris Olympics.

"We will now work for the Paris Olympics and then try to win gold at the 2026 Asian Games."

Arvind credited his quick recovery to his physiotherapist.

"I did recovery-related exercises and our physiotherapist prepared me very well to regain strength. He helped me recover in one month," added Arvind.

His team-mate Arjun too said that they had the gold medal on their mind when they started the race.

"Gold was the target but we did our best. Our coach told us to just do our best. We could not do our (personal) best of 6:19, which we did at our Army nodal centre in Pune," said Arjun.

On the reason they fell back after taking a sizeable lead around the 500m mark, Arjun said, "We pushed hard and did our best today."