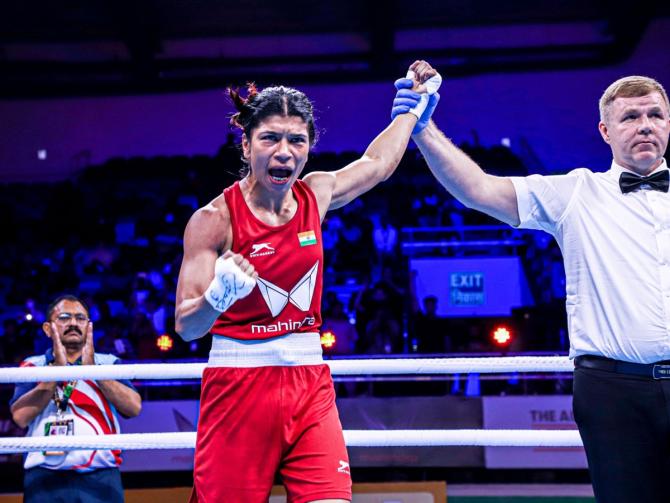 Two-time world champion Nikhat Zareen cruised to the 50kg quarterfinals but seasoned Indian pugilist Shiva Thapa and Sanjeet bowed out of the Asian Games boxing competition in Hangzhou on Wednesday.
Nikhat notched up an easy 5-0 win over South Korea's Chorong Bak in the second round of the women's event.
However, record six-time Asian Championship medallist Shiva couldn't capitalise on a favourable draw as he was beaten comprehensively (5-0) by Kyrgyzstan's Askat Kultaev in the 63.5kg pre-quarterfinals.
Sanjeet (92kg) was completely outpunched (5-0) by world championship bronze medallist Lazizbek Mullojonov.
After two back-to-back losses in the day, Nikhat gave the Indian camp something to cheer about with her dominant display. After sizing up her opponent, Nikhat released a series of punches, using her longer reach effectively.
The Indian controlled the proceedings but Bak made her task difficult by moving around the ring. Nikhat landed a couple of left crosses to end the second round.
After taking the opening two rounds, Nikhat conserved energy like she did in her previous bout, evading attacks by Bak to move to the quarters.
Earlier, Shiva, who received a first round bye, was beaten by Kultaev's relentless attacks and pace in a draining pre-quarterfinal bout.
It is a shocking defeat as Shiva was a strong medal contender.
Kultaev started off aggressively, as his onslaught caught Shiva off guard. The Indian took a few seconds to regroup and connect his powerful hooks.
But at a slight height disadvantage, Shiva was forced to fight from a distance with the judges ruling the first round 4-1 in favour of Aksat.
The 21-year-old from Kyrgyzstan continued his attacks in the second round. He kept throwing punches which didn't necessarily connect but it forced Shiva to defend.
Shiva was more patient with his punches, which cost the Assam boxer the second round.
Trailing, Shiva tried his best to land a flurry of punches in the final three minutes but his younger opponent stepped back and defended easily.
In the second Indian bout of the day, Sanjeet found it tough to respond to the 2022 super heavyweight Asian Champions' punches and was forced to go into a defensive mode.
Trailing 0-5, Sanjeet lost his balance after being struck by Mullojonov's punch, which got him an eight count.