Fernando Alonso, the youngest Formula One champion in history, was honoured with Spain's top international sporting honour before adoring fans in his home town on Friday.
A smiling Alonso, hand on heart, accepted the Principe de Asturias sports award at a glittering ceremony in the northern city of Oviedo attended by Spain's Queen Sofia and Crown Prince Felipe -- the Prince of Asturias who the award is named after.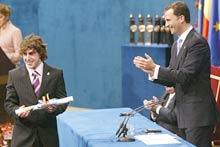 "The tenacity and desire to win which he has worked with since he was a child have carried him to the top in a sporting discipline of enormous difficulty...," Prince Felipe said in hailing Alonso as the youngest winner of the Spanish award.
Oviedo has been gripped by "Alonsomania" since Renault driver Alonso, 24, last month because the first Spaniard to win the Formula One title.
Although some Spaniards thought the Principe de Asturias award could have gone to a more experienced sportsman, there were no such doubts in Oviedo.
"He clearly deserves it, even if there are other important sportsmen, he has shown enough merit to win this prize," said David Martinez, an 18-year-old student waiting to catch a glimpse of the champion, who rarely appears in public in Spain.
Oviedo has dedicated an exhibition to Alonso, putting on display his helmet, boots and his Renault car. Thousands of people have visited in the four days it has been open.
Bars are selling a special cocktail called "Formula Alonso non-alcohol" of the same blue hue as the flag of Asturias, his home region.
| | |
| --- | --- |
| | Also Read |
| | |
"(The prize)
comes during a fantastic year and crowns the season," Alonso told local newspaper La Nueva Espana.
Alonso began karting at the age of three, going on to win the Spanish, European and world junior championships before switching to cars in 1999, testing for Minardi in 2000.
He joined Renault a year later and won his first Grand Prix in Hungary in 2003.
Traditionally, Formula One has been of minority appeal in Spain, but Alonso's success has provoked an explosion of interest with television audiences reaching record levels.
Previous winners of the Principe de Asturias award include seven-times Tour de France winner Lance Armstrong, tennis great Martina Navratilova, Spanish golfer Severiano Ballesteros and athletes Carl Lewis and Sebastian Coe.