'First we are told that it won't be 8'o clock it would be 8.30pm, then it changed to 8.45, 9.15 and so on... It was a hard day at the office'
'Within the prevailing circumstances and causes that were there today, I think it called for a force majeure'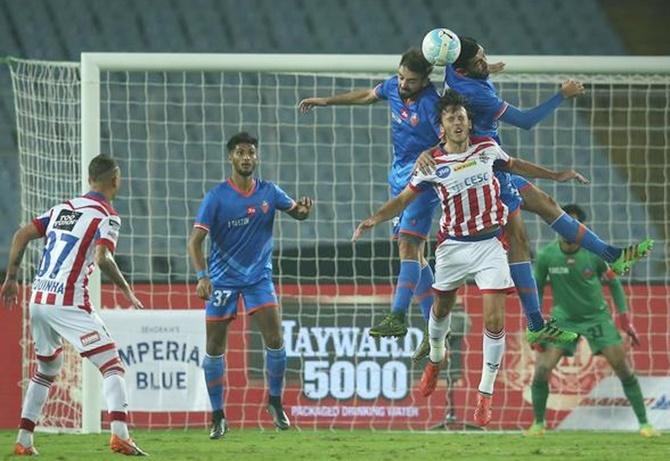 IMAGE: The ISL match between ATK and FC Goa was delayed by nearly three hours due to the hurdles faced by the visiting side to reach the city. Photograph: ISL Media
Former Manchester United star and Indian Super League side ATK's coach Teddy Sheringham said it was unusual to finish a football game post midnight, something that he had never experienced in his long association with the game.
The match against FC Goa was delayed by nearly three hours due to the hurdles faced by the visiting side to reach the city. FC Goa headed straight from airport to kick off the match at 10.45pm on Wednesday night.
"We do realise it's 1'o clock in the morning. We are not just the only crazy ones. Thanks for staying," Sheringham said after the drawn game.
"It's the first time I'm finishing a game at 1am and still sitting here. It's really unusual," the former Manchester United player, who won three premiership titles with the team, added.
There was plenty of suspense and drama in the build-up to the kickoff after the ISL first announced that the match would be delayed by a 'minimum one hour'.
Sheringham and Co. checked in by 8.15pm but the delay kept stretching.
"First we are told that it won't be 8'o clock it would be 8.30pm, then it changed to 8.45, 9.15 and so on... It was a hard day at the office."
"It's very difficult but we kept talking about keeping our focus intact," he added.
Robbie Keane headed home a fourth minute lead from a Ryan Taylor free kick but FC Goa took 20 minutes to restore parity through all-time leading goalscorer Ferran Corominas.
Match against ATK called for a force majeure: FC Goa coach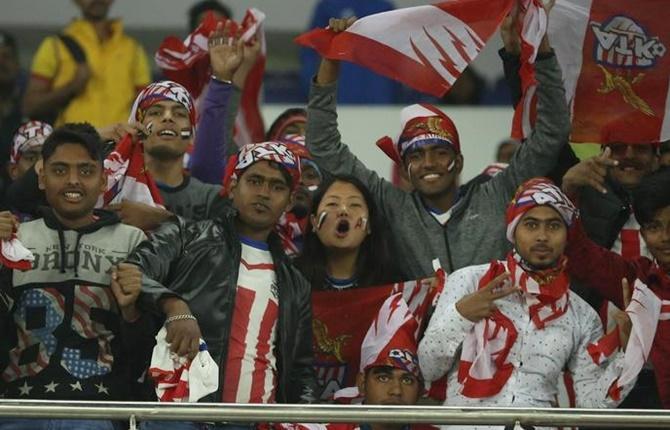 A fuming FC Goa coach Sergio Lobera said their much-delayed Indian Super League match against ATK that got over well past midnight should have been declared 'force majeure'.
In a first in Indian football, the match kicked off at 10.45pm in peak winter after a day-long drama surrounding FC Goa team's arrival that got delayed following a couple of technical snags and crash of a fighter jet at the Dabolim airport that forced the closure of the runway.
The match was originally slated for December 31 but the organisers had to postpone the match as police refused to make security arrangements on the New Year's eve.
"We accepted the change from December 31 and agreed to play the match on January 3. But within the prevailing circumstances and causes that were there today, I think it called for a force majeure," the 40-year-old said at the post-match news conference that got over past 1am.
"We respect what's been told to us. But obviously it's not what we would have liked. Never in my life, I've seen a situation like this in professional football. ISL is a great league and it does not deserve matches like this."
The coach said FC Goa risked the health of their players by playing the match.
"It's not good as a spectacle, not for the fans and not for the league in general. We took a flight yesterday but it had to turn back due to emergency landing," Lobera added.
FC Goa's chartered flight finally took off at 6.30pm after getting the necessary clearance and landed at around 9pm at the Dum Dum airport from where they headed straight to the Saltlake Stadium.
"We spent the entire day at the airport with nothing to eat and nowhere to rest. And we had to come here running because if we did not leave, there was a possibility that we would have lost three points," Lobera said.
"It was an incredible day. I've never seen a team training in their travel gear and this is not good for anybody."
"We had to change and come back for the match within five minutes after training in travel gear. So it was obvious that we ended up conceding a goal in the first four minutes," he added.
"The only thing I will be content about today is that none of my players are injured. There was nothing physically that was serious. My players did a lot of good work today and that's the only thing I can thank them for," Lobera said.
FC Goa will now travel to Guwahati to play NorthEast United FC on January 6 before returning to Goa to take on Jamshedpur FC at home on January 11, which means the Gaurs will take the field three times in nine days.
An ISL official, however, put the blame on FC Goa team management and questioned their strategy to fly out via a chartered plane.
"They had 48 hours to reach Kolkata and also got reservations for 36 members. They could have flown in 36 and the remaining from the technical staff could have come on the match day. It could have been avoided," he said.
NEUFC appoints Avram Grant as adviser for remainder of ISL
Former Chelsea manager Avram Grant has been appointed as an adviser by NorthEast United FC for the remainder of the Indian Super League season.
"I agreed to the challenge and I am hitting the ground running. India is a new and exciting environment for football and I look forward to the pace of the League. I have confidence in the club and we will do all we can to take the club forward," said Grant, who is a long-time friend of NorthEast United FC owner John Abraham.
Grant moved to England in 2006 to become Technical Director of Portsmouth before being appointed Director of football at Chelsea in July 2007 and steered the team into the Champions League final and the League Cup final.
Grant has spent the majority of his career coaching and managing in Israel, winning a number of national league and cup victories with different teams, and also managing the Israeli national team for four years.
His last appointment was coach of the Ghana national football team.
Delhi Dynamos sign Spanish goalkeeper Xabi Irureta
Delhi Dynamos roped in 31-year-old Spanish goalkeeper Xabi Irureta as their eighth foreign recruit for the ongoing Indian Super League (ISL).
Born in Ondarroa, Xabi, who has previously excelled in teams such as Eibar and Real Zaragoza in La Liga, will hope to make his mark in the bottom placed Delhi Dynamos team which has just won one game this season.
"Xabi brings a lot of experience and can help us to stabilise our way of playing. I am sure he would fit in well in our scheme and in our game philosophy," Delhi Dynamos Head Coach Miguel Angel Portugal said.
Xabi started his career with Spanish local side Real Union before he went onto represent Eibar for seven seasons, where he helped the side move from Spanish Segunda Division to the top tier.