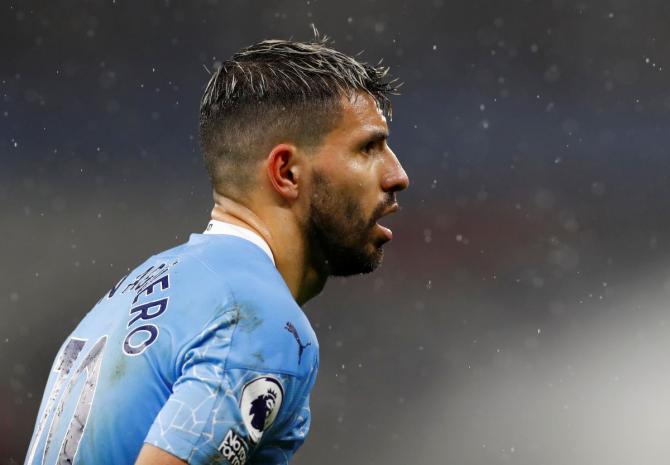 Manchester City striker Sergio Aguero will be out for up to 10 days because the Argentine striker is still isolating after coming into close contact with someone who tested positive for COVID-19, manager Pep Guardiola said on Tuesday.
Aguero was expected to start in last weekend's FA Cup third-round tie against second-tier Birmingham City but did not feature in the matchday squad as City won 3-0.
City's record scorer has played nine games in all competitions this season after missing the start of the campaign following knee surgery.
"He's isolating," Guardiola told reporters before Wednesday's Premier League game at home to Brighton & Hove Albion.
"(He is following) the rules. After nine or 10 days he will be back."
City, who are fifth in the table with 29 points from 15 games, have midfielder Raheem Sterling available after he was left out of the last game due to lack of match fitness, but defenders Aymeric Laporte and Nathan Ake are still injured.
Defender Eric Garcia and midfielders Adrian Bernabe and Cole Palmer are still in isolation, Guardiola said.
City have won their previous six games in all competitions, including wins at Chelsea and Manchester United, but Guardiola said his players must guard against complacency.
"The momentum arrives and disappears in one instant," he added. "We cannot forget the teams we beat recently, especially in the Premier League... But the momentum can disappear tomorrow so we have to do it again."
The Spaniard said City face a tough challenge against Graham Potter's Brighton, who are 17th with 14 points after 17 games.
"Brighton are a joy to watch and analyse," he added.
"I said to the players we have to be at a high standard to beat them.
"Forget the results we had in the past -- they are better in all departments. They create more than they conceded."
Neymar fit for PSG as Pochettino targets first trophy
Brazil forward Neymar will return to Paris St Germain's squad for Wednesday's French Super Cup final against Olympique de Marseille after a month out injured, manager Mauricio Pochettino said.
Neymar has been out of action since mid-December and his return is a welcome boost for Pochettino, who replaced the sacked Thomas Tuchel at the start of the year.
"Neymar is available and will be in the squad," Pochettino told a news conference on Tuesday. "We will decide tomorrow if he starts or will be on the bench but he will be in the squad."
The Argentine manager added that he was still mulling over his final line-up, but indicated he had no qualms about handing Kylian Mbappe what would be the French forward's third start in quick succession.
"Kylian is fully fit and in perfect condition," Pochettino said.
"We are looking into different options for our best line-up tomorrow and we need to perform at the best level to get the win against Marseille."
Pochettino, who played for PSG as a defender in the early 2000s and also captained the side, was also asked about his motivation levels ahead of the game, which offers him the chance to win the first trophy of his managerial career.
"Of course I am fully motivated," he said.
"What matters more to us than the trophy itself is winning the game. Pride is much more important than any trophy, so our focus is on winning the game.
"The importance of this game, which I have experienced as a player and now as a coach, is certainly something special."
Barca election must be held despite restrictions, says Laporta
Barcelona's leading presidential candidate Joan Laporta has said the club's Jan. 24 election should go ahead as planned, despite the prospect of novel coronavirus restrictions in the region of Catalonia being extended.
Catalan authorities will decide later this week whether to extend current restrictions, which prevent people leaving their municipality except for work, education or medical reasons, beyond Jan. 17.
Doing so would jeopardise the election, as email and online voting is not permitted.
Laporta, who collected 10,257 signatures for his candidacy, far outnumbering the three other candidates Victor Font, Toni Freixa and Emili Rousaud, suggested the restrictions should contain an exemption for club members so they can vote.
"If you can make exceptions to go to work, you can make them to vote," Laporta told reporters outside Camp Nou on Tuesday.
Barca have been run by a management committee with minimal powers since Josep Maria Bartomeu resigned as president in October to avoid a vote of no confidence.
Laporta said the election should be held to ensure the club can sign players before the January transfer window shuts and fix its dire financial problems, which have been exacerbated by the COVID-19 pandemic.
"Barca cannot wait any longer, we are missing out on golden opportunities. We have to do everything possible for the elections to take place," he added.
Font, the candidate with the most signatures after Laporta with 4,713, has long campaigned for the club to allow members to vote online and said the election should only be held if all members are able to participate.
"The figures from the pandemic are very serious, and if the club does not come up with a solution then the election cannot take place," he said.
"There are many members who are scared and don't want to leave their houses."
FIFA loses bid to disqualify special prosecutor investigating Infantino
Global soccer body FIFA has failed in its attempt to disqualify the special prosecutor named last year to handle an investigation into FIFA president Gianni Infantino and his dealings with Switzerland's former attorney general.
Special prosecutor Stefan Keller in July opened criminal proceedings over undocumented meetings Infantino and former top prosecutor Michael Lauber held while Lauber's office investigated alleged corruption in world soccer.
Infantino and Lauber, who has since resigned, have denied any wrongdoing. FIFA's ethics committee cleared Infantino in August of any code breaches.
In a verdict released on Tuesday, the Federal Criminal Court rejected FIFA's requests to remove Keller from the case and allow FIFA access to files in the investigation as a third party directly involved in the proceedings.
FIFA, which complained that opening a criminal case against its president had damaged its reputation, had argued that Keller was unauthorised to start such proceedings. It also appealed against his decision to deny FIFA's bid to see case files.
The court ruled that Keller's appointment was proper and he had not overstepped his authority.
Infantino, elected in 2016 to clean up FIFA after it became embroiled in a corruption scandal, has argued it was perfectly natural for him to meet law enforcement agencies.
Alaves appoint Abelardo after sacking Machin
Struggling La Liga club Alaves have turned to their former coach Abelardo Fernandez again in a bid to boost their chances of avoiding relegation after dispensing with Pablo Machin.
Alaves, who are 16th in the standings and two points above relegation, said on Tuesday Abelardo would take charge until the end of the season. They had announced earlier in the day that Machin had been sacked, after losing 3-1 at Cadiz on Sunday.
Abelardo, who spent the final season of his playing career at Alaves, became coach in December 2017 and successfully steered them away from the relegation zone to finish 14th.
He led the club to finish 11th the following campaign before leaving. His last job was with Espanyol, who sacked him last June when they were facing relegation.
Machin had taken charge of Alaves at the start of the season and earned a stunning away win at champions Real Madrid plus a home draw with Barcelona, but could ultimately not convince the club hierarchy he was capable of keeping the team up.
Basement club Huesca decided to part ways with Michel in the early hours of Monday, shortly after losing 2-0 at home to Real Betis.
They had only one victory from 18 games this season since earning promotion in their first campaign under Michel, who also got his previous club Rayo Vallecano promoted to the top flight only to lose his job the next season.
Man City owners name Bolivia's Bolivar as first partner club
Manchester City welcomed Club Bolivar into the growing City Football Group (CFG) family, announcing the Bolivian giants as their first partner club on Tuesday.
While the move is not an acquisition for CFG, whose network encompasses 10 teams and includes Major League Soccer side New York City and Spanish outfit Girona among others, it marks a deal to share strategic advice with Club Bolivar.
"As a CFG partner club, Club Bolivar will be able to access a wide breadth of expertise," City said in a statement https://www.mancity.com/news/club/club-bolivar-joins-city-football-group-63745970, adding that their La Paz-based partners will benefit from proprietary technology and best practices built by CFG over seven years.
"More specifically, Club Bolivar will be able to call upon advice on scouting and coaching methodologies, youth academy development strategies, sports science and more.
"Club Bolivar will also receive access to CFG's proprietary football data and insights platform, including multiple tools and dashboards to allow Club Bolivar to further deepen its understanding of the performance of its teams and players."
CFG said they would also help Club Bolivar - who have 29 domestic league titles - build world-class facilities as part of the long-term agreement.
"As well as supporting Club Bolivar's ambitions, we have an opportunity to learn," CFG CEO Ferran Soriano said. "Our work in Bolivia will certainly strengthen our knowledge of, and network in, South American football."
Club Bolivar president Marcelo Claure said the agreement was a dream becoming reality.
"We will utilise the expertise and advice that CFG brings to continue in our goal to place Bolivar as a top club in Latin America," Claure added.