'Head out!'
'It has been a long time that we have not met family and friends.'
And, run to the court.'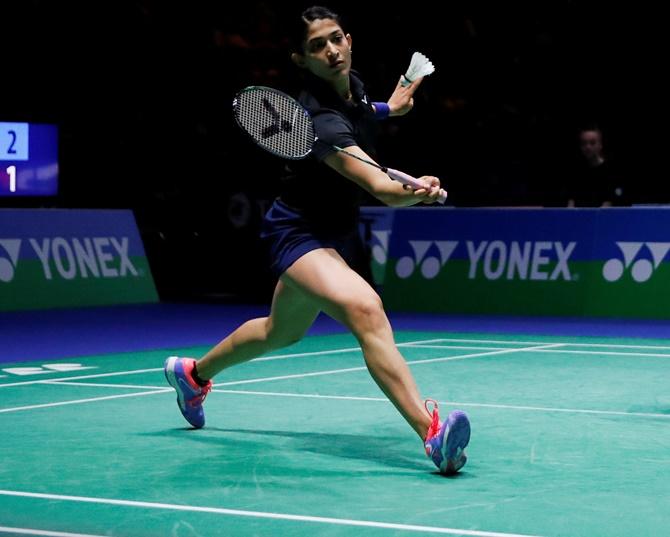 With the badminton courts out of bounds, how is India's leading women's doubles specialist Ashwini Ponnappa spending her time?
"These are different times," Ashwini tells Laxmi Negi/Rediff.com. "Time to pause and even indulge ourselves a little bit."
What is your daily routine now?
Cook. Clean. Exercise.
Again cook, clean...
It is difficult to stick to a routine in terms of badminton, but I focus on everyday badminton drills..
Are you looking at other players on social media, what they are doing?
In terms of exercises, yes. I see what new things they are trying at home and the new things I can imbibe from them.
Obviously, I can't do the same, as every player needs something different, but it keeps me motivated.
Are you more on social media these days?
Initially, yes. The first ten days I was hooked on, but then you have a house to run, and have to cook and clean. So since the last two weeks I have been away.
Any new app you have downloaded?
Arogya Setu and Zoom. I am on Zoom for quite some time because of the number of calls and Webinars.
Any new shows you are watching?
I love watching Korean shows.
How sincere are you with your workouts? Any cheat days?
I cannot say I am very sincere. Earlier, I used to get up in the morning and get started with my exercises, but these days I do those in the evening.
These are different times. It is the time to pause for us. Indulge ourselves a little bit.
So I am not too hard on myself and take it easy sometimes.
Does it help that your husband is a fitness enthusiast?
It is extremely helpful. He is way more health conscious and works out every day. He is very religious with his fitness.
The days I am in no mood, he will push me to complete my routines.
Have you learnt any new skills during this lockdown?
I have not cooked in these two-and-a-half years of marriage as much as I have in this last one month!
Earlier, everything used to revolve around badminton, but these things have changed.
Now I have to also clean; earlier you had help.
I find it very refreshing to walk into a clean kitchen; now we have to do that after cooking.
We mostly share responsibilities in the kitchen. My husband takes care of the vegetables while I focus on dals, rice and the gravy.
Thank god, these days husbands chip in!
Staying at home is different; you can do things at your own pace.
As I have never done so much cooking, everything is new for me! We look at the groceries we have and then think what new can be done with it.
I have realised that cooking is not that difficult. I used to feel that a lot of effort goes into it, but If you have the right inclination and understand the routine, it works out well. I have started to enjoy cooking.
How do you stay positive?
I am lucky that I don't have to look outside to stay positive. My husband and brother keep me motivated. If I am down, they are my go-to people.
Also, I like to read quotations. Every situation in life has a quote.
We (athletes) are always on the go, we never get the time to stay and be.
Just one week we are at home and again off to another destination. Our life revolves around packing and unpacking. But now everyone is on the same boat.
It is important to keep a stable mindset. Just because someone is doing something, we shouldn't blindly follow it or try to better it.
I believe in doing what you want to do and not because someone is doing it. In all this I have realised that I love staying at home.
You stay in an apartment in Bengaluru. Do you feel restricted?
Our house has a very good view and sunlight. You can see the clear sky from our balcony. But, yeah, living in an apartment has its own sets of cons, like you have to be mindful of the neighbours.
Everyone is at home these days and if someone is running, it is like someone is running over your head.
There are a lot of exercises which can do done without disturbing others.
What is the first thing you will do after the lockdown ends?
Head out! And also eat something.
It has been a long time that we have not met our family and friends. So, yes, will meet them and, second thing, run to the court.
When you were in Birmingham (for the All England tournament) did you think that the virus would turn into a pandemic?
It was very confusing for us in Birmingham. All the top players were there competing and countries were shutting down and tournaments were getting cancelled.
We had to take a decision whether to go for another tournament or head back. We finally decided to come back.
Gopi (Pullela Gopichand) sir advised the same.
It was after we came back that the BWF suspended all tournaments post the All England championship till the end of July due to the coronavirus outbreak.
Had they not cancelled, we would have felt weird. We would have been thinking did we over-react? But it turned out to be the worst case scenario which we or no one would have ever imagined.
Are you nervous thinking about the Olympics? Qualification?
I am not nervous. I am looking forward to it. I believe when you are physically fit, then you are automatically mentally strong too.
After the Rio Olympics, I had dengue and it took me almost one-and-a-half years to get back.
Repercussions were a lot. I had cold or fever. I didn't feel fine. It was quite a challenge to get back.
Last year I had this recurring calf injury.
I know that it is important to train. But it is more important to balance the training.
I cannot overburden my body and mind with it. I need to pick and choose which areas I need to focus on.
But after this forced break, I am enthusiastic to get back to badminton.
What makes you a very vocal player about doubles badminton?
If I am pushed against the wall, I will speak up. If you believe you have been wronged, no one else will fight for you.
If it is the time and situation to speak up, I will always.
What have you learnt from your doubles partners?
See, I am someone who always looks up to my partners. I am constantly learning from them.
I won't be able to point out one single thing. One thing I would like to say is that they all are gutsy and fighters.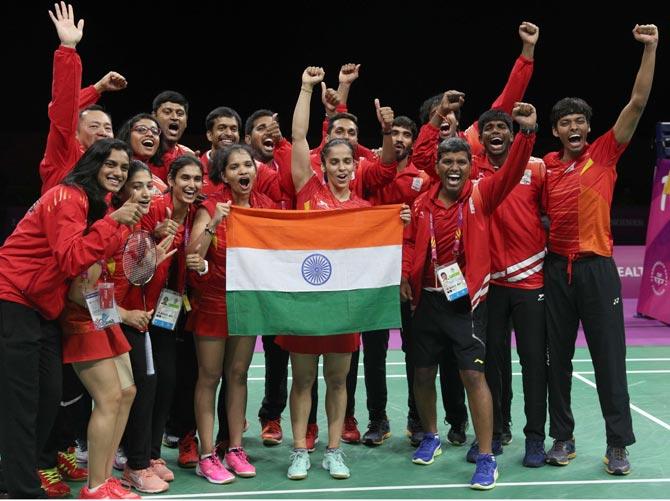 Most cherished match so far?
The 2010 Commonwealth Games women's doubles gold in Delhi or the 2011 World Championship women's doubles bronze in London will always be dear to me.
In recent times, the 2018 Commonwealth Games mixed team badminton gold medal stands out for me.
It was the first time India won it and the best part was we were in it to win it. It was an amazing team feeling.