'Many of us hope that India will soon play well enough to be part of truly global sporting tournaments like the football World Cup and the Olympics,' says Aakar Patel.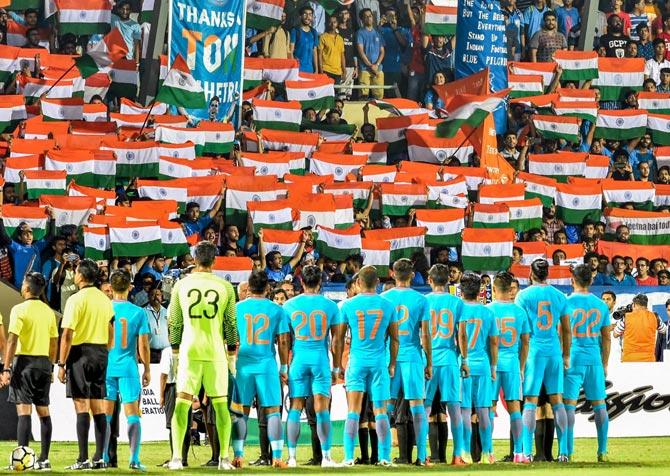 Argentina played Iceland in the World Cup in Russia on Saturday. It was a clash between the 5th ranked and 22nd ranked teams in the world.
The interesting thing is that Iceland, which has a population of only 300,000 people, was ranked 133rd in the world, below India, till only two years or so ago. It defeated England on its way to play in the World Cup.
India is ranked 97th in the world and is not playing in the World Cup.
In our qualifying round, we were in a group against Iran, Guam, Turkmenistan and Oman. We came last in that group.
Many of us hope that India will soon play well enough to be part of truly global sporting tournaments like the football World Cup and the Olympics.
The question is why we do not or cannot do what nations like Iceland and Cameroon have been able to.
In his column on the same subject, former India captain Baichung Bhutia has written: 'As a first step, we need to grow the culture of football. It is a massive challenge in a country where cricket is a religion and other sporting disciplines are making deeper footprints but it is the culture of football that keeps football alive in South American and African countries which are not blessed with a wealth of resources.'
So why is this culture missing in our country?
Let us first make a few observations about football in India. The first is that relatively recently, meaning the last 10 years, there has been a lot of interest in watching the sport's European leagues.
The followers of this are usually wealthy, young urban Indians. Their interest is wide enough and valuable enough for India's sports channels to show the English Premier League live.
In fact many of the games that cannot be seen live on TV in England are shown live in our country. So our performance is not because of a lack of interest.
Second, India does not have good sporting infrastructure and does not have many grounds dedicated to football.
But this is also true, as Bhutia notes, of many African and Latin American nations which play better than us and are able to compete at the World Cup regularly and also produce players who are global heroes.
It is also true of cricket. It is the road and gully cricket match that is the norm in India, not the stadium match.
Football requires less infrastructure than cricket, which needs all sorts of equipment, and so it is difficult to fully hold lack of infrastructure responsible for the lack of a footballing culture.
The third observation is about where football is played in India. It is popular in the north east, Goa, Kerala and West Bengal. Perhaps in one or two other places. It is not popular in the Hindi heartland.
The fourth thing is that this difference can be seen in the Indian squad. The players are mostly from the areas that are mentioned above.
There is Fernandes and Borges and Gurung and Khongjee, but no Sharma or Kohli.
The fifth thing is that for some reason, many of the same Indian places and the same Indian cultures that do well at hockey also do well at football.
Like hockey, and unlike cricket, football is a team sport.
What do I mean by that? Of course cricket is also played between teams, but there is a difference.
Cricket is a start-stop sport.
Every ball is an individual and independent event, between two main players (bowler and batter) and possibly one or two other peripheral participants (fielder and non-striker).
Hockey and football and volleyball are different in that their structure is flowing.
The full team on both sides is always involved in a way it is never in cricket.
Individual genius is less important in flowing sports than in start-stop ones.
Even in hockey, where India is ranked fairly high, our dominance has faded.
When it was a sport that was dependent on dazzling dribblers, we were supreme.
When hockey became more passing-oriented, and therefore more of a team sport, with the introduction of AstroTurf, our dominance faded.
And so we must conclude that it is not a lack of interest or infrastructure that can account for our performance in football.
It is something else that holds us back in all real team sports, though it does not seem to stop us in individual ones like shooting, weightlifting, wrestling, tennis, badminton and boxing (where, as readers will have noticed, most of our international successes have come).
Till we fully analyse why this is so, we will not be able to arrive at an answer to the question Bhutia has posed: Why is the culture of football absent in our parts and what can be done to develop it?