How many times has this beautiful game brought the mighty down, and how many times has this beautiful game restored their might. The week gone by was but a page out of the epic – the story that magically keeps bringing us back, again and again, for more – the football story. Let me narrate that most recent page and help you know what to expect when you flip it over, for, just like you, nobody knows what will happen. We can but set the stage, and wait with bated breath.
Some of the mighty fell: Real Madrid 0–3 Bayer Leverkusen. Some of the mighty were subdued: Manchester United 2–2 Lyon, Manchester United 2–2 Bolton Wanderers. Of course, some of the mighty ensured some sanity in our story: Arsenal 3–0 Fulham, Barcelona 3–0 Celtic.
First the much publicised English Premier League. Last week we wondered which of these three – Arsenal, Chelsea, or Tottenham – would be the first to break its unbeaten start this season. We will continue to wonder.
Chelsea will have, however, spent the past few days ruing the draw with Aston Villa, leaving only Arsenal with a perfect, all-win start. It was a lively game, the nil score saying nothing about it. Didier Drogba was dominant as usual, clattering the crossbar, making many runs, and even deserving a penalty once, only to find himself booked for diving instead. Darius Vassell had a golden opportunity for Villa with 15 minutes left, but missed the open goal with stunning precision. Video replays have ensured that Drogba's yellow card was withdrawn.
Chelsea now takes on Tottenham on Sunday at 2035 IST on ESPN. Chelsea is buoyant after the 3-0 win over Paris Saint-Germain in the UEFA Champions League, and will be concentrating on keeping Arsenal's lead over them at just two points.
The match everyone is gearing up for, however, is the Manchester United-Liverpool encounter. Two teams whose rivalry has scattered our epic with many unforgettable moments. Man U has dominated this rivalry for the past two years or thereabouts, but this new season has Liverpool looking extremely good.
Steven Gerrard is leading like a man possessed. He's been mowing down defences single-handed; he's been making some exquisite passes, and is looking in the best form of his life. Luis Garcia and Steve Finnan round up the Liverpool trio that has fans on the edge of their seats every other minute.
Man U on the other hand is struggling. Polls have sprung up wondering whether Sir Alex has lost the plot and should make way for some freshness. They were fortunate to snatch a point with an extraordinary climax to their Bolton game, and they were lucky to have Ruud Van Nistelrooy in good nick to save their Champions League game with Lyon, coming back from 0-2 down. They now languish in eleventh place in the EPL. Do not miss it on Monday night – rather, Tuesday early morning, 0030, STAR Sports. It will be a shame if football fans turn up fresh for work on Tuesday after a good night's sleep!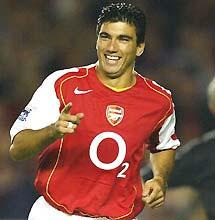 Another big clash will be leaders Arsenal taking on third-placed Bolton Wanderers – Saturday 1715 on ESPN. The last game Arsenal played was with Fulham, and left me wondering if referees have started supporting the big teams. Poor Fulham put on a hefty fight and won a penalty, only to watch open-mouthed as the referee rescinded his decision and awarded a drop kick instead! They then went on to score from a good physical header by Collins John, only to have it disallowed for pushing. In any other game in any other league, that would have been a regulation goal. Arsenal then within 10 minutes in the second half pumped in three goals.
Remember that if you are to better prepare yourself for our football epic as it unfolds in the months to come, you need to repeat this name thrice every day: Jose Antonio Reyes. He has scored five of Arsenal's 19 goals in five games. The best part – he isn't greedy. He only scores once every match!
Now for a little on our romantics – Newcastle. Sir Bobby Robson was nice enough to visit the club's training ground last Friday to urge the team on to greater things. They responded with a splendid 3-0 win (what a goal from the ever dependable Alan Shearer, this time with his head) over Blackburn Rovers – the only other club without a manager for that weekend! Graeme Souness, however, takes on the reins of the Newcastle dream, with disciplining the 'brat pack' at St James's Park high on his agenda. Watch them take on Southampton on Sunday at 1830 on ESPN.
That's four matches over three days to look forward to. Enough of the EPL.
I watched on Sunday as David Beckham, the same man whose place in the England squad was under debate a few days prior, curled the ball over a leaping, recently promoted Numancia wall and into the net. It made the art of free kicks look as simple as scribbling on a wall with crayons. Heck, simple as a Husain if you wish. That put them top of Spain's Primera Liga along with Atletico Madrid and Barcelona. All was well.
Then three days later they crashed to a 3-0 defeat against Bayer Leverkusen, the same David Beckham beginning the flood with a botched clearance. The harsh reality of our football story is that for this beautiful game you need 11 focussed men working together like cogs in one wheel. Their names do not matter.
With their sheer class, Figo, Beckham, Ronaldo, Carlos, etc will find a way. Unfortunately, while finding that way, they will not have their symbolic shoulder to cry on. Zinedine Zidane is out for three weeks with a dislocated shoulder. Watch Real Madrid this Saturday take on Espanol, live on STAR Sports at 2330.
Football fans, it's a three-day weekend. The stage is set.
Turn that page.