Cricket may thrive as long the Indian subcontinent exists, but it is an endangered species globally, without a restoration plan.
It is time to explore where the game stands as a sport in a larger context and why it has failed to become a global phenomenon.
A poignant reminder to this is this week's sports line-up.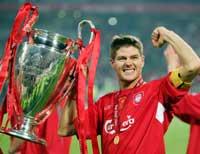 England are busy flogging Bangladesh, and Pakistan and the West Indies are involved in an insipid contest while the rest of the sporting world is still recovering from the attack of the Reds and busy talking about a potential mouth-watering French Open teenage battle between Rafael Nadal and Richard Gasquet.
Steven Gerrard's inspirational leadership and goalkeeper Jerzy Dudek's dramatics during the Champions League final penalty shoot-out saw Wednesday night dressed in crimson as Liverpool completed an epic turnaround.
This, only days after a heart-stopping FA Cup final that was also stretched to the shoot-out. Manchester United made move after move and squandered them all. Arsenal, as they later conceded, were only trying hard 'not to lose.' They finally didn't!
Liverpool showed uncommon spirit in the second half and Arsenal underlined the importance of patience. In the end both the games reflected the heart of sport, their teasing unpredictability and the brilliance of the playmakers.
Paris anticipates a contest between Nadal and Gasquet on Friday. Both 18, both ambitious. Nadal is one of the contenders for the crown; Gasquet the potential spoilsport in the scheme of things.
Roger Federer is also looming large on Paris. Talent and grace live with him.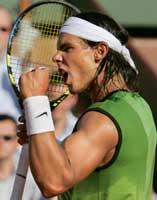 There is Maria Sharapova and her quest to top the world; and Justine Henin-Hardenne, refreshed in body and soul. And there are a whole lot of pretenders lurking around Roland Garros. It is a Grand Slam known more for the upsets than the unfancied winners it decides to pick.
While football and tennis are capturing young minds and has everyone swooning after them, the cricket matches have hardly created a ripple.
Bangladesh, you think don't belong to Lord's. They were bowled out for 108 on the first day by England.
West Indies, with a top order weaker than Steven Gerrard's left toe, gave an unpalatable batting display. Brian Lara lifted the game, showed his genius and then burned himself out.
Every now and then cricket throws up such leathery feasts. The game is restricted in quality as just ten teams belong to the top rung. And effectively there are only seven teams competing. Australia are too good for the rest; Zimbabwe and Bangladesh hardly matter. Everyone in between is plagued by inconsistency.
Every sport has its off day, but the number of such days is simply piling for cricket. The International Cricket Council's 10-year programme makes sure that you don't have India or England play Australia the time. So we have to make do with Australia playing Zimbabwe and call it a Test.
There is a very little chance that cricket will go global. Given Bangladesh and Kenya's progress, including more countries in the circle may further demean competition. The ICC's ambition of making countries like the US, Canada and Hong Kong play with the big boys was rendered useless as the minnows were flogged hopelessly.
Jagmohan Dalmiya tried to take the game to unconventional places but rather than expanding its influence, it may have unwittingly introduced the game to match-fixing. The strains of the malaise have also been found as far back as 18th century but it just bellowed as the game started to move out of its traditional centres.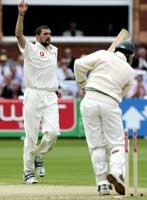 Peter Roebuck wrote after the McKinsey report, commissioned by Cricket Australia to study demographic trends in cricket viewership, showed a steady decline in cricket audience in Australia: 'In part it is a global phenomenon. A suburb has become a city, a city has become a province, a province has become a nation, a continent and finally a planet. Modern wars can be understood only as the dying rage of the different.
'Australian cricket's main rival is distant and probably untouchable. The English Premier League dominates the thoughts of young sportsmen from all corners of the planet.'
In this global village, cricket will find it difficult to retain its audience. Satellite television is providing a variety of sport and the growing Internet influence has already starting to take its toll on the young audiences in India.
The ESPN School quiz Olympiad on Indian television showcases the students' familiarity with football, tennis and Formula One as well as a complete disregard for cricket's history. They have no difficulties identifying even an average player from football but struggle to recognise Vijay Hazare.
Cricket is slow, long, and the games that matter are played in white flannels. None of this will excite youngsters who grow up on a soccer and basketball diet.
Moreover, cricket cannot compete with games like these either for quality or quantity.
Very often it fails to be a spectacle and the interest is restricted to international games. The number of people following domestic cricket in India is almost negligible. Reports suggest that the trend is not too different in the other Test-playing nations.
Tennis, meanwhile, is played all round the year and is not all about the Grand Slams. Formula One keeps reinventing itself. For football, if it isn't the EPL, there are the other European leagues, the UEFA Champions League or African and South American competitions.
Even indigenous games like hockey will find a way to survive, because it has a larger playing base. The European nations pump in the support, while the game thrives well in India, Pakistan, Australia and South Africa and even in countries like Egypt and Argentina.
It will be almost impossible to expect quality cricket in places like the US, Canada and Namibia, when even its founding fathers and the biggest cricketing country is struggling to dominate.