The mesmerising and familiar image of Pandit Jasraj saying 'Jai Ho' and then raising his hands to mark the beginning of his performances will now remain only in the fond memories of thousands of his fans and followers across the globe, remembers Ankur Biplav.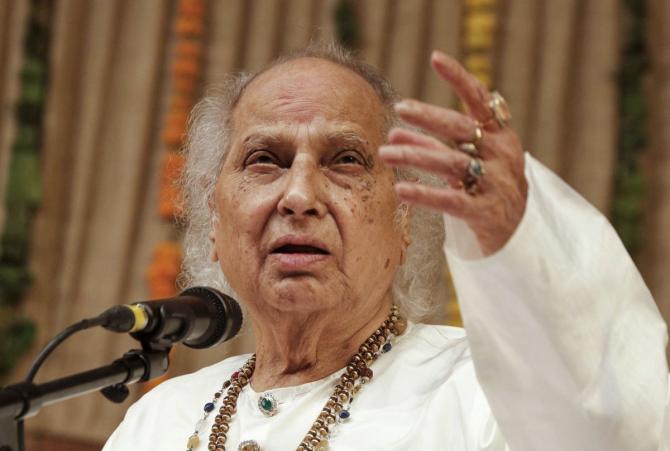 A dream started budding, a spark for music was ignited in four-year-old me when I sang in front of the living legend of Indian classical music, Pandit Jasraj.
He had come to Benares to perform at the Sankat Mochan music festival. A near and dear disciple of his, Dr Balanand Sinha, who is the son of the late Rajkumar Shyamanand Singh of Banaili and also my father's maternal uncle, introduced me to him.
Since then every symphony and every melody I sing is from my heart with devotion, because after all devotion and dedication are what brought me an opportunity to interview the one behind my musical journey.
I was sitting at his breakfast table ready to listen to his 90-year-long musical journey on the occasion of his 90th birthday at his residence in Mumbai. But, to my pleasant surprise, he started by explaining to me the meaning of my name and how it is connected to music.
He said, "Jaise tumhara naam hai Ankur, waise hi lagta hai mere gaane mein bhi ankur aa gaya hai (Your name Ankur very much appears to me to have made my music germinate further)."
The morning glory of Benares and witnessing Pandit Jasraj singing Prabhum Pran Natham, Vibhum Biswanatham is something which I would cherish for my lifetime. He took the thousands of festival attendees, including me, into a different world filled with melody and tranquility.
But the mesmerising and familiar image of Pandit Jasraj saying 'Jai Ho' and then raising his hands to mark the beginning of his performances will now remain only in the fond memories of thousands of his fans and followers across the globe.
The 90-year-old legend of the Mewati Gharana had the power of teleporting his listeners to another world, connecting them to the Almighty through his music.
The Padma Vibhushan awardee, Pandit Jasraj left for his heavenly abode on Monday leaving thousands of music lovers devastated and shattered.
Whenever he would present any raga he would leave his listeners always wanting for more.
Some of my favourite ragas which I have grown up listening to are Gujari Todi, Jaijaiwanti, Bhimpalasi, Miyan ki Malhar, Poorvi and Bihag.
While he presented the ragas he would take his audience on a long journey of three octaves. A rare characteristic which placed him in the elite category of legends.
His gayaki (style) was known for its refined aesthetics and spiritual inclination. Pandit Jasraj would sing Mata Kalika and Mero Allah at the same time and would leave the audience bedazzled and enthralled every time.
Poetry, mood and exploration of ragas are the features which make his gayaki aesthetically refined.
For a musician every minute of life is about celebrating music and so is the case with this legendary vocalist.
His contributions to Indian classical music is enormous.
Pandit Jasraj brought back the Haveli Sangeet Into music. Haveli Sangeet is a way of worshipping Lord Krishna and is an ancient form of Hindustani classical music which was sung in havelis.
If you listen to him chant Om Namo Narayana, it would not be an exaggeration to say that you felt like you were listening to the flute of Krishna himself.
He was charismatic during his performances at various concerts. Dressed in crisp and stylish dhoti-kurta, he used to instantly establish an emotional connect with the audience. This only came through his years of tenacity to this art form which is so profound.
Pandit Jasraj redefined the jugalbandis, which have a long history in Hindustani music. He brought in a new form of jugalabandi based on an ancient concept of moorchhana, a technique where the note Shadaj is shifted to a different note. Through this he wanted to bridge the gap of incompatible vocal ranges between the male and female vocalists.
Jasrangi paved the way for presenting two ragas at the same time, in different scales, by a male and female vocalist.
Honouring his unrivalled contributions to Indian classical music, the International Astronomical Union named a minor planet after him as 'Panditjasraj'.
Queen's University in North America gives out scholarships under the name of this legendary vocalist.
Various schools across the globe function under his name, where thousands of students learn the intricacies of Indian classical music.
Pandit Jasraj has played a pivotal role in taking Hindustani music to a global stage. With his loss, the heavens have become richer, but for us it's definitely the end of an era.
---
Ankur Biplav has been learning Hindustani classical music for 16 years and is currently learning music under Ustad Waseem Ahmed Khan of the Agra Gharana.