'Her ability and confidence to 'do her own thing,' both in her music and in her life -- and the great integrity with which she did it -- was amazing.'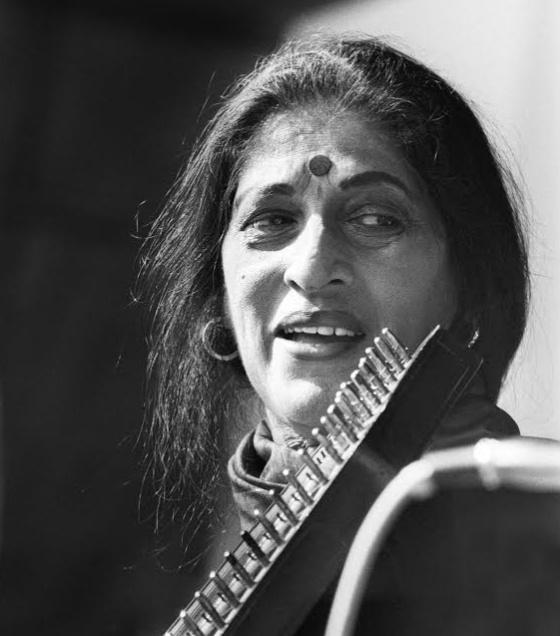 IMAGE: The legendary Kishori Amonkar, who paased into the ages on April 3, 2017. Photograph: Kind courtesy Shobha Deepak Singh
Her guru Dhondutai Kulkarni and the late Kishori Amonkar, were legends from the Jaipur Atrauli gharana of Hindustani classical music, but were rivals.
It was a rivalry handed down to them as legacy, for their formidable gurus -- Kesarbai Kerkar and Mogubai Kurdikar -- had been "staunch rivals."
Namita Devidayal (image, below)-- who has written The Music Room, a book that explores the extraordinary lives of the founder of the Jaipur Atrauli gharana, Alladiya Khan, Kesarbai, Dhondutai as well as her own musical journey -- explains Kishoritai's immense legacy and glances at the rivalry between two legendary singers.
A conversation with Rediff.com's Savera R Someshwar.
Like the late Kishori Amonkar, your guru, the late Dhondutai Kulkarni, was one of the legends of the Jaipur Atrauli gharana.
If you had to explain Kishoritai's immense significance to the youth of India, how would you do it?
Kishoritai is one of the few artistes who has managed to combine a classical legacy with what can be called a romantic rendering of music.
She made it accessible and palatable to even people who may not have any understanding of classical music.
She was able to touch chords of emotions in them.
Her ability and confidence to 'do her own thing,' both in her music and in her life -- and the great integrity with which she did it -- was amazing.
She was quite a maverick for her times.
She was able to work within the framework of a raga and then transcend it so that it became an expression of her individualism.
It's incredible when you are able to combine an extraordinary classical legacy with a form of individualistic expression.
If you look at it like a metaphor for India, it's basically having this whole incredible collective consciousness behind you and still being able to contemporise it.
That's what she did.
She took an extraordinary classical legacy, contemporised it and made it her individual expression, which is what distinguishes her so incredibly.
I think people were sometimes intimidated by her because she would do things very spontaneously and was often quite temperamental.
Have you met her?
A couple of times through my teacher, Dhondutai.
They were contemporaries and were from the same gharana, but both their gurus were staunch rivals.
They sort of inherited that baggage.
Kesarbai (Kerkar) and Mogubai (Kurdikar) were professional singers and earning members of their family.
They were both students of Alladiya Khan and were competing for the same space on stage.
So there was a lot of colourful history there.
Obviously Dhondutai and Kishoritai were influenced by that, but there was no question that there was a deep respect as well.
I also met Kishoritai when I went to her house to interview her.
What was that experience like?
It was amazing. She was so articulate and erudite and so comfortable even in English.
It just showed her multi-faceted personality.
I remember her telling me she was an avid reader of Somerset Maugham.
Even the way she spoke about music was filled with so much poetry.
She talked about how it includes style and sublimation and discipline and beauty.
She had that ability to express what she was trying to do with art.
She felt very strongly about how all children should learn Indian classical music.
She believed even listening to it was a important way of overcoming the stress in their lives.
She believed that music was a place of great meditation.
She also dabbled in a lot of light music.
She did that film song Geet Gaya Patharon Ne (from the 1964 film of the same title).
And she did a lot of bhajans. Her most famous one was Mharo Pranam.
She was able to move in and out of different genres because she had the confidence.
Her music definitely had a deeply meditative quality because she allowed herself to just free float.
There is a haunting quality in her singing. A hypnotic quality.
Kishoritai did not believe in limiting herself to her gharana. Do you recall her speaking about this?
No, but her music said it.
Her music had integrity.
Were there any anecdotes about her that your guru told you?
She once told me about an incident where Kishoritai was studying to appear for some medical exam, but she could not give the paper because she fell very ill for quite a while.
That was when she, almost by default, turned to music in which she had already been trained by her mother.
It's an interesting case of how something that could have been deemed negative turned out to be one of the most positive things happened to her.
Namita Devidayal's photograph: Savera R Someshwar/Rediff.com