Shailajanand Mishra lists The Top Videos of the Week! Take a look.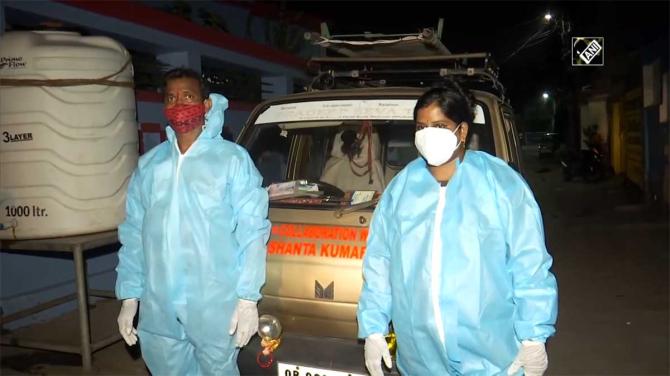 Every week is full of interesting events. And we make sure we bring you the best, with a special twist.
These videos are chosen by you, through your likes.
So, if you'd like to see your favourite video in our weekly round-up, make sure you like them on iShare.
---
Himalayas visible from Saharanpur
Date: May 22
Location: Saharanpur, Uttar Pradesh
They didn't think it would happen for the second year in a row.
But it did.
After a heavy thunderstorm and continuous rains for a few days, the level of air pollution level in Saharanpur decreased and residents were once again able to enjoy the beautiful sight of the snow-capped Himalayas.
Dushyant Kumar, a government employee and an amateur photographer, clicked pictures of the stunning view on May 21.
---
Women train drivers bring 'Oxygen Express' to Bengaluru
Date: May 22
Location: Bengaluru
The Oxygen Express, driven by two lady locomotive drivers, arrived in Bengaluru from Tamil Nadu's Jolarpettai on May 22.
The requirement of oxygen has soared in the country due to COVID. The Indian Railways is running Oxygen Express trains to meet the demand.
---
120-year-old woman receives first COVID vaccine jab
Date: May 23
Location: Udhampur, J&K
A 120-year-old woman from Jammu and Kashmir's Udhampur is setting an example for everyone to take the COVID vaccine.
After getting her first jab, Dholi Devi said she believes the vaccine is safe and is the best protection against the virus.
---
Doctors dance to cheer up COVID patients
Date: May 23
Location: Bengaluru
Despite working day and night, COVID warriors continue to motivate patients.
In a recent instance, doctors and medical staff at Disha hospital, Bengaluru, danced to cheer up their COVID patients.
---
Nurse quits job to cremate unclaimed bodies
Date: May 24
Location: Bhubaneswar, Odisha
Madhusmita Prusty quit her job as a nurse to help her husband cremate COVID-19 victims and unclaimed dead bodies in Bhubaneswar.
"I was working as a nurse in Kolkata. I served patients for nine years," Prusty told ANI. "I decided to return to Odisha and help my husband as he could not perform cremations after injuries to his leg.
"I help him perform the last rites for abandoned dead bodies found at railway tracks, suicide cases and at hospitals."
"I have performed last rites for over 300 COVID dead bodies last year at the crematorium, and 500 bodies in the last two-and-a-half years.
"Since I am a woman, I was criticised for cremating bodies but I continued my work under the Pradeep Seva Trust, which is run in my husband's name."
---
Madurai couple marry on flight
Date: May 24
Location: Onboard
A Madurai couple tied the knot on board a chartered flight.
Their kin and guests, who were on he same flight, attended the mid-air marriage ceremony.
---
Janhvi, Khushi go cycling
Date: May 25
Location: Mumbai
Actor Janhvi Kapoor and her younger sister Khushi were spotted cycling near their apartment in Mumbai.
The Kapoor sisters wore comfy athleisure and kept their masks on as they pedalled away.
---
Feature Presentation: Ashish Narsale/Rediff.com