'Even if Serum Institute and Bharat Biotech were successful in ramping up production overnight, what happens to the capacity after the demand from India is met?' asks Sanjeev Nayyar.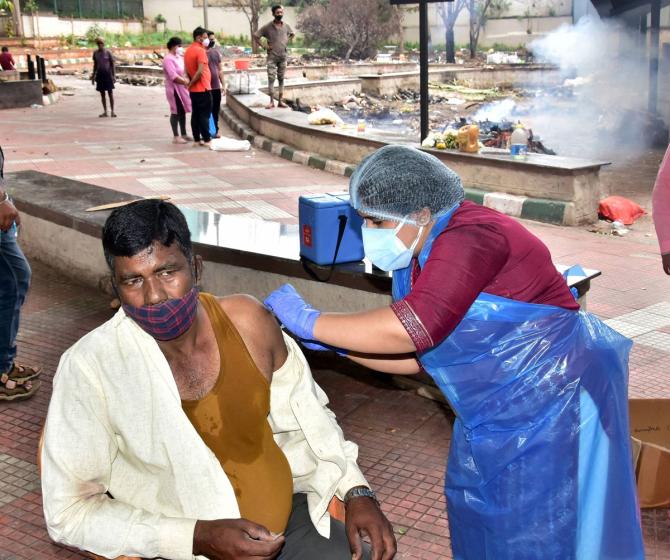 On April 27, the Supreme Court asked the central government to explain to it the rationale and basis behind differential pricing of COVID-19 vaccines. It also asked the Centre as to how it was going to meet the sudden surge in demand of vaccines from May 1 when vaccination for all above 18 years of age would begin.
The key issues raised were -- the basis for differential pricing to the Centre, state and private hospitals, and how was the Centre going to meet the demand for 18-plus age group.
The vaccine is currently being produced by two companies in India, Serum Institute and Bharat Biotech.
Serum Institute is a contract manufacturer for AstraZeneca producing under technology transfer/licence. The vaccine is not developed by it, hence it pays 50% royalty to AstraZeneca. Thus, costs incurred by Serum Institute are raw materials to produce C19V, capital expenditure to set up the plant, overheads, cost of clinical trials and royalty. It has no control on what price AstraZeneca sells globally.
Conversely, the Bharat Biotech vaccine is developed in collaboration with the Indian Council of Medical Research and the National Institute of Virology. Thus, Bharat Biotech has to incur costs similar to Serum Institute except that research and development costs replace royalty. The nature of the arrangement between Bharat Biotech and ICMR-NIV is not in the public domain. Cost to Bharat Biotech could be co-development or royalty-based.
It usually takes years to develop a vaccine. And there is no guarantee that the version of the vaccine developed is successful in curing the sickness. This is a high-risk and capital-intensive business. That could be one reason why mainly global pharma companies undertake it.
To make drugs affordable worldwide Indian pharma companies chose the 'reverse engineering' route. The story of Cipla supplying Africa with an anti-HIV drug is well known.
Corresponding example -- an advocate who becomes a judge gives up a lucrative practice for status, power and satisfaction. If at the end of one year if unhappy s/he can become an advocate again.
But this liberty is not available to a pharma company. Once it invests in R&D it does not know the results for years. There is little chance of going back without a huge write off.
It is possible, though unlikely to be in the public domain, that both Serum Institute and Bharat Biotech are using their existing capacity to produce C19V. There could be an opportunity cost to that.
It is better to look at the big picture, and is inadvisable for the public or courts to get into details of how private companies optimise their assets especially during a pandemic.
In order to reduce cost can Serum Institute and Bharat Biotech produce vaccines on a cost-plus basis?
Serum Institute is a contract manufacturer so cost-plus is of little consequence. If the government insists that Bharat Biotech works on cost-plus it will kill the spirit of innovation across every industry in India and we shall continue importing technology from the West.
We should celebrate that this public-private partnership has indigenously developed the COVID-19 vaccine.
Should Bharat Biotech be priced lower because the vaccine is co-developed with two government organisations, ICMR and NIV?
Does that mean that these organisations should not be entitled to receiving financial rewards for their efforts? The revenue earned can be used to pay better -- to attract talent and undertake path-breaking research that shall eventually benefit India. The arrangement between Bharat Biotech and government institutions need not a subject matter of debate.
Why are some hesitant in paying Rs 600/1,200 per dose? After all, a newly-born child is given DPT (diphtheria, pertussis, tetanus) and polio vaccine etc that cost significantly more in private hospitals! Anyway, most states have announced free COVID-19 vaccines for all.
Indians must learn to pay for quality service. We need an attitudinal change!
Note that Shobha Kamineni told CNBC TV18 that Apollo hospital would charge an inoculation fee of Rs 200 for Serum Institute and none for the Bharat Biotech vaccine.
So why differential pricing for vaccines?
This is not rare. At the early stage Serum Institute and Bharat Biotech probably agreed to a lower price because no one knew how effective the vaccine would be.
Low price is initially charged by many manufacturers to a big customer just like a mall owner charges an anchor tenant low rates with the hope of attracting others.
It might be difficult to relate to such commercial practices unless you have worked in a corporate or run a business.
The Centre has also paid Serum Institute an advance of Rs 1,732.50 crore (Rs 17.32 billion) for 11 crore (110 million) doses and Rs 787.50 crore (Rs 7.87 billion) to Bharat Biotech for 5 crore (50 million) doses, for April-June. There is a time value to money, and states can emulate this.
Such commercial transactions should not be viewed through the prism of law alone.
How does differential pricing work?
Typically a company estimates sales volumes and net price realisation through each sales channel. This would give gross sales estimates from which the manufacturing cost would be reduced to give the net profit figure. Profits are reinvested to build business, given to government as taxes or and to shareholders as dividend.
Price per channel is also based on the ability and willingness to pay. There are many Indians, poor and rich, who would only go to a private hospital. The poor are aware that longer lines in government hospitals could be a source of infection and time-consuming too. The rates give Indians options, so let them decide.
Having said that, since sales are direct to consumer, costs on selling expenses and commission to channel are less. States can easily negotiate lower prices. States can also go in for imports, to be used wholly by them, but they might be expensive.
Now, why is the Centre not funding the vaccination programme?
The Centre has stated it will continue to fund the cost for those above 60 and 45 plus with comorbidities. This vaccination shall be part of the National Vaccination Programme. Further, 'the Govt of India, from its share, will at its cost allocate vaccines to states/UTs based on the criteria of extent of infection (number of active Covid cases) & performance (speed of administration).'
Just because the Centre has budgeted Rs 35,000 crore (Rs 350 billion) this year does not mean a financial commitment has to be made now. We are in May and the financial year still has 10 months left. Anything could happen!
Can India produce vaccines for 18-plus now?
Producing vaccines for the 18-plus population, estimated at 940 million, is not like making 2-minute noodles. Setting up a factory especially in a controlled environment takes time and cost. Ask someone with manufacturing experience for a reality check! By opening up registrations, state governments would get a sense of the demand and be better placed to decide the quantity of vaccine orders.
Restrictions on patents can be worked around. The Centre can ask other pharma companies to produce Covaxin. That would take months. Haffkine Institute, Mumbai, first indicated it would take a year, now it says six months.
Even if Serum Institute and Bharat Biotech were successful in ramping up production overnight, what happens to the capacity after the demand from India is met? After all, India is the world's second most populous country and China is not going to buy C19V from India. This approach would result in an even higher cost per dose.
Evaluate Serum Institute/Bharat Biotech vaccines for effectiveness, side-effects and liability, storage temperature and total cost to government instead of focussing on price alone.
Every country wants their country made COVID-19 vaccine to be exported. Conversely, White House Medical Advisor Dr Anthony S Fauci stated that Covaxin is known to neutralise the 617 variant of COVID-19. Please realise the stakes in global pharma and geo-politics!
Let us reward innovation and risk-taking, for that will generate economic growth, jobs and profits for India.
Sanjeev Nayyar is a senior chartered accountant and founder, www.esamskriti.com Twitter: @NayyarSanjeev.