The officers and men worked hand in hand.
There was no separation, there was no hesitation.
From the junior-most to senior-most, everyone was on their feet -- pulling ropes, guiding the survivors, taking them to the medical station.
This is a testament to the Indian Navy which has created an ethos that nurtures our officers and men in the right way.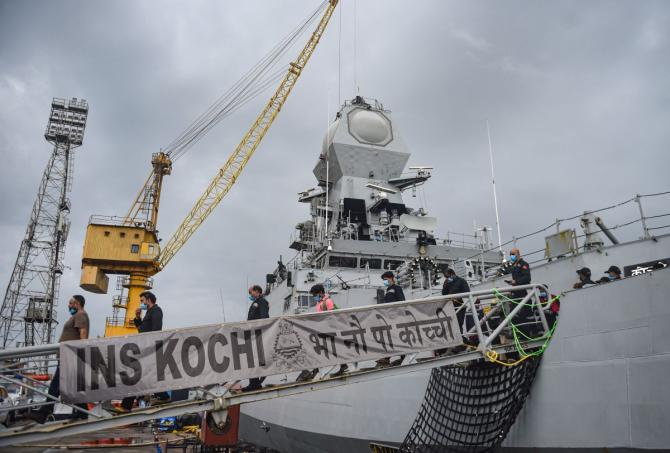 With 40 officers and 260 men, INS Kochi sailed into the eye of a cyclonic storm and rescued 125 men who had jumped into the sea from a sinking barge.
It was one of the Indian Navy's greatest rescue operations.
INS Kochi Commanding Officer Captain Sachin Sequeira tells Rediff.com's Archana Masih how the officers and crew conducted the two-day operation.
---
It was a one of a kind of operation in very challenging conditions because even war ships like INS Kochi don't generally operate in a cyclonic storm.
Conducting a massive rescue in a storm, in retrospect, was very challenging -- and the fact that we were able to save lives gives us satisfaction because we did something that was uncharted.
I don't think we have done such a rescue in the past, there have been rescues where people have been airlifted when a ship has been grounded or caught fire etc, which is a different dynamic. But we were deploying in a cyclonic storm and as the deputy chief of naval staff [Vice Admiral Murlidhar Sadashiv Pawar] mentioned this has never happened in the past four decades.
During the rescue efforts we were in a different state of mind. We had instructions to go and do whatever best was possible, because at that point, the options are quite limited.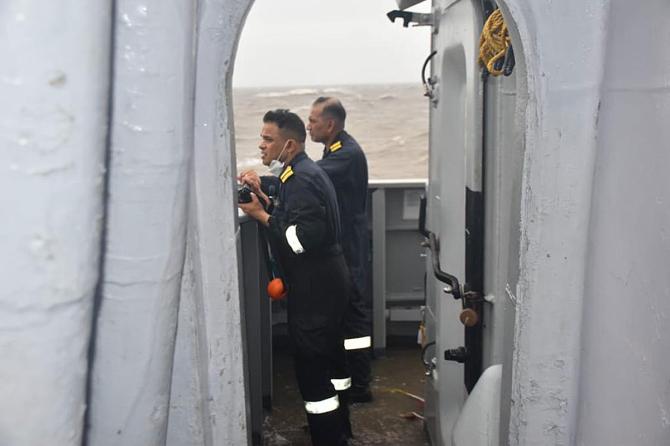 Sailing into the eye of the storm
It was known that the storm was going to come. The fleet of the Western Naval Command took precautions to protect our ships in the Mumbai harbour because ships alongside can get battered a bit in a big storm and we take action to prevent that.
May 17 started with assessing our own positions, doubling ropes, taking measures that the intense rain doesn't cause any short circuiting, etc.
We were doing all this when we received information at around 8.30 am from the authorities that we might have to deploy in the cyclonic conditions.
We were told to be ready and we started initial preparations.
At around 10.30 we were told to move to rescue Barge P305 in distress. [The barge sank in the severe cyclone. Most of the 260 on board jumped into the sea.]
At that point the weather had really closed in because the cyclone was 80 odd miles west of Mumbai. It was as close as you could get to the eye of the storm. There were strong winds of about 70-80 kms/hour in the harbour itself.
Our initial target was to get the ship out safely; pilot her out of the port waters which are quite restricted due to the other ships that were in anchor. They were blocking our path and we had to go around them.
We had to do this in very limited visibility. We were navigating by radars, what we call blind piloting -- basically doing a blind navigation to get out.
Getting the ship out and casting her in those conditions is normally not done. Normally, you would wait for the storm to pass, but since there was a rescue requirement INS Kochi set sail.
The ship's handlers had to administer the ship in very adverse weather -- the end of the spectrum, so to speak -- which has a huge impact on ships.
We had to initially establish and manage our own safety to be in a position to rescue others.
It was challenging and dangerous because the ship was extremely difficult to control against such strong winds.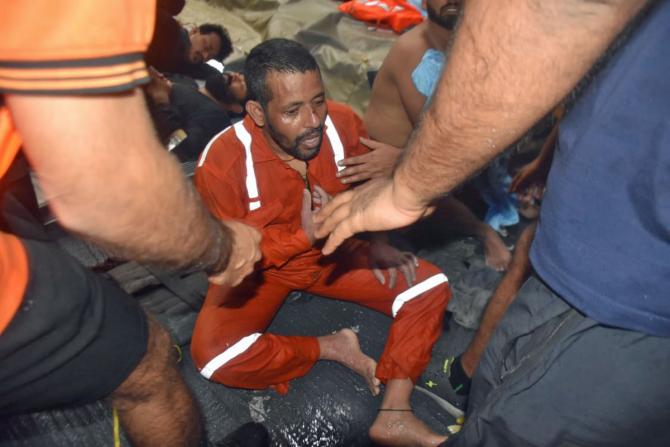 The ship tossed; waves crashed on to the deck
After we left the harbour, the weather conditions only worsened.
The winds were ferocious. It was blinding rain. You could hardly see anything. You couldn't even see your hand in front of your face at that point.
The water was hitting the ship very hard and subjecting it to violent motion. The waves were breaking right over the bridge [the room or platform from where a ship can be commanded].
We were trying to keep the course as the ship got tossed and turned around -- even a ship of our size which is about 7,500 tons.
The ship was rolling about 30-40 degrees on either side, water coming on to the deck and over the bridge that the glass of the bridge where we stand got washed away.
There were periods when we could see nothing, we could see water breaking all around us and it was difficult to even stand. We had to look for every possible aid to keep ourselves safe and navigate correctly.
We were operating in those conditions, but we had to manage and get on with it.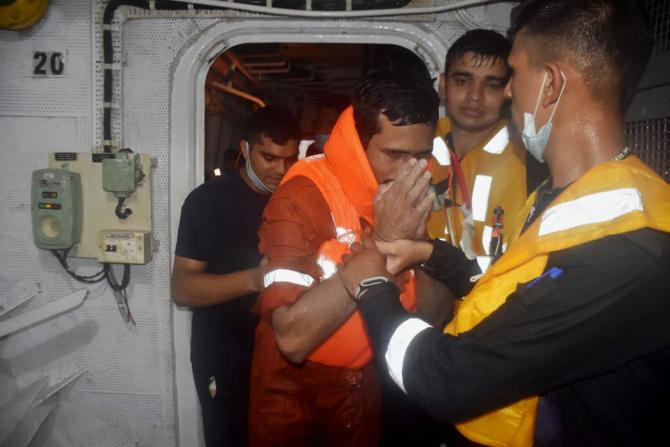 The crew of the sinking barge jumped into the sea
Once we were out at sea, we had to establish contact with the barge. We had some initial input as to where she was, but as we approached it, we found that the barge had moved far north from the location it was supposed to be.
We established contact at around 2 pm.
She was already sinking and the sea was taking her northwards.
But even as we decided to turn towards her, we found the sea was very violent and was damaging our ship. We could not maintain that direction because of the wind and had to do some zigzag steering to finally reach near the barge.
By 3.30 pm, we could get close. In choppy seas with such mountainous waves, it is not easy to approach another vessel. If you go too close you risk collision and can damage your own ship.
Boats cannot be lowered in such violent seas, certainly not in a cyclone.
In a cyclone almost all your options are ruled out.
When we realised that the weather would not improve, at around 5 pm, we lowered 14 life rafts around the barge -- in case people jumped off, the life rafts would keep them afloat.
We got input that the barge was sinking faster and the crew had jumped into the water.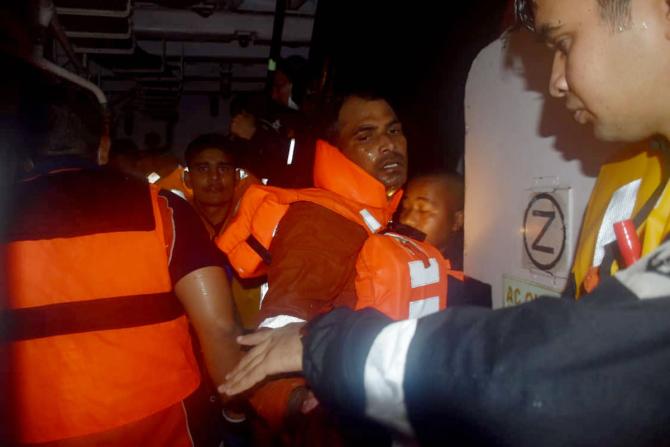 One violent swerve could have thrown the rescue crew overboard
It was still raining heavily; the water had flooded our own deck and the ship rocked violently. As we stood in the water, we closed in towards the sinking barge and that's when we saw people in water.
We had to manouever very carefully. Ropes and buoys were thrown into the sea to get people to hold on to each other to make a chain and come closer to the ship.
We had lowered scramble nets from the sides and tried to get them somewhere near the net so that they could climb up.
We were doing this while the ship was tossing and turning in the rain. At times you could see -- and then you couldn't. The crew that was working the ropes, nets and lines was also at risk because one violent swerve could have taken some of them overboard.
In those conditions if any of my men would have gone over, I would never have seen them thereafter.
We took some preventive measures, wore safety harnesses, operated in pairs to mitigate the risk. We had to do whatever we could. There was nobody else over there, only us.
WATCH: Rare visuals: The Indian Navy rescue footage
Against all odds, we did what we sailed out for
We had three or four teams all around the ship. They were throwing the line, working the nets, calling out to the men in the water to get their attention, encouraging them to paddle and come close enough to grab on to the nets and climb up.
When we rescued the first person and got him onboard, we did not look back. The crew realised that against all odds we might be able to do what we sailed out for. We were enthused.
Our first recovery was at about 6.30 pm and within two-and-a-half hours we had recovered about 42 people.
There were some who were so exhausted after being in the water that they had given up. They did not have the strength to climb up.
One of our officers, Lieutenant Commander Raj Krishna Manu, who was leading one of the teams, spotted some who were unable to climb the net and were slipping away.
He tied a safety harness as someone held him from above and lowered himself down to the water level and pulled people up.
It requires a lot of courage to go down a ship which is in violent motion. A slip and you could go into the water. He was backed up by his team and he rescued about 10 people by pulling them out of the water with his hands.
There were others in the water who were so drained that they could not climb up, so the crew started lifting the heavy nets and grabbed them as soon as they came within reach and got them onboard.
Then they would again lower the nets and repeat the exercise.
When we could not spot any more people around, we would receive input from a merchant ship nearby and would again start manouvering the ship in that direction to rescue more people.
We kept dashing for possibilities to find more we could save till we could not see no more people. It didn't stop till we finally succeeded.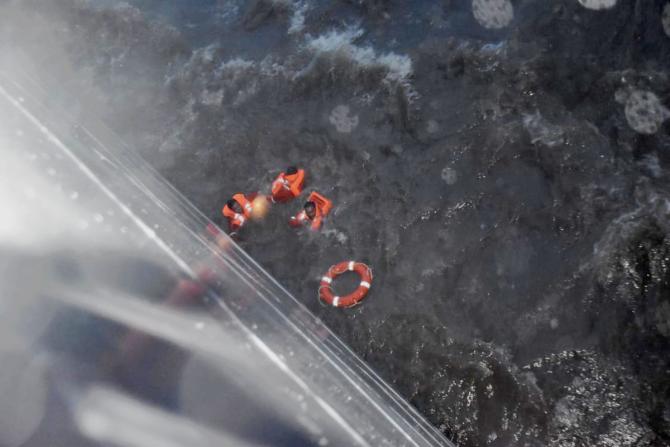 The rescue went on through the night
It was a moonless, pitch dark night with strong winds and intense rains. The crew kept working furiously. When I looked at the watch it was already five in the morning.
We had picked up 110 people by then.
The entire crew was very enthused.
When it was first light, we were unable to spot people in the water because the lights on the life jacket which shone at night were invisible in daylight.
We could not spot them even if they were 100 metres away, the visibility was so bad. Still were able to get another 15 survivors the next morning.
Then we were joined by other naval ships [INS Kolkata and INS Talwar] which also rescued survivors.
Helicopters were launched when the skies opened up marginally in the morning and they picked up a few people from the water. By then there were other support merchant vessels that aided in the effort.
At the end, 187 people were saved.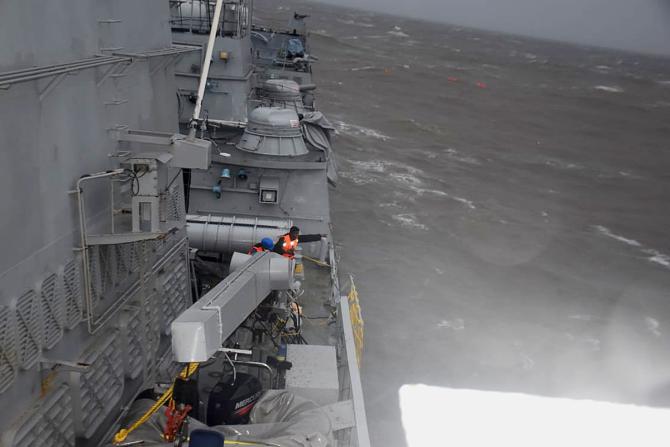 Relief, also disbelief for survivors
Most of the survivors were not seamen. They were mostly labourers, not mariners. They were in the waters for so long, but had followed the instructions that probably had been passed on to them on the rig.
They had worn their life jackets properly. It had been an ordeal for them to be in the water where the waves threw them up 10 metres and down 10 metres. One minute you are able to see and the next you couldn't.
They knew their lives were in danger. They also had hope because we had established radio contact at 2 pm and they had seen us around 3.30.
When they started coming onboard, they were relieved to find their feet on something firm. Some, understandably, broke down.
Fortunately, very few had serious injuries. Most of them had small cuts and gashes which our medical team treated. There were one or two cases that were a little more serious, but we brought them back in time for medical intervention.
Our crew was looking after them right from the time they came till the time we returned.
The over-riding emotion was relief. Some had a sense of disbelief. Some were thankful.
There was one among the last we picked up who came up and confidently said, 'Today is my birthday'.
Hats off to people like that. There are some who are really brave.
A Captain's Creed
I must confess, at every point, I was seriously concerned about the safety of the men under my command.
The responsibility of my men and my ship is mine and mine alone.
I was aware that my decisions were putting my crew in harm's way, but I was also confident that my officers and men could take up this challenge. I knew they would live up to it and will do their best.
Each one of them did what they did on their own. There was no time to instruct anyone or to start explaining things. They did it, without any one of them getting injured, or lost at sea. That for me is the primary satisfaction.
This is a testament to the Indian Navy which has created an ethos that nurtures our officers and men in the right way.
The officers and men worked hand in hand. There was no separation, there was no hesitation. From the junior-most to senior-most, everyone was on their feet -- pulling ropes, guiding the survivors, taking them to the medical station, etc.
They did this nonstop.
They all believed in the cause. As the captain of my ship, it was most satisfying that the team delivered under pressure because at the end of the day, that's what we're meant to do. That's the essence of the Indian Navy's operating paradigm.