'We are seeing 50% fewer cases now.'
'It is primarily due to the lockdown.'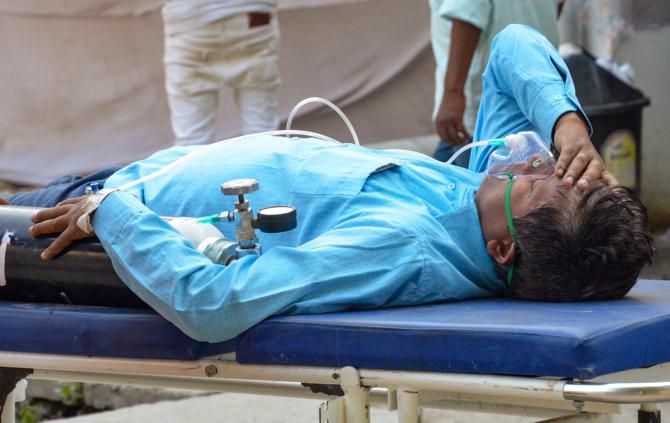 Dr J P Singh is grief-stricken after the death of fellow doctor Dr Khalid Hussain, the senior anesthetist at the Magadh Medical College and Hospital in Gaya.
Dr Hussain lost his life to COVID-19 last week. He was first treated at the medical college he worked at and then moved to a private hospital in Patna where he breathed his last.
"Dr Khalid had done exceptional work. He was one anesthetist who was always there for emergency surgeries during the pandemic. He was deeply committed," Dr Singh tells Rediff.com's Archana Masih. "His passing is a great loss."
The Prakash Multispeciality Hospital, where Dr Singh practices in Gaya, Bihar, was notified for Covid treatment during the second wave. Seven beds were assigned for Covid patients.
The beds have been constantly occupied till last week, but as cases declined, it has only 3 patients now with no new admissions.
"Fortunately, all those who were admitted here recovered and returned home," says Dr Singh, who always bathes and change clothes as soon as he gets home before interacting with his family.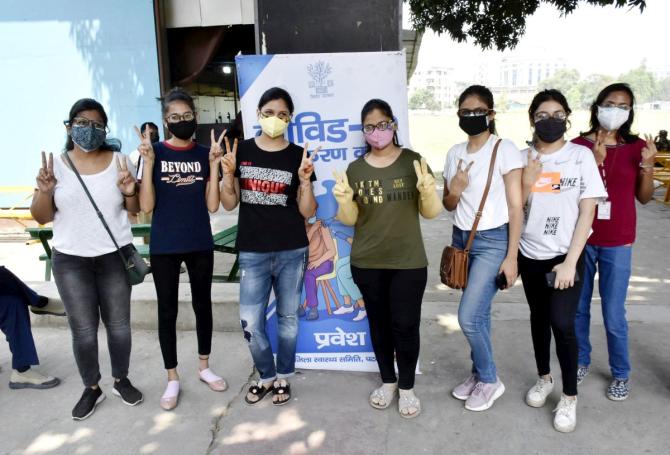 As Bihar sees a decline in cases over the past week (4,002 cases on May 22 and 2,844 on May 23), the situation was grim for the last few weeks (15,126 cases on May 5).
Gaya was among the worst affected districts in the state and has the 8th highest active cases among the state's 38 districts.
"The cases have reduced definitely. We are seeing 50% fewer cases now. It is primarily due to the lockdown."
"My personal opinion is that the lockdown should be extended for an entire month in Bihar."
On Monday, May 24,, the state government extended the lockdown to June 1. Chief Minister Nitish Kumar tweeted that the lockdown had shown positive results which prompted the extension by another week.
"Before Holi we hardly saw any cases, but after Holi there was an exponential growth. Post April 15, the situation became very bad -- lack of beds, oxygen, medicine," says Dr Singh.
"Earlier only government hospitals were providing Covid treatment in Gaya, later on the government gave permission to some private hospitals to start Covid treatment."
After his hospital was approved for Covid treatment, he says it was confronted by oxygen shortage and procured some oxygen from Kolkata and Delhi.
"The district magistrate deputed a magistrate for every private hospital and we had to get in touch with him for any shortage," adds Dr Singh.
"We were assured by the government that we would get oxygen supply and we received good support from state government officials."
"We were sending patients with mild to moderate symptoms for home treatment, but if the SPO2 was below 90, hospitalisation was necessary."
"According to my experience, recovery is good if treated early."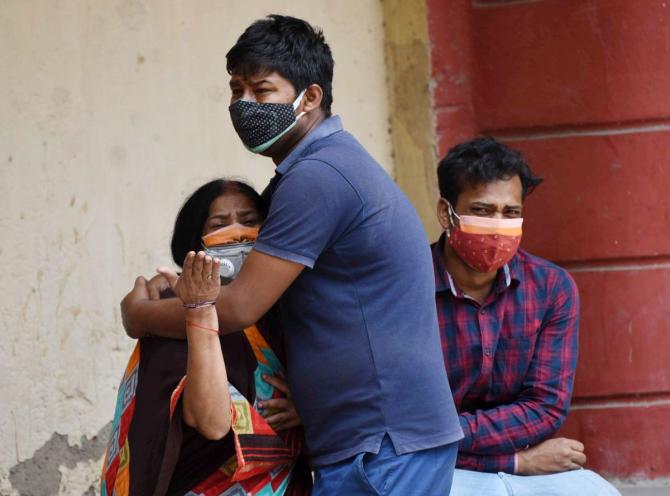 In the days which saw a high level of cases -- that Gaya had not seen before -- the medical infrastructure was overwhelmed.
"The infrastructure was not equipped for such a high volume of patients and the need for ventillators. There was a shortage of oxymeters, oxygen and medicines in the market, thankfully, things are available now," says Dr Singh.
In the peripheral villages of Gaya, he says there were around 3-5 Covid deaths in many villages.
"Awareness is less, people don't wear masks and testing facilities are limited."
"Often village quacks administer medicines for cough and fever and patients feel better for a few days, but start deteriorating soon after. They come to us 10 days after the onset of symptoms, reporting loss of appetite and weakness."
"They even carry negative Rapid Antigen Test reports, but from the symptoms and history, you know it is Covid and when we do a CT, the score is 15."
"The management of Covid by quacks is turning fatal because at times there is no access to proper treatment in villages."
"90% of those with cough, fever, breathlessness have Covid. Many are misrepresenting Covid as typhoid," he says.
Giving an example of the district hospital in Tekari, near Gaya, he says the hospital has an isolation ward, oxygen supply and an erratic stock of medicines.
Around 15-20 Covid patients were admitted there till last week. The testing facility available to residents is the Rapid Antigen Test. The nearest RT-PCR testing lab is in Gaya town.
Among the Covid patients he has treated, only one case was that of a partially vaccinated person. "She was 50 years old who contracted it five days after receiving her first dose. It was a mild infection and she has recovered."
Awareness and vaccination are the only solution, he says. "The government should use the lockdown to ramp up vaccination."
"Till May 15 was our difficult period. The worst of the second wave may be behind us, but we should follow Covid protocols for the next three years."
Feature Presentation: Aslam Hunani/Rediff.com