'The prime minister can think of bullet trains and speed, but cannot think of special measures to save these magnificent creatures.'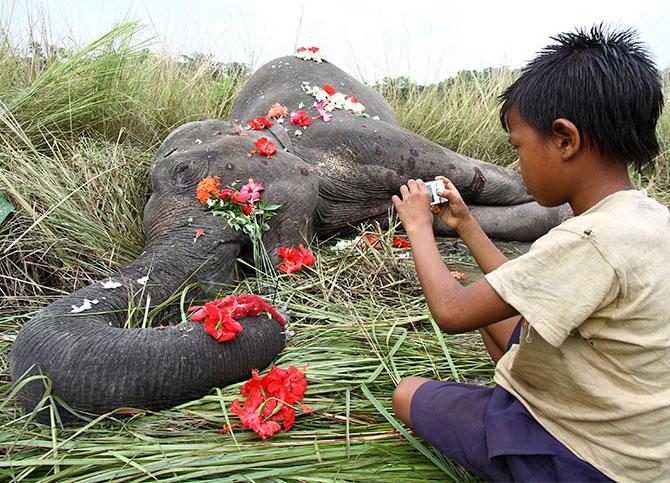 IMAGE: A female elephant after it was hit by a train near the Panbari railway station, near Guwahati in Assam, September 2012.
Between 2009-2010 and 2016-2017, approximately 655 elephant deaths due to human-wildlife conflict have been recorded.
Of these, more than 120 deaths were due to train accidents.
Photograph: Utpal Baruah/Reuters
In a mammoth tragedy two Saturdays ago, a speeding train in Assam killed three baby elephants and two adult elephants on the railway track at night.
The elephants were crossing the track in a forested area. Locals say, that because the baby elephants did not move seeing the oncoming train, they were flanked by the adults who took the brunt of the train, but were unable to save them.
The driver tried applying the brakes, but it was too late.
The mowing down of the elephant family is a deeply troubling tragedy and should lead the government to take preventive measures.
40 elephant deaths have occurred in Assam due to unnatural causes in 100 days.
In a single month in 2016, eight elephants succumbed in train collisions in Assam; one was pregnant.
On an average 80 elephants are killed in India each year.
India is home to around 30,000 elephants. 5,600 live in Assam.
Ten days before the tragedy in Assam, a group of wildlife conservationists sent a letter to Railway Minister Piyush Goyal to act on the rising elephant deaths due to train collisions. The letter listed measures that the government needs to undertake urgently to save these gentle giants.
"The government does not seem to care and until that happens we will keep seeing such tragedies happen again and again," Debi Goenka, founder, Conservation Action Trust, and a signatory to the letter, tells Rediff.com's Archana Masih.
14 conservationists wrote a letter to Railway Minister Piyush Goyal about elephants being mowed down on railway tracks. Have you heard back from the minister?
The railway minister, environment minister, prime minister could not care a damn!
The prime minister can think of bullet trains and speed, but cannot think of special circumstances, and measures to save these magnificent creatures.
They don't understand that this is a special situation that requires special rules.
We can only hope that the government will wake up one day. Unfortunately these days, the judges also don't seem to be very concerned about most of these things.
And it is even more tragic because the elephant is the mascot of the railways.
Yes, that is the tragedy. It also has a religious significance for most Hindus, but still nobody seems to care.
We are losing our endangered animal wealth like these elephants in such tragic accidents. How can governments be sensitised about this tragedy?
Unfortunately you can't give anyone an injection of sensitivity.
It is either there or not there.
It is not as if our past prime ministers have not been sensitive people. Indira Gandhi was a very sensitive PM about wildlife, forests and environment.
Atal Bihari Vajpayee as a PM and human being was very sensitive.
It's not that we don't have sensitive leaders. We've had sensitive leaders who have done their bit when they were in power to stop environmental degradation.
But obviously the current leadership doesn't seem to care a damn.
There has not been a single minister who has spoken out, expressed sympathy and said s/he will do something.
What urgent measures should be taken to prevent the horrific deaths of elephants due to collision with trains?
Speed restriction is an absolute must.
Secondly, the railways will have to invest in some kind of technology which can detect the presence of animals on the tracks by installing sensors and infra-red equipment.
Third, patrolling of railway tracks by joint teams of the railways and the forest department, especially in areas where elephants are known to be crossing so that they can alert drivers in time.
Fourth, in sensitive areas, local persons should be asked to alert the station/drivers because they know the local conditions and areas prone to elephant crossings.
Fifth, civil engineers will have to build structures that will allow elephants to pass below or above the railway tracks.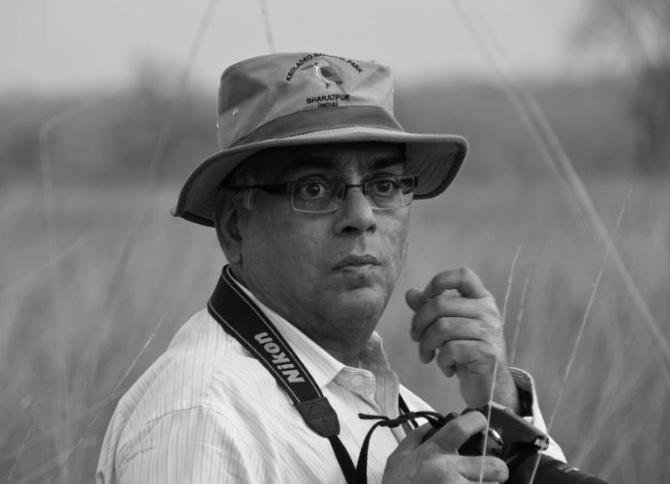 IMAGE: Debi Goenka, Founder, Conservation Action Trust, has been working in the field of conservation for nearly 40 years.
Some of these measures have been taken at the Rajaji National Park in Uttarakhand that have reduced such accidents, isn't it?
Under-passes have been built in Rajaji, but even that hasn't been completed. It is still a work in progress.
It took a long time to get the government to take these mitigation measures in Rajaji, but I'm told they are still not complete. It has been more than 12 years.
Hope is when these measures are taken, elephants will start using them and not use the railway track.
Just as we try and persuade commuters in Bombay to use the over-bridges rather than cross the tracks.
What are the other causes of elephant deaths in India?
Poaching has come down, but it is still happening.
Elephants get electrocuted.
They get shot at because of damaging crops.
The loss of habitat is a serious threat to elephants.
What are the primary causes for the destruction of elephant habitat?
So-called development.
We want to keep building more roads, rail lines, canals through forest areas.
We keep allowing encroachments and keep giving chunks of forest land to people for mining etc -- this is the consequence of all this.
Why elephants in Assam so vulnerable to such accidents?
Assam has a lot of elephants.
It is a hilly terrain. In winter it becomes even more difficult because of fog when you can't spot the elephants.