Sachin Tendulkar and Rekha's tenures in the Rajya Sabha end this month.
Syed Firdaus Ashraf looks at their six-year term in the Upper House, and we must say, it ain't a pretty picture!
Sachin Tendulkar and Rekha are among the 12 nominated members of the Rajya Sabha, the Upper House in India's Parliament. Cricket legend and movie star were both nominated in March 2012.
According to figures revealed by the Rajya Sabha, Sachin has an attendance of 7.3 per cent, during which he asked just 22 questions and introduced 0 bills.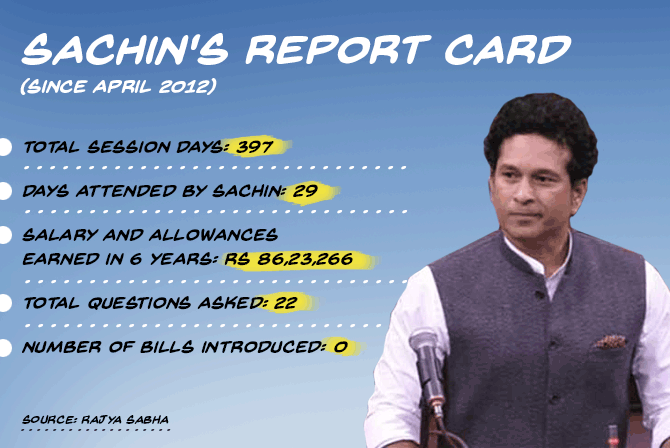 Graphic: Dominic Xavier/Rediff.com
Rekha has an even worse attendance record -- a meagre 4.5 per cent since her term began in the Rajya Sabha.
Rekha, in fact, has not attended more than a single day in any session since her nomination.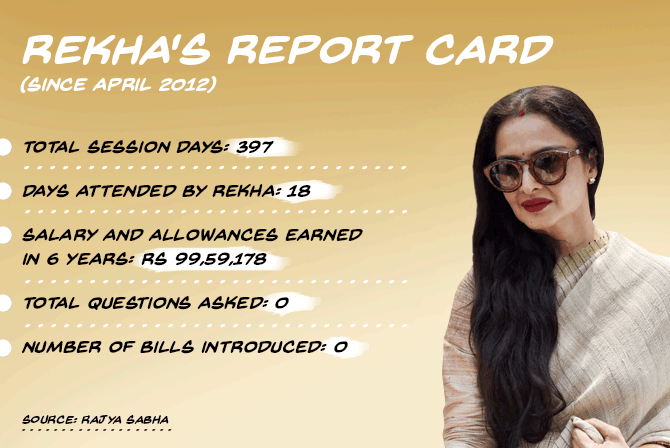 Graphic: Dominic Xavier/Rediff.com
During her tenure, she did not ask a single question, forget introducing any bills.
Sachin and Rekha's poor attendance has been brought up time and again.
In 2017, Samajwadi Party MP Naresh Agarwal questioned their attendance, bringing to light the poor performance of some of our MPs.
And if this wasn't bad enough, data also revealed that till 2014 -- two years into their tenure -- both celebrities had not spent any money from their MP development fund.
For the uninitiated, each Rajya Sabha MP is given Rs 5 crore (Rs 50 million) a year under the Member of Parliament Local Area Development Scheme to spend for development in any part of the country.
Only after Rekha and Sachin received flak in the media did they get down to utilise the funds.
Sachin adopted two villages -- Puttamraju Kandriga in Nellore district, Andhra Pradesh in 2015 and another village Donja in Osmanabad, Maharashtra, in November 2016 under the Sansad Adarsh Gram Yojana.
Rekha, too, began utilising her MPLAD funds. She donated Rs 3.03 crore (Rs 30.3 million) for the construction of the Chhatrapati Shahu Maharaj school in Kasarwadi in Pune's Pimpri-Chinchwad Municipal Corporation in 2018.
She also helped build a school in Rae Bareli -- Sonia Gandhi's Lok Sabha constituency -- by contributing Rs 2.5 crore (Rs 25 million) from her funds.
Rekha, like Sachin, was nominated to the Rajya Sabha by the United Progressive Alliance government.
The MPLAD Web site states there are more projects that both MPs donated to. However, the Web site does not provide any information about which projects were completed.