Ajit Jogi's passing reminds Dr Sudhir Bisht of his meeting with the then Rajya Sabha MP while probing an alleged act of impropriety.
Illustration: Dominic Xavier/Rediff.com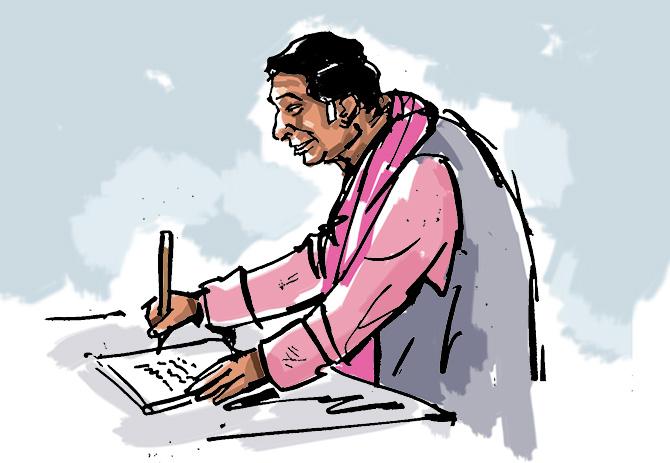 Working with the Indian Oil Corporation for nearly 11 years gave me exposure to so many memorable situations that I can write a small book of memoirs some day.
Commanding an oil installation in an emergency situation for two weeks at Kargil, with no substantive experience in oil depot operations was a high point in my life.
Operating an LPG plant with all my senior officers when the workmen had gone on strike was another such memorable event.
In mid-1995, I was transferred to Delhi and was in retail marketing division. In 1997, I was involved in the investigation in a petrol pump allotment case as a few complaints were received by the ministry of petroleum and natural gas against alleged 'arbitrary' allotment of petrol pumps to many political persons.
One such case that I was asked to handle involved Ajit Jogi, then a Rajya Sabha MP, who was allotted a petrol pump dealership in Delhi.
During those days a petrol pump couldn't be allotted to anyone whose family income in the preceding financial year was more than Rs 50,000!
A complainant had alleged that Ajit Jogi's wife -- a medical doctor -- was an employee of the Madhya Pradesh government and earned a salary much more than Rs 50,000 per annum and hence Jogi was not entitled to a petrol pump.
I would like to mention here that the petrol pump existed only in the form of a letter-of-intent (LoI) and even the land for the petrol pump was not allotted by then.
I don't remember the exact month or year when I first met Ajit Jogi, but I guess it was towards the beginning of 1997. I had called him up on the landline at his residence and sought his appointment beforehand.
I reached his 79 A/B, Shahjahan Road bungalow five minutes before the scheduled meeting and was asked to wait. At exactly the time that was agreed upon, Jogi walked into the drawing room.
I stood up to greet him and he extended both his hands and clasped my hand in a warm handshake.
"Most welcome to my humble abode, Mr Bisht. Did you have breakfast or would you give me the pleasure of offering it to you?" he asked.
"Thank you sir, but I had breakfast when I started from my home."
"I see. This means you are coming straight from your home to my little house. Then a cup of tea is mandatory before we start any official talks."
"Okay sir, if you insist."
Jogi himself served the cup of tea to me and insisted upon my savouring two pieces of Britannia Marie biscuits.
I then handed over a letter to him wherein I mentioned that it was alleged by a complainant that he had concealed his wife's income while filling up the application form for allotment of a petrol pump.
In my letter I had said I was in possession of some documentary proof in respect of his wife's income and asked him to explain his position in respect of the charges made against his application form.
Jogi smiled as he read the letter. I then asked him to sign the duplicate letter as a token of acceptance of the original letter.
"You can get the acknowledgment done by my staff, Mr Bisht," the MP said in a polite way.
"Sir, since you and I are meeting face to face, I would request you to put your signature on the duplicate copy. This is as per the prescribed procedure."
Jogi took out a pen which was bigger than most pens that I had seen and scribbled 'Received' on the duplicate copy and signed it and put the date on it.
He looked at the pen and said, "This is a pen made for me especially. It is made of wood and is a bit grotesque. You know it is made for a tribal like me. Strong and useful, though it may not look very fancy."
A suppressed laugh came out of me in genuine appreciation of the way he lent a unique personality to his pen.
"Mr Bisht, what do you want me to do now?"
"Sir, you have to explain your position, that is all for now. When do you want me to come again to see you sir?"
The MP said, "Please come back next week, same time, same day. I am disappointed that someone doesn't want me to have a stable source of income. I gave up my top government job to come into public life, but I too need to have a source of income."
"Why should someone feel envious if I get a small petrol pump somewhere in Delhi that will keep going, even when I am no longer an MP?" he asked.
He shook hands and left for a meeting.
Ajit Jogi was a man of above average height. I am 5'4" and hence his 5'9" looked like reasonably good height to me. He wore white pyjamas and a coloured kurta that had broad vertical stripes of green running over a grey background. Around his neck he had wrapped a hand-crafted muffler that looked more like a gamcha.
The man wasn't wearing that staid looking overstretched, spotlessly white kurta and pyjamas. And on his feet, he wore a pair of simple leather slippers.
I saw him drive out of 79 A/B in his green Maruti car with two other men who appeared to be dressed in an even humbler way than their leader.
A week later, I arrived at his bungalow again. I didn't have to wait for him, he was already there to meet me. Tea and Britannia Marie biscuits were served again. Tea in a white cup-saucer combination and biscuits in a thick, black quarter plate.
"Mr Bisht, I will not ask you the name of the complainant as I know that you would refuse and I will also tell you that I already know the name of the complainant," Jogi smiled.
"Thank you sir for this. You know it wouldn't be correct for me to give out the name."
"Mr Bisht, When I applied for the dealership of the petrol pump, I was a relatively new MP and a year before that I wasn't gainfully employed. So my own income in the previous financial year was almost nil."
"My wife's income is her own and I don't depend upon her income to maintain myself. So why is my wife's income a factor in this case?"
"Sir, as per the rules made by the ministry, the family income is considered to assess the financial status of a candidate and since your wife's income was far in excess of Rs 50,000 your application may become ineligible."
"But Mr Bisht, we are tribals. We have our own way of calculating family income," he laughed and continued.
"What if I say that she doesn't live with me as I am in Delhi and she is in Madhya Pradesh? Will you then count us as two independent households?"
"No sir. But you can write that in your response and the management shall look into it. I am just an assistant manager in the company and I am not the one to decide," I said.
Jogi was looking at me attentively, as if he was trying to assess if what I spoke was in congruence with my inner thoughts.
"Mr Bisht, you know that I was a district collector for more than a decade. Just like you, I am a very educated person. I am an engineer by profession and an administrator by training. I came into politics by chance. I know that an intelligent field investigator knows where his investigation is heading to."
"Sir, I think the evidence in respect of your wife's income cannot be contested. Since madam is a government hospital doctor, her salary is in the public domain."
Ajit Jogi asked for another round of tea. He was dressed as modestly as he was the last time. Only the muffler was missing from his neck. And I could see two thick pens tucked inside his kurta pocket. Not fancy looking, but solid.
"Tell me, Mr Bisht, what would you do if you were in my place?"
"Sir, how can I answer that question? I am not competent to answer this," I protested in a friendly way.
"Ah! I asked you the same question that was asked to me by my chief minister when he visited my district. And you answered in exactly the same manner that I had answered, about 15 years ago. So please help me with an answer."
"You are a first class MBA and can be more imaginative than I was."
The MP encouraged me with his persuasive words.
I replied, after much thought and with some hesitation, "Sir, you had a brilliant academic career and a trailblazing career as a bureaucrat. You left the coveted job of an IAS officer to join public service. With your credentials, you would one day become a Cabinet minister yourself or maybe the chief minister of Madhya Pradesh one day."
"Why do you want to risk all that may come your way for a petty petrol pump dealership? And the dealership is many years away from seeing the light of the day. So if I were you, I would surrender the LoI for the dealership."
A wide smile ran across Jogi's face.
"There you go, Mr Bisht! My view is identical to your view and thanks a ton for helping me. Now just stay here and pardon my absence for just one minute."
Ajit Jogi went into another room and came back with a letter that stated that he would like to relinquish the petrol pump dealership. It was a handwritten letter that he had obviously written even before I arrived at his residence that day.
I read the letter and smiled and said, "Very well, sir. I will leave now. I wish you all the best in your political career."
Jogi was seen to be close to Sitaram Kesri, the evergreen treasurer of the Congress party who briefly became the party president. But he wasn't a very prominent politician then.
Three years later, Ajit Jogi went on to become the first chief minister of Chhattisgarh, when the state was carved out in 2000.
I never met Ajit Jogi after that, but his recent demise made me sad. May his soul rest in peace.
Dr Sudhir Bisht, author and columnist, writes from New Delhi. He can be reached at sudhir_bisht@rediffmail.com.