Another 8 pm prime ministerial speech.
Will this one too lead to a scramble and chaos like his previous 8 pm telecasts?
Prime Minister Narendra Damodardas Modi will address the nation at 8 pm on Tuesday, making it the fourth such instance in his six-year rule.
As this is the last week of the extended national lockdown that ends on May 17, he is expected to announce an exit strategy from the lockdown, or a further extension with more relaxations.
Here's what happened after his earlier three 8 pm addresses to the nation:
Tuesday, November 8, 2016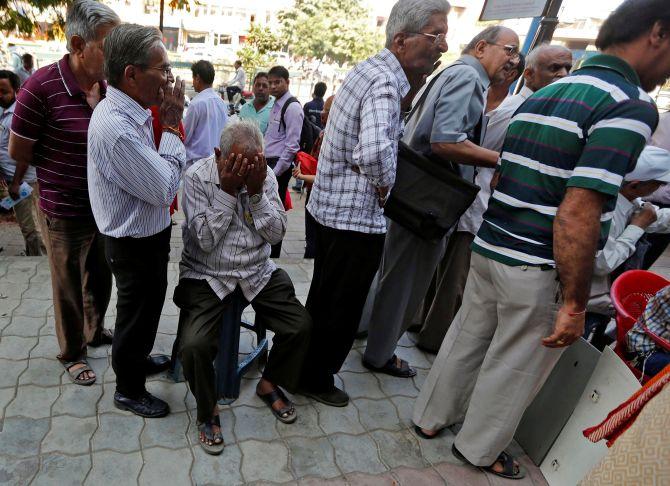 When television channels flashed post lunch that the prime minister would address the nation at 8 pm to announce measures against black money, no one expected the surprise -- or shock -- they were about to get.
Focussed on the nail-biting presidential race in the United States, the media did not pay much attention, expecting it to be another routine announcement.
What happened post 8 pm was an event that has happened only twice before in independent India.
Giving less than a four hour notice to 1.3 billion Indians, the PM told the nation that currency notes of Rs 500 and Rs 1000 denomination were being demonetised -- which meant about 85 per cent of the currency then in circulation 'will be mere pieces of paper' after midnight.
The move, he said, was aimed at targeting black money 'hoarded' by 'anti-national and anti-social elements'.
After a short-lived initial euphoria and adrenaline rush, Indians realised what the decision actually meant for them.
All ATMs, most of which did not have the lower denomination notes people wanted to withdraw, ran out of cash within minutes.
While the PM had assured that ATMs and banks would start functioning after a day's break for preparation, it took months for normalcy to be restored.
Differently-sized new notes did not fit in the ATMs, resulting in the need to recalibrate lakhs of those machines across the country.
Unending queues were seen outside ATMs and banks where people waited for hours to withdraw Rs 4,000 of their own money, or to get their old higher-denomination currency notes changed for new.
More than 100 people reportedly died in such queues.
Lack of availability of new currency with the banks created a huge liquidity crisis. And introduction of new Rs 2,000 notes that were printed in large numbers created a problem of change.
As usual, the hardest hit were the poor. Farmers could not sell their produce or buy agri products. Few of them had accounts outside cooperative banks.
The informal economy driving the small businesses and industries was also hard hit, resulting in large-scale job losses and migration of workers to hinterland from cities.
Faced with a new crisis every day, the government kept changing the rules and regulations, creating immense confusion among the people. They were also denied the full 50-day window they were promised to exchange their old currency.
The goal posts also kept changing, from killing black money to promoting a less cash economy to eliminating Naxalism and terrorism.
All this was evidence enough of the lack of proper planning before announcing such a momentous decision on the part of the government.
This decision showed the devil is really in the details, something neither the prime minister nor the government was too focused on.
Thursday, March 19, 2020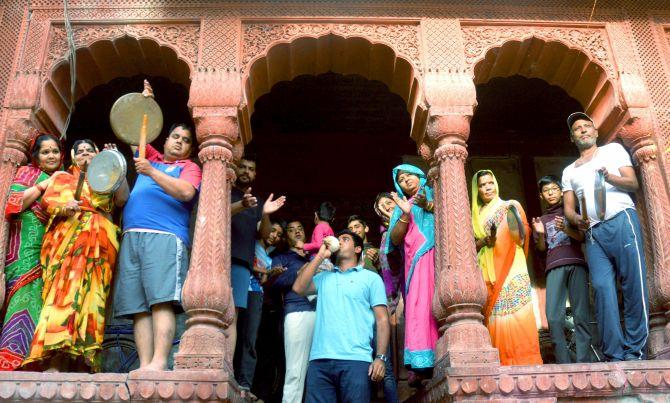 Barely a week after his government assured people that the COVID-19 outbreak in India did not pose a health emergency, Modi appeared on TV yet again at 8 pm to address the nation.
'I need a few of your weeks,' he asked people at the beginning of his address, prompting the nation to think that he will announce a nationwide lockdown as was already announced in a few of the hardest-hit states.
But he only asked them to stay at home as much as they can and announced a day-long 'Janata Curfew' on March 22, at the end of which he asked people to applaud the 'corona warriors' of the nation by clapping or clanging utensils from their balconies.
Though the nation observed a day-long curfew, it was in the evening that all of the PM's directions were thrown out of the window by jubilant crowds of people marching on roads in large numbers and banging utensils, blowing conch shells, or beating whichever piece of metal they could lay their hands on.
While the PM had requested people not to come out of their homes and urged them to observe physical distancing, they crowded the streets like a carnival to celebrate 'corona's defeat'.
Tuesday, March 24, 2020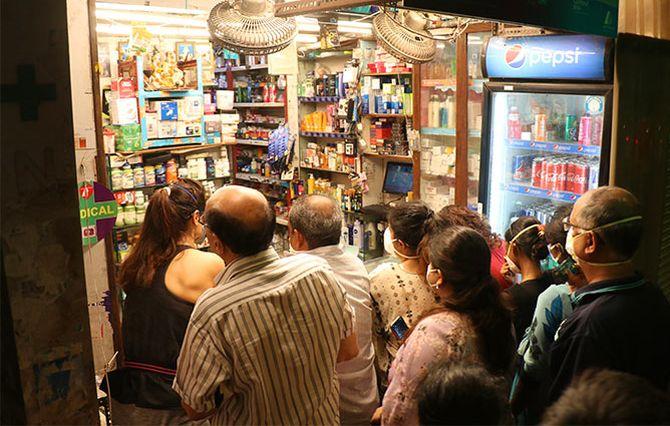 Two days after the 'Janata Curfew', as the number of COVID-19 cases started seeing a steep rise all across the country, Modi yet again delivered an 8 pm address, this time announcing a 21-day national lockdown starting midnight, just four hours away.
Though it made little difference to most states where Section 144 of the Code of Criminal Procedure was already in place and while airline and passenger train services had already been suspended, Modi's announcement led to a scramble.
His address did not specify if essential services will be allowed to function and hence people crowded grocery stores, medical stores and supermarkets, yet again flouting the physical distancing guidelines.
The scenes witnessed outside those stores were a stark reminder of the November 8, 2016, fiasco called demonetisation.
The mad rush promptedModi to tweet that there will be no shortage of essentials and emergency services will keep on functioning.
The ministry of home affairs also issued clarifications, asking people not to hoard supplies and stay calm.
However, it seemed, the poor, the daily wage-earners and farmers had once again escaped the government's focus.
Once again, it seemed, India had failed Bharat.
No proper assurances were given by the PM to migrant labourers and workers that they would be provided sustenance in face of no work due to the lockdown, or to farmers that they would be allowed to harvest their crops.
This resulted in an unprecedented migration of millions of workers and daily wagers from big cities to the countryside, mostly on foot.
Many of them sneaked into transport trucks, goods trains, even cement mixers to escape to their hometowns, only to be apprehended by the police and being charged with breaking the lockdown.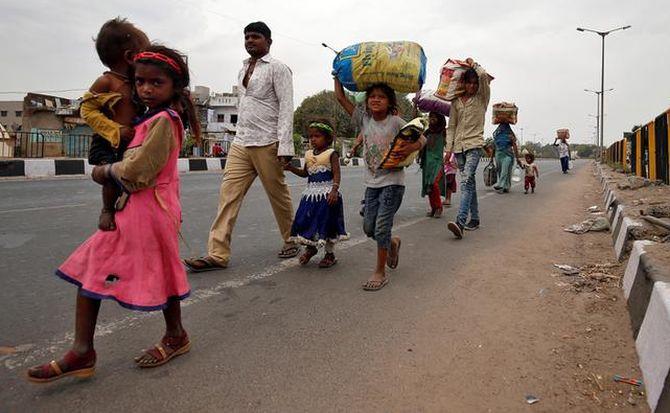 As the humanitarian crisis escalated, many stated arranged for buses to transport the migrants or arranged food and shelter for them, but no concrete plan was proposed to deal with the exodus by the Centre.
Many of the migrants died of exhaustion, in highway accidents or starvation.
The most tragic mishap happened last week when 16 migrant workers, walking to their hometown in Madhya Pradesh, slept on train tracks in Aurangabad, Maharashtra, only to be run over by a goods train.
Though requested by various states, the Centre started running 'Shramik' special trains to transport these migrants more than 40 days after the lockdown was announced, and many of them are still walking or cycling to their home because they 'don't have the money to pay for tickets'.
This despite the railways claiming it is waiving 85 per cent of the ticket costs while the rest 15 per cent is given by the respective states.
On the other hand, industry experts issued calls to stop the reverse migration of workers as the gradual opening up of factories and manufacturing units will require labour which is in short supply right now.
The shutting down of industry has already resulted in huge losses to the economy and every sector is hoping for financial stimulus from the government.
Possibly, it is these issues along with the lockdown exit that Modi will address in his latest 8 pm address on Tuesday.