Former CIA operative Bruce Riedel on the Uri attack and its aftermath.
Exclusive to Rediff.com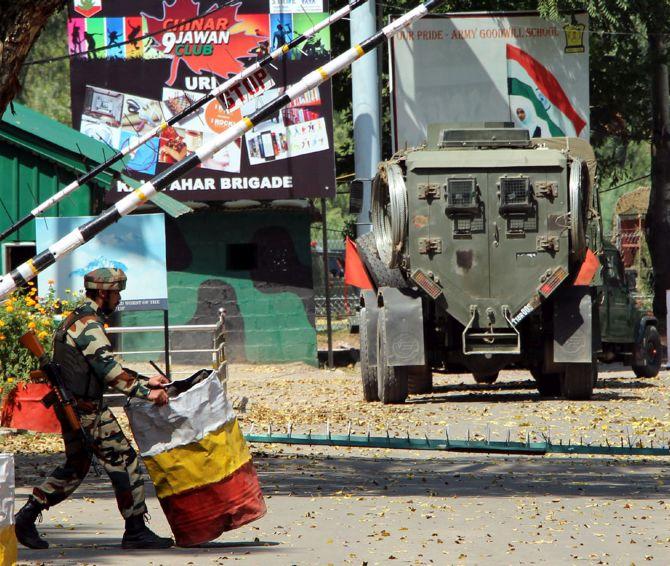 IMAGE: Soldiers on their way to neutralise the terrorists at the army camp in Uri, September 18, 2016. Photograph: Umar Ganie
Bruce Riedel, who served the Central Intelligence Agency for 29 years, is one of America's leading experts on terrorism in South Asia.
Chair of President Obama's committee to draft a new American policy on Pakistan and Afghanistan in 2009, Riedel has consistently warned policy makers and law makers in Washington, DC about the dangers of Pakistan-inspired terrorism in the region.
This is what Riedel told Rediff.com after the Uri attack on Sunday.
"It has been clear for several months that the Pakistani army believes the situation in Kashmir is ripe for a reintensification of the conflict and that India has few credible options to respond.
First and most importantly, the situation in Kashmir is deteriorating with alarming casualties.
Second the rhetoric on both sides is heating up. This is getting dangerous. India has no good military options to stop Pakistani supported cross border violence in Kashmir.
Any military response in Pakistan risks escalation and will be condemned by the international community including Washington.
A better approach would be to seek diplomatic support for labeling Pakistan a patron State sponsor of terrorism."
What Bruce Riedel told Rediff.com earlier: