Worried over those under home quarantine going out and mingling with others, the Karnataka government wants them to confirm their location through selfies.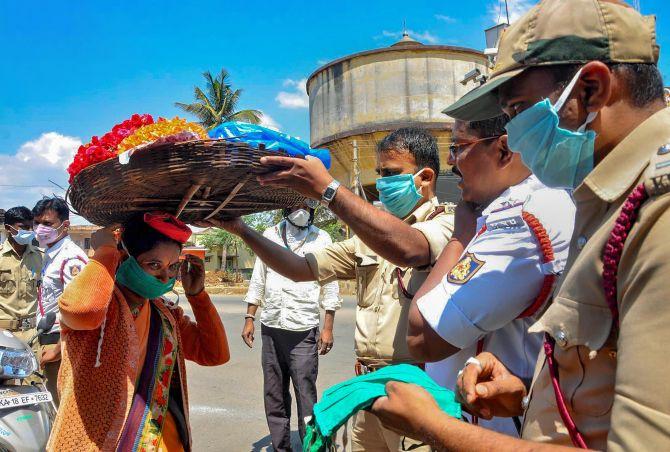 The Bharatiya Janata Party government in Karnataka has come out with a unique solution to fight coronavirus in the state.
It has ordered individuals under home quarantine to click selfies every hour and send it to the state government's mobile application, Quarantine Watch, developed by the Karnataka revenue department.
It may sound quixotic, but Karnataka Medical Education Minister K Sudhakar says it was essential and the need of the hour.
"It is strict surveillance. We have come to know that some people who were quarantined shifted their location knowing very well they were carrying the coronavirus. They went on to mix with other people and spread the virus," Sudhakar tells Syed Firdaus Ashraf/Rediff.com.
"We have identified those people and have now put them in the state quarantine facility. We also registered (police) cases against them as they put other people's lives in danger," says the minister.
"It is not fair on the part of people who are carrying coronavirus in their bodies to roam about freely," adds Sudhakar.
Asked why the government went the selfie route Sudhakar says, "The government's intent is to ensure that coronavirus patients's isolation takes place and ensure that these coronavirus infected people don't spread the infection to others."
"We want a strict quarantine to be in practice in Karnataka," asserts the minister.
When suspected and confirmed cases of coronavirus are put under home quarantine, a team from the state government visit their homes and take down their details along with their photograph, which is entered into the government database in order to track their progress.
As an added safety measure, those under home quarantine need to download the Quarantine Watch app and use it to shoot selfies and send it, along with the GPS coordinates, to the app every hour.
The only break in this routine is between 10 pm and 7 am.
Government officers use the GPS to confirm the individuals's location.
In case the individual is lying and found to be out of home quarantine, then s/he will be sent to the government quarantine centre, apart from having a police case filed under the Public Safety Act.
Asked why was it so essential for the Karnataka government to take this seemingly draconian measure that impinges on privacy, Sudhakar says, "There were 13-14 people who knew that they were carrying coronavirus in their bodies. They should have self-quarantined themselves and alerted the government, but instead they went around to places like Kalburgi and Bellary, thus spreading the virus."
"Now these people have been found and sent to the government quarantine centres and (police) cases have been registered against them."
Sudhakar clarifies that very few people behave in such a manner and that most individuals are co-operative and knew the dangers of spreading infection.
"When people do such acts it is a big task for the government to locate them. Where did they go and whom did they come in contact with?" the minister asks.
"There are so many multiple issues facing the government in these times and on top of that a few patients cannot act irresponsibly. Therefore, the government came up with this idea of app and selfie so that government rules are strictly implemented," says Sudhakar, who has been given the coronavirus brief by Karnataka Chief Minister Bookanakere Siddalingappa Yediyurappa, instead of Health Minister B Sriamulu.
Asked if he is sure about this method working to contain the spread of coronavirus, Sudhakar says, "This is one methodology. Let us see how well these patients adopt to it. At least the government will get to know (about their whereabouts)."
Asked what about the poor who do not have Internet or wifi connections, Sudhakar says, "4G is widely available and so is wifi. But if some people don't have it, they can tell us. We will see what can be done in such cases."