'This has been the history of these people,' Congress leader Ahmed Patel tells Sheela Bhatt.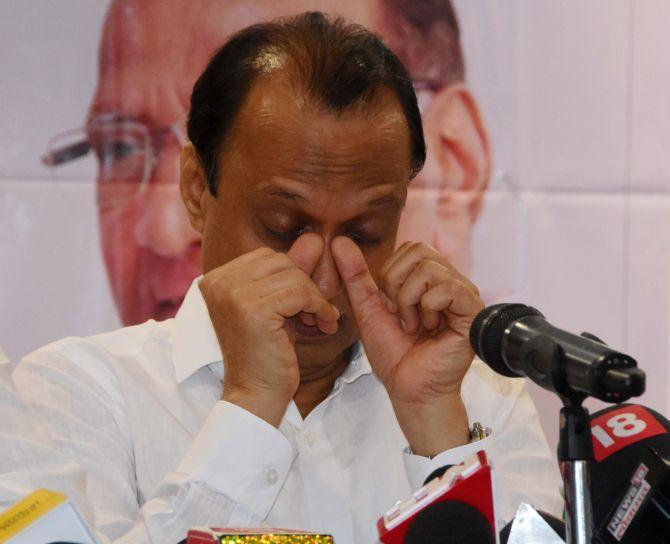 Congress leader Ahmed Patel, who is camping in Mumbai in efforts to form a new coalition government, came to know about the Bharatiya Janata Party-Nationalist Congress Party coup only at around 7.30 am on Saturday morning.
In an exclusive conversation with Rediff.com, Patel said, "This was very much expected. There is nothing new in their politics. En logon ki history rahi hi (This has been the history of these people)."
The Congress is flabbergasted to watch the surprising swearing-in ceremony of BJP leader Devendra Fadnavis as Maharashtra chief minister and Ajit Pawar as deputy chief minister.
Patel said except the issue of the post of assembly speaker everything had been sorted out between the Shiv Sena, NCP and Congress.
Sharad Pawar himself proposed the legendary Maharashtra Congress leader Y B Chavan's death anniversary on November 25 for the swearing-in ceremony of the Sena-NCP-Congress government.
But in an overnight coup, the NCP has abandoned the prospective political alliance to join the BJP.
It is unlikely that Sharad Pawar was not aware of the political developements since the entire NCP legislature party has joined the BJP-led government.
Also, Ajit Pawar is still under family patriarch Sharad Pawar's umbrella, so it is unlikely that he would do something so dramatic without his uncle's blessings.
NCP leader Praful Patel called Ahmed Patel at 2 am this morning, but communication could not be established.