It is becoming more and more apparent that Shyamvar Rai is like an onion.
And a pretty pungent one at that.
As layer after layer of his life gets peeled off, in full view of the court, new layers of his character are exposed.
Vaihayasi Pande Daniel reports from the Sheena Bora murder trial.
Illustration: Uttam Ghosh/Rediff.com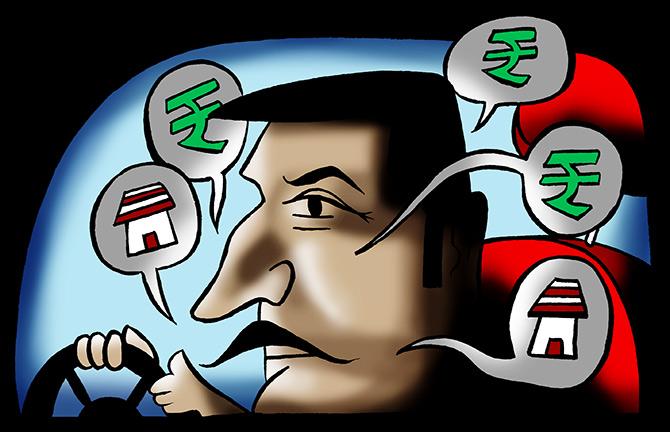 Twenty one.
This number came up quite prominently at the Sheena Bora murder trial on Wednesday, November 1, which has been progressing rather briskly these last few days in CBI Special Judge Jayendra Chandrasen Jagdale's Courtroom 51 at the sessions court in south Mumbai.
Astonishingly, 21 was the number of calls that were exchanged between the Mukerjeas' former driver Shyamvar Pinturam Rai and Sameer Buddha in the week before Sheena's death.
It was not the first time the name Buddha came up in hearings in this court. Buddha and his brother Sohail's names had been floating about on the periphery of the murder investigation right from 2015.
Sameer Buddha is the director of marketing at Star Protection Private Limited.
This agency is apparently an ISO 9001 certified company that offers security planning and assistance with investigations, cyber threats or forensics. Between 2007 and 2009 Sameer worked for INX Media.
His brother Sohail was for 22 years on the Mumbai police force before he became vice- president, internal security, Star TV, the company Peter Mukerjea helmed at that time.
After Rai left the Mukerjeas' employ in 2012, he worked for a time, from 2013, with Sameer Buddha, who was a friend of the couple, according to the chargesheet filed against Peter (excerpts of which were quoted in a Mumbai Mirror report in 2016).
This newly revealed level of involvement between Rai, who is now an approver and prosecution witness, and Buddha, before he became their employee, was odd and could be the newest twist in this case if the defence is to be believed.
Indeed it is becoming more and more apparent that Shyamvar Pinturam Rai is like an onion.
And a pretty pungent one at that.
As layer after layer of his life gets peeled off, in full view of the court, new layers of his character are exposed.
There seems to be no end of peeling that has to be done till you get to the core of the onion and understand who the real Rai is.
What's more? Each new layer is more smelly (damning) than the next.
The year 2012, as per Rai's call data records, that Indrani Mukerjea's lawyer Sudeep Pasbola has been milking gleefully for all its worth, was obviously somewhat of a busy year in the life of Danwa, Madhya Pradesh-born Rai.
Apart from his involvement in the Sheena killing, Pasbola uncovered, as he continued to thoroughly and methodically cross examine Rai, that the former driver kept in touch, in a hectic manner, with an entire universe of people -- the Mukerjea-Bora clan, the Mukerjeas' help, former employees of INX Media, many of the drivers and staff at the Marlow building, Worli, south central Mumbai (where the Mukerjeas own a flat) and over above that with innumerable real estate brokers, property developers, builders, several money lenders and also seven or eight advocates. This all -- bafflingly -- in the run up to the murder.
When questioned about his reasons for these numerous silsila (connections), Rai predictably feigned loss of memory, though he didn't entirely deny them.
Here are details of the illuminating exchange:
Pasbola started off silkily, in an extra polite tone that he seems to use when he knows the hunt is good and the kill very close by:
"Ek number puchta hu, yaad karo, from jis din yeh ghatna hua (Let me ask you about one number. Try and remember, it is from the days of the murder): 09969472944. Yeh number kiska tha, yaad hai to bataeeye? (Whose number was this, if you remember, tell me?)"
Rai: "Yaad nahin (Don't remember)."
Judge Jagdale: "Are you asking about the customer? (at this number?)"
Pasbola: "The user."
Pasbola, turning back to Rai, asked gruffly: "Jante nahin? Ki batana nahin chahte ho? (You don't know? Or you don't want to say?)"
Rai answering quickly and stiffly: "Yaad hi nahin aa raha hai (I can't remember )."
Pasbola: "Yeh dekho, April 17 se le ke April 24, 2012 tak 21 baar baat kiya (Listen, between April 17 and 24, you spoke 21 times). July 6 was the last call."
Rai: "Kiya hoga (I may have)."
Pasbola: "Eight times it was you who made the calls."
Rai, his face wooden and his answer terse: "Humko yaad nahin (I don't remember)."
Pasbola: "You called eight times, but you don't remember. Why did you call this number? For what reason?"
Rai: "I don't know."
Pasbola, incredulous: "Murder hone ke pahele kis se baat kar rahein -- yaad nahin! (Just before a murder you don't remember who you were talking to!) Not just once or twice. Many times!"
Rai, looking a bit queasy: "Yaad nahin."
Pasbola triumphantly: "This is the number of Sameer Buddha, brother of Sohail Buddha. You are trying not to disclose his name!"
Rai sullenly: "Maloom nahin toh kaise bata sakte hai? (If I don't know how can I tell you?)"
Pasbola: "Why were you talking over and over again with Buddha? From January to April baar baar lagatar calls kyo aata tha? (Over and over, constantly why were these calls coming?)"
Indrani was all ears at the back of the court in the accused box, her pen poised, listening alertly and seriously to the exchange, as were co-accused Sanjeev Khanna and Peter.
By contrast CBI Prosecutors Bharat Badami and Kavita Patil were especially quiet volunteering no "Objections your honour." Were they dismayed over the damage that the uncloaking of Rai's reputation in court could cause?
Thereafter, Pasbola fired multiple questions in quick succession, trying to engineer that Rai admitted it was Buddha with whom the interactions were taking place.
Rai answered nervously but didn't fall into that trap. He finally said, "Sameer Buddha used to work for INX Media, therefore I might have called repeatedly."
Pasbola: "Kis silsile mein phone karta the aur aap kis silsile mein phone karta tha? (In what connection was he phoning you and you him?)"
The lawyer then reeled off several other names/parties with whom Rai was mysteriously having multiple conversations with -- NDTV Imagine (where Sohail Buddha was working then), Anakin Management Consultants, Elixir Consulting, Shivaji Shamrao Kolekar...
Rai said each time, to each name, uneasily, in a dull, tired voice, that it rang a bell and he could have called or had calls, but he didn't remember the details anymore.
Kolekar, it turned out, was a driver from Marlow. That friendship Rai too denied offhandedly, saying: "We were all friendly in Marlow."
Judge Jagdale looked gently at him and with a smile offered a memorable line: "Dosti karna crime nahin hai (Making friends is not a crime)."
Pasbola accosted Rai with the fact (which he denied) that he told Kolekar that with the 'Rs 5 lakhs I got' he bought land in Madhya Pradesh.
"From January 2012 till March 2012 aap bahut saare land brokers, builders, construction walle se baat kar rahein the (Between January and March 2012 you were speaking to many land brokers, builders etc). Why? You also spoke to a lot of money lenders, mortgagers."
Judge Jagdale: "Savkars? (traditional moneylenders?)"
The lawyer concurred and then offered some examples: Austin Construction, Kalyan (builders), Shree Mahalaxmi Developers, Neral (builders), Rima (lenders), Kotadia (mortgagers).
Rai first said he didn't remember and then, with a smile, offered, "The paper was full of ads (for land, property) and so I used to call."
Pasbola sarcastically in disbelief: "Ha jee, ha jee, ha jee..."
The judge then turned to Rai and pensively looked, for a long moment, into his face, as if searching for an answer or the truth.
Earlier, he had repeated what Pasbola said, asking Rai directly, quietly, "Jhoot bol rahe ho? (Are you lying?)", and Rai smiled and said no.
Judge Jagdale, you observe, is the only person in the courtroom who connects with the driver on a much more human, individual-to-individual, level.
Pasbola continuing his exploration of Rai's lawyer contacts: "You were speaking to seven to eight advocates like Sanjay Kohlapur..."
Judge Jagdale with a mischievous grin added: "Pasbola?" Laughter followed.
Pasbola with a chuckle: "Humein property se lena dena nahin hai (I have no transactions with property)."
The lawyer to Rai: "Advocate Chaitanya Torgal... Why were you calling them and they calling you? Twenty times or more?!"
At every question Rai either popped his eyes or took a deep breath and said he might have, but didn't remember.
On Wednesday, all the cockiness had drained out of Rai.
The sheaves and sheaves of call record data that Pasbola constantly refers to, while constructing a fresh query, may be slowly eroding his morale, although on Tuesday the CBI suggested that one of the telecom companies said that the call data records may be 'subject to errors', whatever that means.
Wednesday was also the day Judge Jagdale, always easy going and beaming, ready to crack a joke or two, put his foot down. Firmly.
First, there was a Level 3 Variety Storm between him and Badami and Patil. Later, in a more even tempered but strict manner he took Pasbola on too.
Pasbola was asking Rai about Shrinivas Bhave, the advocate the Rai family hired to defend the driver before he became a sarkari gavai (approver).
The lawyer wanted to know for which case (Rai was initially booked under The Arms Act when he was apprehended in 2015 with a country revolver on his person) was Bhave hired and which court and so on.
Pasbola to Rai: "How many times did Bhave come to see you in Thane jail?"
Judge Jagdale to Pasbola, his face sombre, in a clipped tone, interjected: "I am surprised. Why are you putting this question? He has the right to have an advocate." The judge went on to add that those conversations and meetings were confidential.
"I am not asking about the conversation. I am not going to ask," Pasbola said categorically but respectfully, explaining that he had a purpose in just finding out the number of visits that happened and the judge assented.
"Teen baar se jyada (more than three times)" was finally Rai's answer, in addition to five to six visits in court.
Differences of opinion, between Judge Jagdale and the CBI lawyers occurred twice, finally causing that storm.
The first was when Patil was preventing Pasbola from asking certain questions of Rai. Judge Jagdale told her sternly: "You cannot control his cross examination."
Patil: "We don't want to."
Judge Jagdale: "Otherwise, he will pack his bags and go for appeal!"
The second instance was over what should or could be added to the court record.
The court record is hallowed ground and what goes on it is purely and ultimately a judge's call. It is often meticulously constructed.
In any Q and A between Rai and Pasbola, the driver always attempts to deflect the question and give some alternate answer or else add a bunch of extraneous, sometimes colourful, details, perhaps to cloud his real lack of answer.
This habit would frustrate Pasbola considerably, but he has learnt to deal with it by ignoring the background or white noise and requesting the judge to merely put down the pertinent and generally slender parts of Rai's answers.
Each time this has happened, over the last couple of weeks, one of the CBI prosecutors would suggest to Pasbola, and the judge, that the non-germane little bits can also come on the record.
"Let it come there," is the plaintive refrain. A tussle would follow with Pasbola insisting that it was not necessary and the judge placating both sides and restoring the peace.
On Wednesday, Pasbola was asking Rai if he hired lawyer Bhave or his family did. Rai explained that his brother Virendra Kumar did and then went on to add details about his wish to become an approver etc. Pasbola rudely cut him off.
Patil to Pasbola: "He has volunteered the information, let it come on record."
Judge Jagdale, who relents on most things, would not budge: "Is it a disputed fact? You want to take this on record?!"
His tone now icy, the judge asked, "Is Mr Bhave a witness in this case?"
Pasbola: "No!"
Judge Jagdale again: "Whether it involves a disputed fact?"
Patil said she still had an objection.
Judge Jagdale: "Everything cannot come on the record..." He then broke into Marathi making his position even clearer to Patil. "What is relevant I am taking, voluntarily."
Patil: "What is the problem in taking this?"
Judge Jagdale: "It is not necessary."
Patil countered him again.
Judge Jagdale irate: "Give an application. That is enough. Nahin! Nahin!"
Patil: "I am making an application."
Judge Jagdale, his face like thunder, "You can make!!"
Wednesday's hearing closed with a discussion on when the much awaited Airtel call data records would come in. Judge Jagdale said he didn't expect them till the 15th.
Pasbola, who needed these records to begin another chapter of cross examination, looked dejected.
November 10 was chosen for the next hearing when Pasbola and the CBI prosecutors could go over some loose ends and record/sort out the contradictions and omissions.
The room emptied as Patil sat down to write her application.
On Wednesday, Sanjeev had his cousin visiting and bringing lunch for him and Indrani.
Peter unfortunately did not connect with his lunch because the young friend/ex-colleague who brought it arrived a few minutes after he left for jail.
Sanjeev's burly photographer cousin seems to be the ideal relative. If Sanjeev went shopping for a better cousin he couldn't have found one.
The cousin carefully supervises all of Sanjeev's legal matters, patiently and tirelessly, probably setting aside large chunks of his life to do this.
It was quite a glam Indrani who arrived in court on Wednesday. She looked especially fetching and youthful in a sleeveless rich brown kurta with panels of embroidery and maroon beads, matched with a beige salwar and chunni.
These days Indrani is a far cry from the grey-haired, forlorn woman coming to the trial when it began in February.
Bit by bit she seems to be reverting back to the lively faced media personality of pre-2015, before she was arrested by the Mumbai police.