Without a moment of hesitation, Rai jumped up on his rickety wooden stool in the witness box.
He then drew his legs close to his body and wrapped his arms around his knees and finally tucked his head into his knees demonstrating the fetal position.
Vaihayasi Pande Daniel reports from the Sheena Bora murder trial.
Illustration: Uttam Ghosh/Rediff.com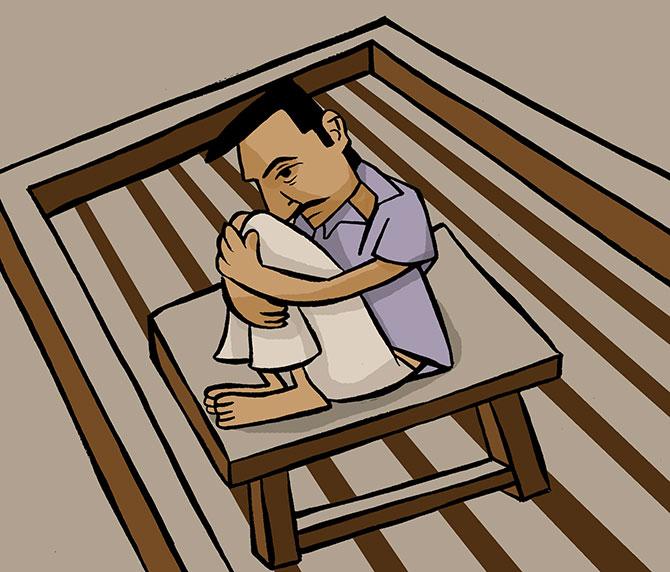 Shyamvar Pinturam Rai, Accused No 3, and approver, in the Sheena Bora murder trial is slowly acquiring a better concept of Time.
Gone are the days when the Mukerjeas' former driver greeted, almost democratically, every query put to him about time -- be it the time taken to travel somewhere or the time of an event -- with his scared-rabbit, blank look and the obligatory yaad nahin.
Indeed PW2, as he is referred to by the court, now takes answering questions on time completely in his stride.
Tuesday, October 31, wearing a jaunty purple shirt with cream trousers, Rai even made a brave little speech to Courtroom 51, and CBI Special Judge Jayendra Chandrasen Jagdale, at the south Mumbai sessions court, on his inability to understand time.
"I don't know much about time. I don't have a watch. All my estimates about time are andaaz se (approximate)," he added categorically, with a winning smile.
That led one lawyer to comment wryly, in a low voice: "Shyamvar Rai is getting smarter by the day!"
Now that Sudeep Pasbola, Accused No 1 Indrani Mukerjea's counsel, has in front of him a fat sheaf of closely-typed call data records, from Vodafone, of the number Rai was using in 2012, the lawyer has been going through the painstaking process of re-questioning the driver about the events that took place in the year of the murder (2012).
No longer can Rai say convincingly that he did not speak to someone or that he doesn't know how long he spoke with that person, be it "Kajal Madam" (Indrani's then secretary at INX), Mekhail Bora (Indrani's son from her first marriage), Rahul Mukerjea (Peter Mukerjea's younger son from his first marriage and Sheena's partner) or Indrani herself.
Those magical call data records, before Pasbola, have all the answers in black and white.
So instead Rai -- who is shrewd enough to know, it would seem, that he has to up his game a bit -- has been venturing tiny but courageous estimates of time.
And whenever his narrative of the events of 2012 ran into quicksand, he fell back on declaring that he might have made a certain action but he, unfortunately, no longer remembered. A placatory "Kiya hoga... bola hoga.. baat kiya hoga... par yaad nahin hai (I might have done so, said so, spoken so, but now I don't remember) has become the latest, most oft repeated answer from this driver, who hails from a village near Chhindwara in Madhya Pradesh and worked with the Mukerjeas for over a decade.
Overnight too, Rai has become the Five Minute Man.
Monday he indicated that on April 24, 2012 when he drove Sheena, Indrani and Sanjeev Khanna to a back lane, near the National College, Bandra, north west Mumbai, where Sheena was allegedly strangled, the four of them were there in that gullee for just five minutes.
Five minutes, it would appear, is now Rai's stock assessment of the time taken for most events, no matter how time consuming.
It took five minutes too for Sanjeev, Indrani and Rai on April 25 to move Sheena's body from a suitcase in the garage at Marlow, where the Mukherjeas lived, to the Chevrolet Rai was driving.
Hardly five minutes was also all that was needed for Rai, Indrani and Sanjeev to carry Sheena's body from the car at the village of Gagode Khurd, near Pen, Raigad district, to the spot where it was burnt "50 to 60 feet" (as per Rai's estimation) from the road, and to then bring the suitcase and can of petrol across to the same spot and light the fire and drive off. A mere five minutes.
Tuesday too was Rai's day of introducing the court to his Theatre of the Absurd, when he made even more peculiar statements, one after the other, to the utter astonishment of the packed courtroom.
Here is a list of the five most puzzling assertions Rai made (he also reduced the courtroom to pin drop silence, momentarily, when he decided, on the spur of the moment, to do a spot of acting. More on that later!):
On how he helped place Sheena's body into the car on the morning of April 25th, 2012:
Pasbola: "Did you see the body again when the bag was opened on the 25th?"
Rai, strangely eager to answer: "Dekhi thi! Garee mein baitha lee thi usko (I saw her. I sat her in the car)."
(Rai's discourse about the body always uses the Hindi non-aadar or respect and also feminine terminology)
Pasbola: "When you saw the body was it in the same (fetal) position? Did you see the condition of the body?"
For a moment Rai was perplexed and screwed up his face trying to understand Pasbola's question and then understanding dawned, "Same position mein thi (She was in the same position)."
Pasbola: "Yahi toh bolna hai! (That's all that you have to say!)"
Rai went on to explain -- indicating the task could not have been anything abnormal -- about exactly how Sheena's body was sat down on the seat behind him.
He said Sanjeev helped him carry it. The suitcase came along in the "dicky" as well as an empty jerry can.
Bizarrely there was no explanation on how a body in rigor mortis was made to sit in the seat of a car and the car drive off. Did it wear a seat belt too?
On stopping to buy petrol on the old Mumbai-Pune highway, with a rigid corpse "seated" in the back seat:
The journey from Marlow, Worli, south central Mumbai, to Gagode Khurd, near Pen, on April 25, 2012 was not a non-stop one, Rai clarified to Pasbola.
They halted to buy petrol for the jerry can. Rai could not remember at which petrol pump. Purchasing the petrol took two minutes (even less than five!), he said.
Pasbola: "Kya naam tha petrol pump ka? (What was the name of the pump?)"
Rai: "Highway pe petrol pump tha (It was a pump on the highway)."
Pasbola again asked the name of the pump.
CBI Counsel Kavita Patil murmured: "He said on the highway."
Rai didn't remember anything further and shrugged.
Pasbola: "Did you fill petrol in the car? Or in the can?"
Special CBI Judge Jayendra Chandrasen Jagdale pointed out: "It is illegal (to fill in a can)."
Rai, oblivious of the judge's contention: "Nahin liya. Can mein liya (Didn't take for the car. Took in the can)."
Pasbola crossly to Patil and her fellow CBI Prosecutor Bharat Badami: "Don't try to hint to the witness what to say. Not fair."
Badami repeated: "Not fair."
Pasbola, who has a very loud voice, was incredulous: "He (Rai) can't hear my voice, but he can hear yours! (To Rai) did you show the police this petrol pump?"
Rai: "Dhyan mein nahin hai (I am not aware)."
Pasbola irritated but laughing: "Lena aata hai. Bakee dhyan mein nahin hai (He knows how to take. The rest he doesn't recall)."
Pasbola: "When you took the police (in 2015) jagah dikhane ke liye (to show them the spot where Sheena was burnt)..."
Rai: "After I was caught?"
Pasbola exasperated, ready to roll his eyes: "When ELSE?!!... Did you show them the petrol pump?"
Rai: "Nahin."
Pasbola then asked: "Did you take the car into the petrol pump or was it parked on the road?"
Rai: "Side mein rakha tha footpath par (Parked it on the side on the footpath)."
Pasbola: "Were cars going or coming?"
Rai: "There was a car parked there."
Quite obviously the people in that other car didn't peek into Rai's car.
As grim as the circumstances were, if Rai's testimony is to be believed, picturing a Chevrolet, whose fourth passenger was a corpse, drive into a petrol pump is like a scene from some crazy murder-mystery road film.
On the appearance and smell of a cadaver:
Pasbola pointed out to Rai that he had handled the body and carried it on at least two occasions and sought his observations.
Pasbola: "Dead bodies se smell aata hai? (Dead bodies give off a smell?)"
Rai seemingly baffled: "Maloom nahin hai (I don't know)."
Pasbola: "Was there a smell coming from the body?"
Rai, his face guileless: "I was just getting the smell of Madam's perfume."
Pasbola looked at Rai a bit dumbstruck.
Badami chipped in cheerily: "He answered."
Pasbola: "Body se paani nikal raha tha? (Was any fluid leaking from the body?)"
Rai declared that he hadn't seen anything or smelled anything.
At the back of the court, Indrani, wearing elegant blue and red and a complicated braided hairstyle, looked amused, but not a bit perturbed by the grisly turn the cross examination had taken.
On burning the body:
Sanjeev and Rai carried Sheena's corpse out of the car at the village near Pen into the spot chosen in the jungle, explained the driver.
Rai said he held the feet. Sanjeev went back to get the can of petrol.
And Rai went and brought the suitcase.
Rai didn't think that the spot where they burned the body was visible from the road because there was: "Jhar. Slope bhi tha. Aam ka bara pair bhi tha (There were bushes. A slope and a big mango tree)."
Pasbola: "When the body was burnt, did it give off leaping flames?"
Rai said he didn't remember.
Pasbola mumbled about Rai, disgusted: "Dhyan nahin. Yaad nahin. Kuch nahin (Not aware. Can't remember. Nothing)."
Pasbola continued: "When you were leaving, did you look in your mirror and see the flames?"
Rai insisted that they left immediately -- (Remember it took five minutes) -- and from the road nothing was visible. No flames. No smoke.
On why Rai was at Waterfield road, Bandra, on the evening of April 24:
Many members and associates of the Mukerjea-Bora clan called Rai on April 24 or he called them. Rather too many.
Mekhail, Indrani, Kajal, as well Supriya, the wife of Rai's pal Rajendra Desai from the INX office.
When Pasbola offered him the time and duration of these calls, Rai looked foxed, shifting his weight from one foot to the next.
He, of course, did not remember either why he was speaking to those people or why they called him or what about.
But some of these calls indicated who Rai was with or not with that day.
Pasbola then very clearly enunciated to Rai, as he referred to the call records: "7.16 pm (on April 24) Indrani Madam tum ko phone kiya aur usee samay tum reply diya (At 7.16 pm Indrani Madam called you and you called her right back). At that time you were at the corner of Waterfield and Turner road (Bandra)."
Rai: "Dhyan mein nahin hai. Hum usee jagah par the jahan Sheena ko... (I am not aware of that. I was at the place where Sheena...)" he abandoned his sentence abruptly.
He instead offered, "Mujhe yaad nahin tha ki mein Waterfield road par tha (I do not remember that I was at Waterfield road)"
This little exchange was Pasbola's Tuesday coup: If Indrani was with Rai, in the same vehicle, in a lane near the National College, strangling her eldest daughter Sheena, was it possible that she could be calling Rai at that time on his cell phone too?
On Monday Pasbola had already asked Rai if instead of being with him in a lane near the National College, could Indrani have been at a jeweller at Waterfield road. Rai denied it. Of course.
Rai's acting debut moment, that grabbed everyone's attention in Courtroom 51, occurred when Pasbola asked him: "Dekho, 24 tareek body bag mein kis position me rakhee thee, aapne dekha? (Listen, on the 24th in which position was the body in the bag, did you see?)"
Pasbola, perhaps strategically, while questioning Rai tends to flip flop from more direct non-adaar speech -- "dekho, sunoh", etc -- to occasionally gentle, more respectful language.
Rai: "Ha, I had seen kaise rakhi huee thi. Kar ke bataye? (Yes I had seen how it was kept. Should I show you)"
Without a moment of hesitation, Rai, who was barefoot, jumped up on his rickety wooden stool in the witness box.
He then drew his legs close to his body and wrapped his arms around his knees and finally tucked his head into his knees demonstrating the fetal position.
Pasbola was for a moment without words.
Badami looked pleased with Rai and said: "Kar ke bhi dikhaya hai (He has shown us too)."
The judge chuckled into his luxuriant moustache, not entirely taken aback but quite amused. "Yes he has demonstrated to us!"
Pasbola then went through the motions of defining this cadaver position for the court record.
Judge Jagdale: "It appears it was kept in a... what position?"
"This is important. Pugilistic,"said Pasbola succinctly.
For a layman it was a bit difficult to relate a boxing pose to that of a body frozen by rigor mortis.
Pugilistic posture or attitude, according to the Internet, means: 'The post-mortem, "boxer-like" body posture of flexed elbows and knees and clenched fists, caused by the shrinkage of body tissues and muscle due to dehydration caused by heating.'
No hearing in the Sheena Bora trial can be complete without an exciting bout of verbal sparring between firecracker Pasbola and combative Badami, with Patil often jumping into the fray.
Tuesday had several rounds, some of them rather explosive.
The Big Spat, at the end of Pasbola's marathon three hours of cross examination, as the hearing drew to a close, was about Rai's return to Marlow after the burning of Sheena's body.
From Pen they had driven to Bandra, where they stopped for "3-4-5 minutes", according to the driver with a now sharp concept of time, for coffee. Indrani and Sanjeev got off there, said Rai, and he drove back to Worli.
Left in the car with Rai was still the pistol and ammunition, that had been kept April 24 in the pocket behind the driver seat. Rai had said earlier, on another day in court, on record, that he went to a Worli garage to have the car cleaned and polished and then took it back to Marlow.
Pasbola, while re-questioning Rai, drew attention to the very, very, very strange fact that the pistol must have still been in the car when it was cleaned at the garage.
Realising his earlier mistake, Rai began to back pedal, insisting he went to Marlow first.
Badami and Patil erupted in angry protests, probably attempting to do crucial damage control, by preventing Pasbola from asking anything more of Rai.
All three suggested to Pasbola that the earlier mistake was just in a manner of speaking, since both Marlow and the garage were in Worli.
Judge Jagdale trying to make sense of the controversy, suggested that Pasbola rephrase the question.
When Patil continued to object, the judge queried Pasbola further and asked to be shown a copy of Rai's earlier statement.
Pasbola proceeded asking Rai if he told the court differently earlier.
Badami: "He has given his answer!"
Rai: "Bola hoga (I might have said). Both are in Worli."
Badami: "Third time!"
Pasbola peeved, loudly: "I will ask TEN times!"
Pasbola and Badami then glared at each other, bristling.
Judge Jagdale, his face wreathed in smiles, cracked a joke to defuse the tension and said in Marathi that they were all coming "Seaface, Pochkhanawala Road, Marlow"...
The next hearing date for this murder trial is Wednesday, November 1.
As I came down three flights of steps to the ground floor on Tuesday evening I noticed a mass of people gathered in the courtyard below, between the gracious 1874-built city civil and sessions court building and its ugly 1972-built annexe.
Everyone was clad in white traditional kurtas. And standing around solemly.
It was just hordes of Nationalist Congress Party politicians waiting to give their leader Chhagan Bhujbal, who is being tried for graft, a fawning send off back to the Arthur Road jail, where he occupies Barrack Number 12 along with Peter.
Bhujbal had not come down yet. He was in court to try once again for bail citing old age as his reason.
He finally appeared in the distance, holding a pink neck brace, wearing a silk grey and white striped kurta with sparkling white pajamas (there and a very fine cream pashmina shawl. His hair and beard were snowy white.
For a moment one felt one was at the NCP headquarters at Nariman Point or an election rally rather than outside a court of law.
As Bhujbal shuffled along with a slow, painful gait, he, with a sad face, acknowledged his followers, offering wan smiles and hugs, receiving salaams and having his feet touched.
His progress ended at the police barriers after which about ten policemen escorted Maharashtra's former deputy chief minister to his vehicle -- a jail bus.
Bhujbal was one of the last and perhaps most reluctant prisoners to leave the court complex on Tuesday.