If Pasbola seemed like he was testing Rai on his high school physics, Rai on the other hand, had relocated himself to a classroom of philosophy, offering beautifully inexact answers, arrived at after deep thinking.
Vaihayasi Pande Daniel reports from the Sheena Bora murder trial.
Illustration: Uttam Ghosh/Rediff.com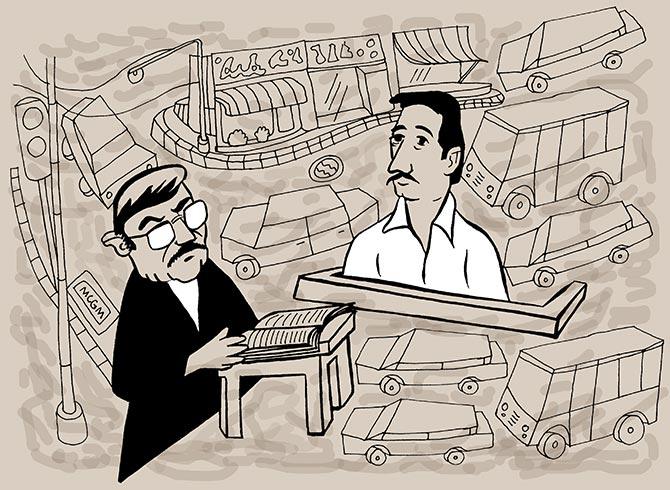 Michael, a middle-aged, balding, man from Nigeria patiently waited outside Judge V S Padalkar's Courtroom 47 at the city civil and sessions court in south Mumbai on the second floor, post lunch Monday, October 30, as I made my way up to Courtroom 51, one floor above.
As one arrives on the third floor one can sense immediately if Accused 1, 2, 3 and 4 in the Sheena Bora murder trial (Special CBI case 100117/2015 & 103123/2016), have each arrived from the Thane, Arthur Road and Byculla jails.
If they have, the place is packed and buzzing, with at least one-and-a-half dozen policemen (who these days sport blue-and-yellow baseball hats), several lawyers, the CBI officers, visitors of the accused, the media and sometimes a few random, curious hangers on, with the canteen boys scurrying around doing eager double duty.
If they are late, that end of the floor is as silent as a morgue.
The floor was cloaked with that kind of silence on Monday till past three.
Three CBI officers, some of them freshly returned from Diwali or Chhath spent at their hometowns, waited. As did two young friends/former colleagues of Peter Mukerjea with burgers, bottles of water and a soft drink.
As Indrani Mukerjea's defence lawyer Sudeep Pasbola came briskly up the stairs, one of the CBI officers told him, "Aaropeechi nahin aaye hain (The accused have not arrived)", and Pasbola's steps slowed.
There was no knowing what was keeping them. Traffic? Lack of escort?
Their continuing absence seemed to herald the start to another long somnolent afternoon of waiting rather than a fresh courtroom skirmish.
As is always the case in our courts, the tide swiftly turned by about 3.20 pm as Shyamvar Pinturam Rai, the Mukherjeas' ex-driver, showed up. Peter, Sanjeev Khanna and Indrani arrived shortly after (the trio always travel together with the jail truck picking up Indrani last).
Pasbola, who had stayed away from this case's cross examination process for nearly a month, was off to a killer start, armed with his newly acquired cell call record data, shooting off well-targeted question after question at Rai, many about time and distance.
You would be forgiven for believing that Pasbola was a physics teacher, instead of an trial attorney, as he demanded numerical answers, accurate nearly to the last decimal J, like he were testing his witness on his capacity to do sums based on the laws of motion.
Rai, who in this interim had grown mildly out of practice with carefully wielding his impregnable verbal shield of fuzzy maloom nahins and yaad nahins, slowly rallied back.
The former chauffeur was in top evasive form by the end of the afternoon.
If Pasbola seemed like he was testing Rai on his high school physics, Rai on the other hand, had relocated himself to a classroom of philosophy, offering beautifully inexact answers, arrived at after deep thinking.
For instance: From the scene of the crime near National College, Bandra, Indrani decided to go to the Taj Land's End hotel on April 24, 2012. Pasbola wanted to know how long that took that day.
"More than half an hour," was Rai's firmly elusive answer. How much more than half an hour he would not commit to.
Pasbola pointed out that more than half an hour could mean just about anything.
CBI counsel Bharat Badami quibbled that Rai's was a fair answer.
Special CBI Judge Jayendra Chandrasen Jagdale, laughing heartily, suggested that maybe Rai meant it was within an hour but more than half an hour.
Badami, triumphant, said Pasbola had got all the "clarification" he needed.
The defence lawyer's relentless offensive -- much to Badami's dismay -- on Rai's memory of routes, distance and time of the events relating to Sheena's murder, and its run up, backed up by cell data, uncovered a strange set of new facts, some of them quite inconsistent with the narrative Rai was offering.
Here are five of the most bewildering:
1. The driver, inadvertently, let out that the whole job of attacking Sheena, holding her down and strangling her to death on April 24, had taken place within a perhaps improbable five minutes.
This emerged because Pasbola happened to ask Rai how long they had stopped in the lane, where Sheena was allegedly killed near the National College, Bandra, north west Mumbai.
After giving this time estimate, Rai was totally oblivious of the fact that he had revealed a rather pertinent piece of information -- that it took just 5 minutes, if Rai is to be believed, to murder Sheena.
Pasbola: "How long did it take you to get from National College to this lane?"
Rai: "5 to 6 minutes."
Pasbola: "How long were you in this gullee (lane)?"
Rai: "Five minutes."
Was five minutes all it took?
2. Pasbola questioned Rai a good deal about what happened just before Sheena died that evening in Bandra.
Had she shouted before she was finally snuffed out?
When Rai was asked to help in the crime, by holding her face down, he got his thumb bitten by Sheena. Did he get a doctor to attend to that wound?
Why did Rai actually participate in the physical aspect of the murder?
While Rai's answers were pretty noncommittal, their ambiguity at times was inexplicable and revealing.
Pasbola: "Sheena ne tumhara haath chabaya aur khoon nikla (Sheena chewed on your hand and blood came out). Ilaj ki thi? (Did you seek medical treatment for that wound?)."
Rai: "Nahin (holding up his right thumb indicating that was where the wound was)."
Badami chimed in: "Not his hand."
Pasbola: "Sheena cheekh rahi thi jab tumne mooh dabaya? (Was Sheena screaming when you held her head down?)"
Rai: "Nahin (he demonstrated slightly comically, with his mouth closed, and his lips vibrating that she sort of grunted)."
Pasbola: "After she bit you, you took your hand away. You didn't hold her again. Did anyone else hold her face down?"
Rai: "I was sitting back in my driver's seat. Maloom nahin (I don't know)."
Pasbola: "Tell me when they told you to hold her face down, didn't you say I won't do it, my work is only that of a driver."
Rai in a hollow tone: "Nahin."
Pasbola: "Mooh dabane mein koiee itraaz nahin tha? (You had no qualms about holding her face down?)"
Rai: "Madam bolee. Mein ne kiya (Madam said do it so I did)."
Pasbola asked Rai several times if it was true, as per what he had told the police and others, that Indrani was sitting in Sheena's lap as she strangled her daughter.
Again Rai did a demonstration, pointing to his own knees, saying Indrani's knees were on Sheena's thighs. "Uske mandee pe ghutna rakhi thi."
Pasbola perhaps strategically did not make any further queries about Indrani's astonishing position (she must have been facing Sheena) or about how Rai could have been helping hold Sheena's face if Indrani was on her lap.
Indrani, clad entirely in white on Monday, her hair streaming around her face, gave a long smile from the accused box in the rear of the room, where she was standing next to Sanjeev and Peter, as Rai attempted to explain the mechanics of how the murder was committed.
3. Rai and Rahul Mukerjea, Peter's son from his first marriage and Sheena's partner, had also had a few long conversations between them during that fateful period.
Rai claimed he did not remember either the length of the calls or their frequency or even that they had occurred:
Pasbola: "On the 26th (April 2012) when you came on duty didn't Rahul ask you where Sheena was?"
Rai: "I don't remember talking to him, but I may have."
Pasbola: "Did you tell the police that Rahul asked where Sheena was?"
Rai: "Yaad nahin (I don't remember)."
At that point Pasbola had the portion of the statement Rai made to the police in August 2015, saying he had spoken to Rahul Mukerjea, put in front of him.
The driver looked at it closely and shrugged.
Pasbola: "Dekho is mein likha hai na? (Look, it is written here, right?)"
Rai: "Ha likha hai (Yes, it is written there)."
Pasbola loudly: "Yeh jo likha hai barabar likha hai? (Is what is written here correct?)"
Rai: "Dhyan mein nahin (Am not aware)."
Later, Pasbola asked: "Kabhi lamba baat hua (with Rahul)?"
Badami interjected, irritated, with a baffled: "Kabhi matlab kabhi (When are you talking about)?!"
Pasbola then pointed out that Rai and Rahul had spoken on April 25, 2012 at 11.26, again on April 26 at 4.25 pm and then for 256 seconds (13 minutes) May 2.
Rai doesn't deny the possibility of them speaking, but can offer no explanation what they spoke about, making a sad face and throwing up his hands in bewilderment.
4. When Sanjeev, Sheena and Indrani got back in the car after their trip to a Bandra department store on April 24, Rai was instructed to drive to a quiet lane near National College.
Which lane was it?
How quiet was it?
How many cars and people were coming by?
Could it be that they had driven from National College to Waterfield Road instead?
Rai's answers to Pasbola's stream of questions were not informative.
He could not remember the roads he passed to get to this lane.
Nor could he remember if many people or cars passed when they were in this lane.
He thinks he showed this lane to the police, but he cannot confirm.
No, they didn't go to Waterfield Road. Yes, the lane was not a dead end.
Incidentally, till date the name of the road where Sheena was allegedly killed has not been mentioned in Courtroom 51.
5. Most of the movements relating to this crime, that Rai had outlined to this courtroom in July, and in his earlier statements to the police, the kila (small causes) court magistrate and CBI -- be it the strangling of Sheena in Bandra or the trip to the Taj Land's End with the body or the transfer of the body later at Marlow, where the Mukherjeas' flat is located -- had taken place during busy times, in congested traffic areas, with many people milling about.
But not a soul noticed the mysterious Series of Unfortunate Events taking place in that Chevrolet five years ago, as per Rai's reckoning, even if the car windows had film on them as the driver vouched.
Not even those who come to see Mannat, actor Shah Rukh Khan's seafront home, close to where Rai was parked with the body on the floor, between the back and front seats, while Indrani ran a 15 minute errand at that Taj hotel.
Pasbola: "At Taj Land's End where did you park?"
Rai: "I was parked at the garden facing Taj Land's End."
Pasbola: "So many cars must have been parked there too."
Rai: "Rahtee hogee (Would have been)."
Pasbola asked if this was usually where he parked when he came with Indrani Madam or Peter Sahib to the Taj.
Rai said a tad cockily: "Jahan mere marzee thi udhar lagate the (I parked where I wanted to)."
Pasbola: "There must be crowds here in the evening. Shah Rukh Khan's bungalow is near there. Bahut bheed tha udhar (Crowds over there)."
Judge Jagdale with a hearty laugh asked Pasbola: "You are not going to call him to testify!?" referring to Shah Rukh Khan.
Rai, said carelessly to Pasbola, "Log aate honge. Bheed hota hoga (People must have been coming... lots of crowds)."
Showing up key witness and approver Rai as unreliable and inconsistent would necessarily have to have been the main and maybe only strategy for the defence in this case of alleged murder where the skeletal remains have been ostensibly found too.
To that end Pasbola's tactical attack on Rai's credibility on Monday has been one of his finest efforts till date and the result, he said, of three hours of homework, pouring over crucial call data to locate the best cross examination questions.
Rai, who at his best is always ludicrously and probably calculatedly vague, on Monday ended up saying and not denying or denying some of the oddest things yet like the fact that Indrani sat in Sheena's lap while she murdered her.
In his witness box Rai went through his now standard range of histrionics, it would seem, for the benefit of the court on Monday.
There were those favourite long, painful silences that would make Pasbola snap sarcastically: "Yaad nahin bolne ka hai toh itna sochne ka kya zaroorat (If you are going to anyway say you don't remember then what is the need to think so much)!"
While Judge Jagdale would add soothingly: "Let him think."
Or the constant requests of Pasbola to repeat a question. The flashes of right-back-at-you anger in response to Pasbola's temper.
Or the mournful contemplation of the ceiling, his hands twitching -- the preface to another "Mere dhyan mein nahin hai (I am not aware)."
Rai also had the court in splits on Monday when he hit back at Pasbola sharply at one point.
The advocate was trying to ascertain what time Rai left Marlow, the building where the Mukerjeas lived, with Indrani for a round of errands on April 24, the day Sheena was allegedly killed.
He was hoping to pin Rai down to the departure time of 9 am and Rai wasn't having it.
Judge Jagdale mildly: "You cannot control his answers."
Pasbola: "Whatever he want to say he can say, but I don't want him to change the time."
Judge Jagdale laughing: "Not changing your time."
Pasbola: "What time after 9 was it then?"
Rai cheekily, "Well it could have been 9:01!"
Monday was also a session in court that reminded you repeatedly that the witness enclosure was occupied by a man whose chief life skills were driving.
Rai gets extraordinarily precise when he is talking parking or rather animated once he begins to inform the room about Mumbai road routes.
There was a lengthy discussion on the routes taken from Marlow to the airport or to Bandra after Pasbola happened to query if Sea Link was the best.
Rai, his face alive: "Zaroori nahin hai (not entirely necessary)" and was about to launch into a blow by blow account of the various routes possible, although he said Sea Link was the ideal "shortcut".
Pasbola interrupted and said, of course, there were so many routes possible including via Ghorbandar Road!
Badami, considering the idea, said very seriously: "Yes, you can go via Ghorbundar Road too!" producing another round of hearty laughter.
Pasbola then asked about Sheena and Indrani's first destination in Bandra that day and if the department store Amarsons, the Jockey showroom and National Collge were one after the other on the right.
Rai thought for a moment: "Yes, if you are driving on the left."
Pasbola roared: "Yes you are driving on the left! Are you not living in India?"
Pasbola called it a day after nearly three hours of examination of Rai.
He stated that he would like to continue after he got the still missing Airtel call data records, but was persuaded to resume on Tuesday by Judge Jagdale.
Peter, his blood sugar probably quite low after a missed lunch, was instructed by Badami to have "Tea, coffee. And biscuits also!"
Khanna buttonholed Badami perhaps because the police escort was attempting to hustle him off without giving him a chance to speak to his lawyers and cousin.
Badami started off orating to Khanna, "You are not my enemy, you are not my friend"... but Khanna inserted: "Sir I am not a rich man. I am a poor man and I need to see my advocates when they are available."
When I departed the sessions court at 6 pm, Michael was still there, waiting unwearyingly. He had paid bail for his friend Atiti Akoma, also from Nigeria, who was in the Arthur Road Jail on a narcotics and drugs psychotropic substances charge since early September and was waiting for the formalities to get done.
Getting bail, I was informed can take anywhere from some hours, to a few days to several months, I was informed by colleagues, once the surety is paid.