'In his eulogy at Sandy's memorial service, President Clinton recounted the unusually hot US Independence Day, July 4, 1999, when most of official Washington was more interested in watching fireworks than international diplomacy. Sandy insisted that Clinton confront Pakistan Prime Minister Nawaz Sharif in no uncertain terms.'
Former US Assistant Secretary Raymond E Vickery, Jr salutes Sandy Berger, Clinton's National Security Adviser, as a true friend of India.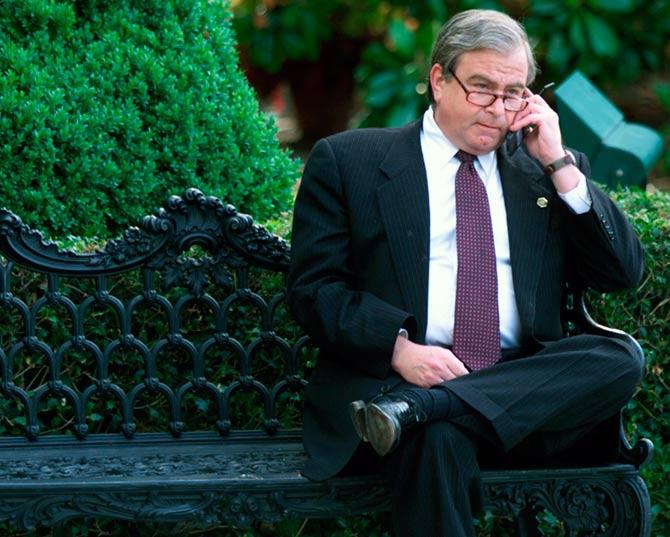 IMAGE: Then US National Security advisor Sandy Berger on a bench near the south lawn of the White House. Photograph: Reuters
The world knew Sandy Berger as President Bill Clinton's National Security Advisor. I knew him as my friend and a friend of India. Sandy was one of the chief architects of turning US-India relations from estrangement to engagement.
Sandy first met Bill Clinton in the Presidential campaign of George McGovern. Clinton ran Texas for McGovern, Sandy was a speech writer, and I was on the advance team. I remember Sandy telling me some 20 years later, he was going to support Clinton, then a little-known governor of an obscure Southern state, for President. I thought it was politically risky but a good idea, and I later signed up to run for Congress on the Clinton-Gore ticket.
Sandy was Clinton's foreign policy advisor during the presidential campaign, and the National Security Advisor position was his for the taking when Clinton won. Instead, he did a remarkable thing by the standards of politics, whether in Washington or New Delhi.
Sandy advised Clinton to bring in the more experienced Tony Lake and Sandy took the deputy position. This was typical Sandy -- advising the right thing to do rather than what was most beneficial to him personally.
I was interested in international commerce, and Sandy championed my coming in to the administration as Assistant Secretary to Ron Brown, the former Chair of the Democratic Party and the new Secretary of Commerce.
From the very first, Sandy backed the policy of a broad US-India relationship. At Commerce, Ron Brown and Jeff Garten had formulated a 'Big Emerging Markets' strategy to include India.
The inclusion of India was remarkable at the time, even though now it is commonplace to think of India as economically 'big' and even 'emerged.' Sandy saw Ron's early trip to India as an important first step and backed its elevation to a 'Presidential Business Development Mission,' even though the President would not be going on the trip. Sandy was vocally displeased when Ron's second mission to India was postponed because of the Republican shut down of the government.
When Sandy took over as National Security Advisor for the second term of the Clinton administration, he immediately began plans for a Clinton trip to India. I sent Sandy an article I had written saying India would not go back on its economic reforms. Sandy replied that 1998 would be the year for the Clinton trip -- the first visit to India by a US President in over two decades.
However, when India tested nuclear weapons in May 1998, US legal strictures were triggered, and US-India relations went into a tailspin. Sandy was one of the first to recognise that a policy driving India and the US apart was not the best way to proceed.
When Pervez Musharraf sent Pakistani troops across the Line of Control at Kargil, Sandy was the one who stepped up with an uncompromising position that Pakistan must withdraw immediately and completely. As Bruce Riedel has written, this was Sandy's 'finest hour' as National Security Advisor.
In his eulogy at Sandy's memorial service, President Clinton confirmed Riedel's account. Clinton recounted the unusually hot US Independence Day, July 4, 1999, when most of official Washington was more interested in watching fireworks than international diplomacy. Sandy insisted that Clinton confront Pakistan Prime Minister Nawaz Sharif in no uncertain terms.
The result was Clinton basically took the Indian position. Pakistan withdrew. Hostilities abated and the world was saved from probable nuclear war.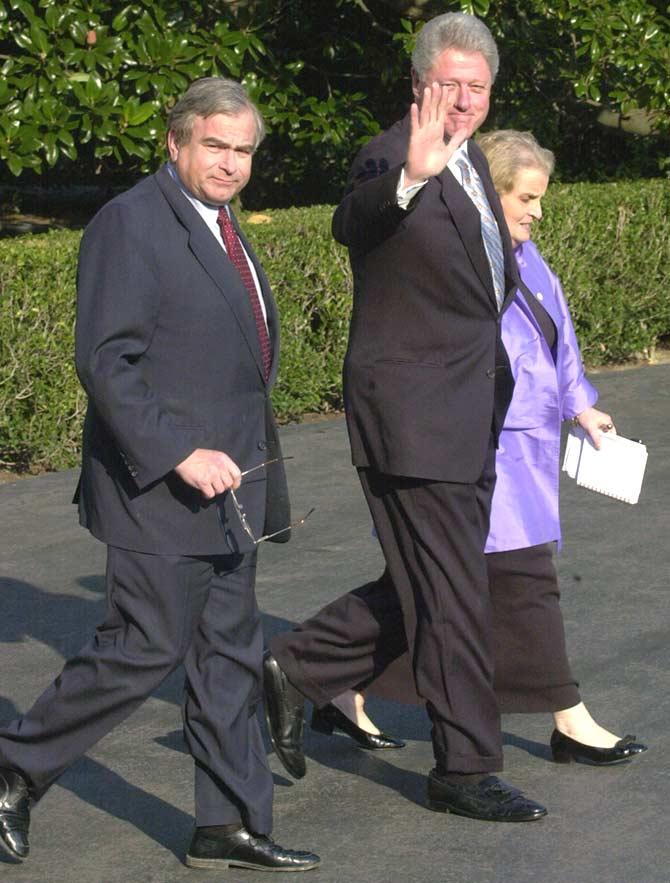 IMAGE: Then US National Security advisor Sandy Berger with President Bill Clinton and then Secretary of State Madeleine Albright. Photograph: Reuters
Sandy did not stop there. The US insistence on India's accepting five 'benchmarks' on nuclear matters ceased. In a decisive shift from sanctions to positive engagement, Sandy started planning again for a Presidential trip to India. President Clinton's trip to India took place in March 2000. Sandy was active in every phase of the trip. His guidance assured that US-India relations were placed again on a firm upward path.
An underpinning of that upward path was Sandy's understanding that a strong engagement across the board was necessary to sustain the relationship -- an emphasis on building prosperity as well as peace.
Sandy was a strong believer that words matter. Throughout his tenure as National Security Advisor he played an instrumental role in shaping the language the President used in international relations. No one who heard Clinton's address to Parliament on March 22, 2000, as did I, or saw the overwhelming positive response as Indian lawmakers literally climbed over their desks to shake Clinton's hand, could doubt Sandy's imprint on the speech and the trip.
Out of government, Sandy continued to help build a strong US-India relationship. President Clinton made his first time trip back to India as a private citizen to assist with the 2001 Gujarat earthquakes. Sandy supported the trip and had me accompany the President.
Later, when I approached Sandy to sign a letter from foreign policy luminaries in support of the US-India civil nuclear deal, he was the first to sign on. He continued that support in meetings chaired by then Secretary of State Condi Rice and with members of Congress.
He supported the US-India civil nuclear deal even though it was an initiative of President George W Bush, a Republican. He did it because it was the right thing to do. Sandy was a founder of the international consulting firm that became Albright Stonebridge Group when he again joined hands professionally with former Secretary of State Madeleine Albright.
Sandy was instrumental in seeking out a strong India relationship for the firm. He met with his old interlocutor Brajesh Mishra and got Clinton to come out to New Delhi for the launch of operations. At Albright Stonebridge, he continued his work on issues affecting US-India engagement until just days before his death.
Thus, India has lost a great friend. From my observation and sometimes participation, I believe that Sandy's friendship with India was founded on three essential pillars.
First, US-India engagement must be across the board to be strong and vigorous. Peace and prosperity go together. It is important to stand up for what is right in traditional questions of international security, as Sandy advised in regard to Kargil. It is also important to place relations on a firm footing that entails cooperation on economic engagement, on trade and investment, on energy, food, environmental, and health security.
Second, US policy toward India must not be based on any sort of US national aggrandisement, hegemony, or imperium. Certainly, the US and India have strong national interests to be furthered by their relationship. However, the relationship must be oriented toward the proverbial 'win-win' premise of mutual advantage.
Finally, and most importantly, the US-India relationship must be one of true friendship, founded on basic values of common human decency. Values that the US and India share in regard to democracy, human rights, rule of law, and concern for the well-being of the less fortunate are all fundamental.
Above all, Sandy Berger was a decent man who lived out his values as a friend of India.
Raymond E Vickery, former US Assistant Secretary of Commerce, Trade Development, is a Senior Advisor, Albright Stonebridge Group.