Did Vinod Sehgal die in Tsangdgar or was he taken PoW to China?
Why has the IAF kept so quiet for all these years, asks Claude Arpi.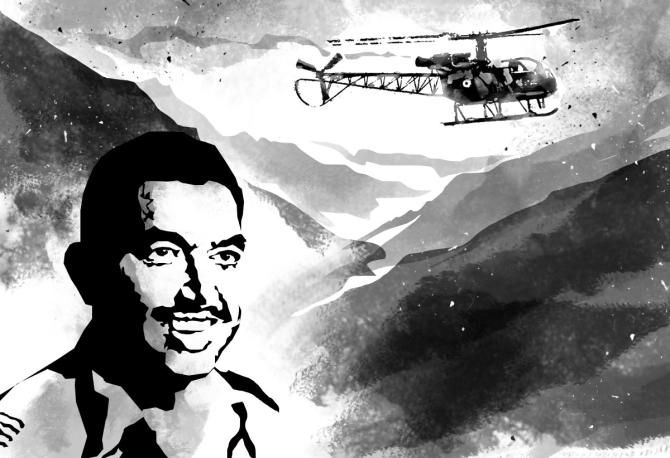 One of the greatest unsolved mysteries of the 1962 India-China War is the fate of 35-year-old Squadron Leader Vinod Sehgal, (sometimes his name is written 'Sahgal').
The Vayu Sena Medal awardee of the Indian Air Force's 104 Helicopter Unit went 'missing in action at Tsangdhar in the Tawang sector of the then Kameng Frontier Division of the North-East Frontier Agency (today Arunachal Pradesh) on October 20, 1962.
In the early hours of that fateful day, the People's Liberation Army attacked Indian positions south of the Thag-la ridge.
It soon turned into a debacle recounted by Brigadier John Dalvi, the commander of the ill-fated 7 Mountain Brigade in his remarkable Himalayan Blunder; the 'leadership' in Delhi had insisted on defending indefensible positions on the river Namkha chu, with the tragic well-known outcome.
What happened in the vicinity of the Thag-la ridge and the Namkha chu river has been recounted in a number of books.
We remember that the foolish (leadership in Delhi did not think it fit to use the services of the IAF for offensive operations; the 7 Brigade was soon decimated; Hatung-la, the ridge next to the Thag-la fell on October 21 and Brigadier Dalvi was taken prisoner of war on October 22; by that time, Major General Niranjan Prasad, the General Commanding Officer of the 4 Infantry Division, had trekked back to Tawang from Zimithang, his tactical headquarter.
Major General K K Tewari was then a lieutenant colonel commanding the Signal Regiment of the 4 Corps based in Tezpur; on October 18, he had flown with Vinod Sehgal to the front and landed at Tsangdhar to inspect some deficient equipment on the forward posts, particularly in the Namkha chu sector.
General Tewari, like many other officers and jawans, was taken PoW on October 20 morning; not hearing from his boss, with all communication lines cut, Tewari's second-in-command (2iC), Major Ram Singh decided to find out the situation on the front; he flew to Tsangdhar in Vinod Sehgal's Bell helicopter.
General Tewari wrote in his memoirs: 'Numerous cases of men who deserved to be honoured for their outstanding examples of devotion to duty in the face of enemy were ignored because of the confusion and failure in the higher directions and conduct of war... The case of my own 2iC, Major Ram Singh who gave his life along with Squadron Leader Vinod Sehgal when they had tried to land at Tsangdhar in a two-seater Bell helicopter after the Chinese attack, is one such.
'They came to find out what had happened after my last radio transmission that morning when we suddenly went off the air after giving news of intense shelling and they were shot down.'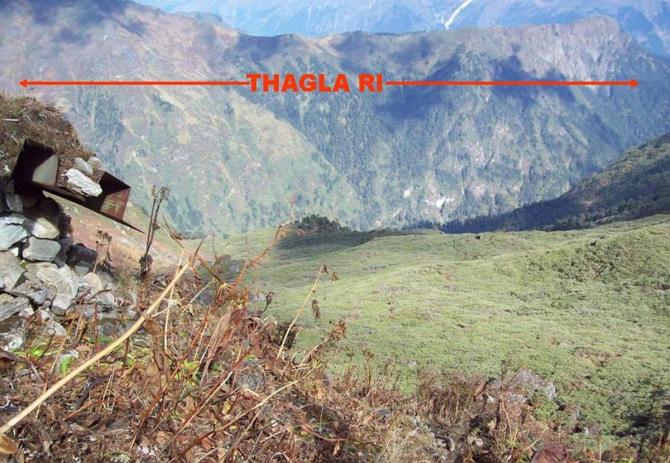 The GOC of the 4 Division later remembered that Major Ram Singh, not knowing the true situation, had suggested sending a replacement set to the front; according to General Prasad's memoirs: 'I decided to go with him, not only to keep an eye on the battle while 7 Brigade HQ was on the move but because I was keen to supervise the Tsangle withdrawal ...I called out to Vinod Sehgal to get his helicopter ready, collected Ram Singh and set out for the helipad.
'When emplaning, however, Sehgal objected to the load. While he had no objection to carrying an extra passenger against regulations, he said, he just could not risk taking a heavy wireless set and battery in addition.
'At those heights, this was asking for trouble. My first reaction was to tell Ram Singh to wait for the next sortie, but Ram Singh quite rightly argued that establishing the set on Tsangdhar was more important as I would be helpless up there without communications In any case, by then the set and the battery had already been strapped on to the outside carrier frame.
'Ram Singh argued that it would only take a turn-around of 20-25 minutes to drop it at Tsangdhar and return. This made sense, so I got out of the helicopter and allowed Ram Singh to proceed to Tsangdhar.'
The fate of the two officers was sealed; Ram Singh and Sehgal would never return.
General Prasad then sent Flight Lieutenant A S Williams to check what was going on: 'It was not more than fifteen minutes later I received a report from Borkungthang post that they had seen a helicopter come crashing near them.
'The pilot appeared to be safe and even then making his way towards Zimithang. Sure enough, Williams appeared down the path in about ten minutes, looking visibly shaken. The loss of both my helicopters was a serious blow --'apart from the fact that I was more than a little worried about the fate of Ram Singh and Vinod Sehgal."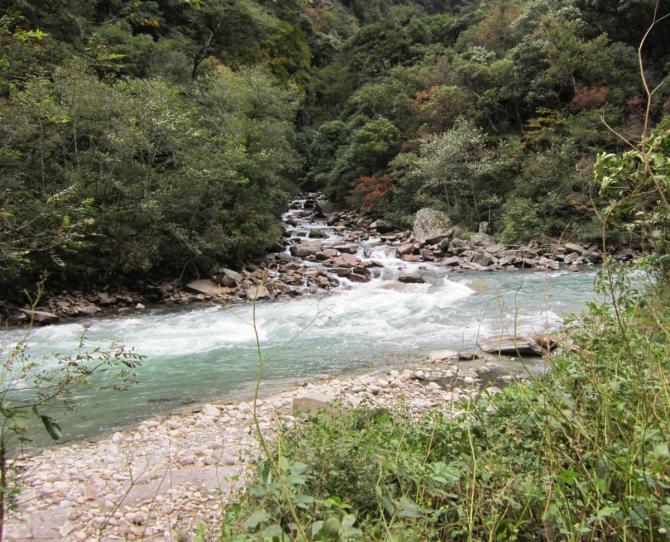 Air Marshal Bharat Kumar, who wrote the history of the 1962 air support operations, noted: 'It can be surmised that Sehgal and Ram Singh were captured after their landing -- they were not aware that the post had been overrun by the Chinese.
The Chinese have kept silent about the incident as if nothing ever happened. Both of them were probably shot after they were captured as their names did not appear either in the list of Prisoners of War or declared dead by the Chinese.'
In a Chinese video clip released a few years later, Williams recognized the Bell 47-G2 Helicopter piloted by Sehgal: 'The helicopter was intact and Sehgal and his passenger (Ram Singh) were captured by the Chinese, never to be heard or seen again.
After another helicopter was later shot by the Chinese; the Operational Record Book of No. 105 Helicopter Unit concluded: 'Zimithang was abandoned with a sad heart as three beautiful valuable aircraft were lost and one very experienced pilot (Vinod Sehgal) taken prisoner by the enemy. Zimithang detachment came to a tragic end.'
That was it!
Why was Vinod Sehgal's action never rewarded?
One of the tragedies within the greater 1962 tragedy is that Squadron Leader Vinod Sehgal's bravery has never been acknowledged by the Indian Air Force.
The young pilot's name has today been forgotten though he performed a heroic feat several hours after the war was started.
Incidentally, a few years ago, Brigadier Amar Jit Singh Behl, who was a young Second Lieutenant of the 17 Parachute Field Regiment fighting in Tsangdhar, told me in an interview for Rediff.com that after he was made prisoner by the Chinese: 'On October 21, we were kept near the helipad and I saw the two officers who had been killed near their chopper. I went to the Chinese officers who had interpreters in English and Hindi. I asked this officer, I want to bury these officers; after I insisted, he said: 'Alright'.'
'With two of my boys, we dug a two feet trench and buried Major Ram Singh and Squadron Leader Sehgal. We saluted them.' The next day, Behl and his companions started their long walk to the PoW camp in Tibet.
The question is: Was it Vinod Sehgal that they buried?
The Red Cross Angle
The mystery deepened further when during a recent visit to Geneva, I had the opportunity to visit the archives of the International Committee of the Red Cross (ICRC).
I came across a cable from the Indian Red Cross to the ICRC dated November 9, 1962, requesting the humanitarian organisation in Switzerland to take up the case of Vinod Sehgal with the Chinese Red Cross: 'Kindly obtain confirmation Peking Radio News that Brigadier Dalvi, Lt Col Tewari and Sqd Ldr Saigal are in Chinese hands; also news of their welfare.'
The cable further says: 'In conformity with Third Geneva Convention, we would appreciate receiving news concerning above-mentioned prisoners.'
Does it mean that Vinod Sehgal was not killed in Tsangdhar, but taken prisoner in China? Probably.
Why has the IAF been silent on this event for all these decades?
The same day, the IRC was informed by the ICRC: 'We have transmitted your request to the Chinese Red Cross and other authorities.'
In a letter to Wu Chin-Shih, the Chinese general consul in Geneva, the ICRC enquired: 'We would appreciate receiving news of these prisoners in accordance with the Geneva Convention of August 12, 1949, relative to the treatment of prisoners of war (Convention No III).'
There is no answer in the file.
Does it mean that what happened to Vinod Sehgal will forever remain a mystery?
Apparently and sadly, Sehgal's family was never informed of the fate of the young pilot.
General Tewari mentioned in his memoirs an incident that took place when the PoW officers arrived in Kolkata after their captivity: 'At the mess, an Air Force officer had 'sneaked' in a lady. She approached me to ask about Sqn Ldr Vinod Sehgal. Vinod was the Bell helicopter pilot who had flown me to Tsangdhar on October 18 with that jar of electrolyte in my lap.'
'This lady was his sister. When I told her that Vinod was not with us, she said that she had a picture from a newspaper in which he was supposed to be standing next to me. She showed me the faded picture and of course, it was not my picture, nor Vinod's.
'We had also been told already by the Chinese in the PoW camp that a Bell helicopter had been shot down at Tsangdhar on 20th October. ...When I told her that it was not my picture, she broke down and cried bitterly. It was so sad and upsetting.
'In the happiness of our homecoming we had forgotten even if temporarily, the pain of others who had lost their dear ones. We were not otherwise allowed to talk to anyone. All the mess staff also were forbidden to talk to us.'
Had Vinod Sehgal's sister been informed that he was a PoW in China? It is possible.
This leaves us with a host of unanswered questions:
Did Vinod Sehgal die in Tsangdgar?
What happened to the helicopter? Was it dismantled and taken to China? Why China has never acknowledged it?
Or was Vinod Sehgal taken PoW to Tibet or China?
If he was, where was he kept? Why was he not kept with other PoWs who did not know about his whereabouts?
How did he finally die? Was he killed? Was the Indian government informed?
Why has the IAF kept so quiet for all these years?
We can only hope that one day the ministry of defence will seriously take up these questions; it is up to the Indian Air Force to take the initiative.
Claude Arpi is a long-time contributor to Rediff.com.
Feature Presentation: Rajesh Alva/Rediff.com