The dinner Jill Biden and her husband US President Joe Biden hosted for Prime Minister Narendra D Modi, June 22, at the White House brought together, Indians and Americans from so many firmaments, who may not have met ordinarily, for conversation and laughter over marinated millets and stuffed mushrooms.
Meet the key honoured desi guests on the south lawn of the White House.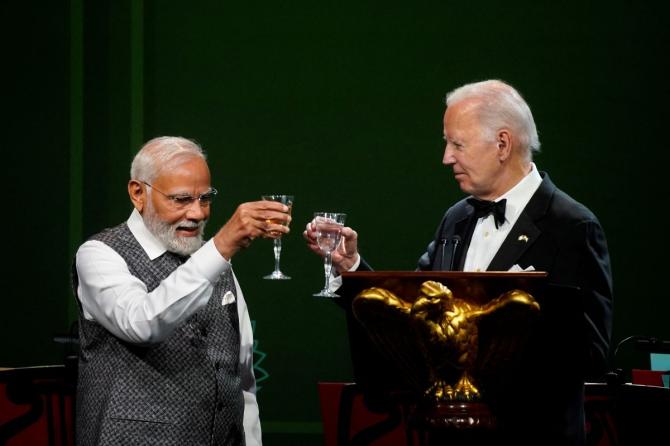 FLOTUS Jill Biden said she learned from her mother 'that with a handful of fresh flowers and a set of candles, an ordinary dinner could become a magical moment' and 'when we sit shoulder to shoulder, and speak heart to heart we find invisible threads that tie us to one another'.
In that spirit, the dinner she and her husband US President Joe Biden hosted for Prime Minister Narendra D Modi, June 22, at the White House brought together, Indians and Americans from so many firmaments, who may not have met ordinarily, for conversation and laughter over marinated millets and stuffed mushrooms.
The finest Indian-American talent was on display in the State dining room on Thursday.
Some are now household names -- every aspiring young girl in Tamil Nadu probably hopes to become an Indra Nooyi when she grows up and every tech-minded youth a Sundar Pichai.
But there were also gifted artists, actors, musicians and writers, shrewd politicians and smart businessmen and businesswomen in attendance too.
The A-W of key honoured desi guests at the White House on Thursday:
Huma Abedin: Elegant, sharp, hard-working, but very private Kalamazoo-born Abedin, who is Hillary Clinton's top aide, was there with her sister Heba.
Both her parents were born in undivided British India, her dad in Delhi.
Huma, whose name means luck, speaks English, Hindi, Urdu and Arabic (she spent 16 years in Saudi Arabia) and tweets about iftars, Eid and more and wrote more recently Both/And: A Life in Many Worlds.
Mala Adiga is a deputy assistant to Joe Biden. She was an attorney at the Department of Justice before she joined the National Security staff.
Mala also spent two years working for the Obama presidential campaign.
She worked too as a litigation associate at Kirkland & Ellis LLP in Chicago and clerked for US District Court Judge Philip Simon in Indiana.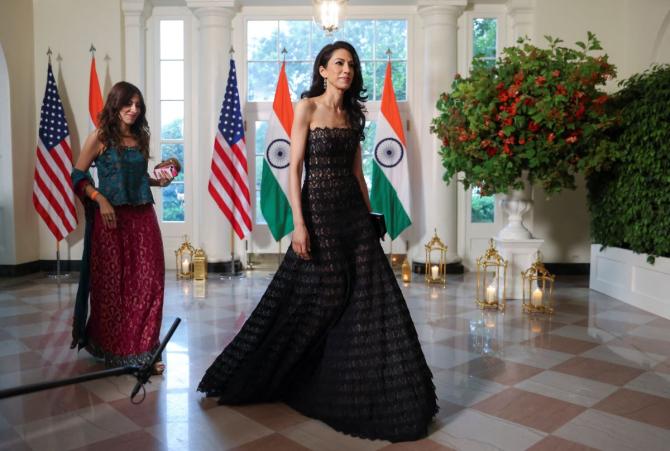 Revathi Advaithi: Born in India, the daughter of a chemical engineer, raised in Bihar, Gujarat and Assam, Revathi is the CEO of Flex, the third largest global electronics manufacturing services corporation.
She also gives her time to encouraging women shine in STEM careers. She sits on the board of Uber.
Revathi began her career as a floor assistant in the appliance and electronics store Eaton in the town of Shawnee, Oklahoma.
Her husband, Jeevan Mulgund, who was at the WH dinner, was a vice president at Honeywell International and the couple has lived in places as diverse as Hutchinson, Kansas, Shanghai, Phoenix, England, Pittsburgh and now in the San Francisco Bay Area. He founded The Abe Collective in 2021.
Kiran Ahuja: Ahuja came to America as a child and grew up in Savannah, Georgia. She presently serves as the director of the US Office of Personnel Management. She served in the Obama-Biden administration too.
An activist, she has worked as an attorney with the United States Department of Justice and as CEO of Philanthropy Northwest, a network of philanthropists in the American Northwest, who 'engage on policy issues that matter to philanthropy and to communities'.
Bela Bajaria: The Chief Content Officer of Netflix, London-born Bela has been working for the entertainment company since 2016, supervising series that might be scripted or unscripted.
Seema Shrivastava-Patel: The first woman of colour serving as chair of the South Carolina Board of Health and Environmental Control.
Prior to this appointment she was part of the board during the critical COVID-19 pandemic period.
A businesswoman, Carolina Convenience, founded in 1981, is run by her family and was founded in 1981 by Madhu and Sulochna Shrivastava, who were at the White House banquet as well.
The Shrivastavas run a bunch of convenience stores, gas stations and Hardee restaurants in the state.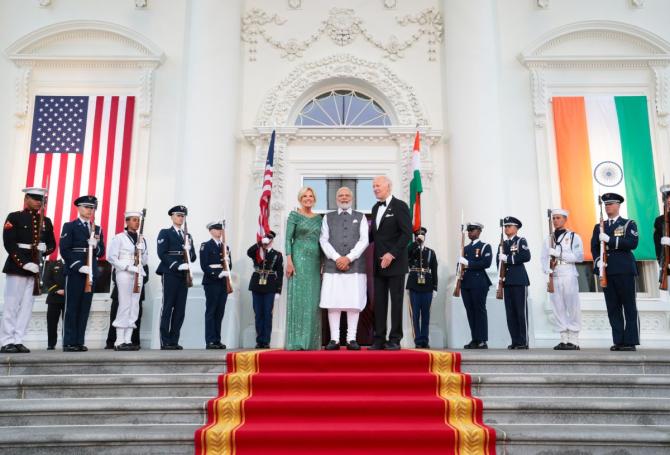 Dr Ami Bera: A US Congressman from California since 2013, Los Angeles-born Bera has put in work for healthcare reform and made his voice heard in the context of environmental protection and renewable energy.
His parents migrated to the US from Rajkot, Gujarat, and Bera follows a bit of Gujarati.
Called the godfather of Capitol Hill, Bera admired Modi's last speech to the Congress in 2016 saying it was 'perfect' and 'as an Indian American and a Gujarati American, I was thrilled by the prime minister's speech'.
Last year, Bera was attacked by a fox near the US Capitol and remarked humorously, 'I expect to get attacked if I go on Fox News; I don't expect to get attacked by a fox'.
Seema Sadanandan: Once, a documentary maker and campaign strategist, she is the criminal justice director, in Washington DC, for American Civil Liberties Union, a nonprofit that 'defends and preserves the individual rights and liberties guaranteed to every person' in America by the country's laws and the constitution.
Alpana Patel: The clinician and programme coordinator for New York's Mount Sinai Sexual Assault and Violence Intervention Program.
A social worker and counselor, she previously worked with Sakhi For South Asian Women, an organisation offering support to women in need.
Jagtar Chaudhry: An entrepreneur and billionaire, he is the CEO/founder of Zscaler, a cloud security company.
Born in tiny Panoh, a village in Himachal Pradesh to a farmer family, he studied in Modi's constituency at BHU and came to the US to study at the University of Cincinnati.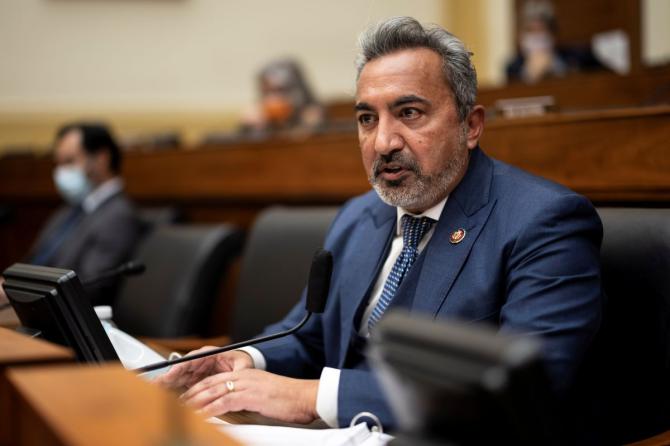 Tarun Chhabra: Special Assistant to the US president and senior director for technology and national security, Chhabra was a fellow with the Center for Security, Strategy, and Technology at Brookings, and at the Center for Security and Emerging Technology at Georgetown University.
Global China: Assessing China's Growing Role in the World, published in 2021, was written by Chhabra and his scholar colleagues over two years and was the result of research 'intended to furnish policy makers and the public with hard facts and deep insights for understanding China's regional and global ambitions'.
Ronak Desai: An attorney and leading India practitioner at the Washington law firm, Paul Hastings LLP and expert at the Lakshmi Mittal South Asia Institute at Harvard University.
Anand Giridharadas: Writer, New York Times columnist, journalist, Giridharadas wrote India Calling: An Intimate Portrait of a Nation's Remaking (2011), The True American: Murder and Mercy in Texas (2014), Winners Take All: The Elite Charade of Changing the World (2018), and The Persuaders: At the Front Lines of the Fight for Hearts, Minds, and Democracy (2022).
Vanita Gupta: The prominent Indian-American civil rights lawyer was confirmed by the United States Senate as associate attorney general in 2021, making her the first person of colour to occupy the third highest position at the Department of Justice.
She and her dad Rajiv Gupta, now head of the auto parts company Aptiv, earlier CEO of the chemical corporation Rohm and Haas, were present together at the dinner.
Geeta Rao Gupta: From Mumbai and Delhi, Gupta is the ambassador-at-large for global women's issues at the US Department of State since May 2023, and has all her life puts women's issues at the centre of her career, as well as AIDS.
She only arrived in the US in the 1980s and in 2010 found a position at the Bill and Melinda Gates Foundation.
Dr Rahul Gupta: Director of the Office of National Drug Control Policy, he is a physician from West Virginia and the first MD to take this position. The son of an Indian diplomat posted to Washington DC, where Gupta lived as a youngster, he later went to medical school in Delhi.

Frank Islam: The Azamgarh-born businessman and Democratic Party activist has served on the boards of several leading institutions like the John F Kennedy Center for the Performing Arts. Born Shah Islam, he got his name Frank from a professor at the University of Colorado.
Anurag Jain: A venture capitalist and entrepreneur, he is the CEO of Access Healthcare.
Using artificial intelligence and robotic process automation, this healthcare services platform works to totally change healthcare revenue cycles.
He and Ross Perot Jr are partners in a Dallas firm that provides capital to '50 highly disruptive, industry-transforming companies'.
He owns New Delhi's JW Marriott and Mumbai's Hyatt Regency hotels.
During COVID-19 he started up Get Shift Done that served 60 million meals and gave jobs to 28,000 hospitality workers.
Pramila Jaypal: The US representative from Washington's 7th Congressional district since 2017, she was the first Indian American woman elected to the US Congress. A leading member of the Progressive group in Congress, she was at the dinner with her husband Steve Williamson.
She was the lead signatory of the letter 75 US Representatives and Senators wrote to Biden this week, expressing concern over the erosion of democratic values and human rights in Modi's India.
Vimal Kapur: CEO of Honeywell, Kapur, who earned an engineering degree from Patiala, has worked for this MNC for 30 years as of June 2023.
Neeraj Khemlani: Co-president of CBS News, Khemlani was born in Singapore and grew up in New York.
He helped produce ABC News' Peter Jennings bulletins. He also worked on 60 Minutes and capsules for Nightline and Good Morning America.
He and his wife are a high-powered media couple. Heather Khemlani, present at the White House on Thursday, was once an ABC anchor and correspondent.
Ro Khanna: The US Representative from California's 17th Congressional district since 2017.
Khanna was born in Philadelphia into a Punjabi Hindu family. His parents immigrated to the US from Punjab.
Prior to holding elected office, Khanna lectured at Stanford University at its department of economics and was an adjunct professor at the Santa Clara Law School.
Dr Renu Khator: The first Texan woman chancellor when in 2008 she became the 13th president of the University of Houston. Born in Farrukhabad, Uttar Pradesh, she has a place in the Texas Women's Hall of Fame. Presently she is a chancellor for the University of Houston System.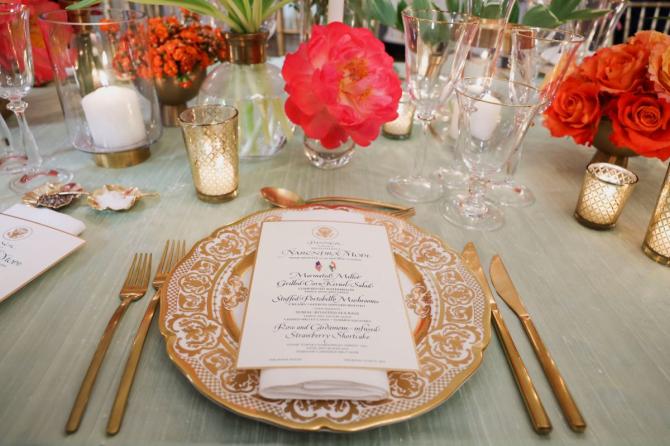 Rohini Kosoglu: A former deputy assistant to Joe Biden and domestic policy advisor to Kamala Harris, New Jerser-born Kosoglu had long been associated with the administration, its transition team and their election campaign.
Harris once remarked that Kosoglu was 'one of my closest and most trusted aides from the Senate and presidential campaign'.
Of Sri Lankan descent, she was the first South Asian chief of staff at the US Senate.
She started her career in the Senate mailroom. She is married to a Turkish-American software engineer, Ozkan, who dined at the White House with her.
Arvind Krishna: Chairman and CEO of IBM since 2020, Krishna is from coastal Andhra Pradesh and the son of a major general in the Indian Army.
Graduate of IIT-Kanpur, he has worked for IBM from 1990 onwards. He is credited with IBM's acquisition of software giant Red Hat.
Raja Krishnamoorthi: New Delhi-born Krishnamoorthi first won the race to become the US Congressman from Illinois's 8th District in 2017 through his super successful fund-raising and endorsements, even featuring a photo of Barack Obama at their home enjoying Indian food.
In 2022, he won his fourth term.
He switched countries, travelling from New Delhi to Buffalo as a baby, when his father came to America to study and lived in public housing and required food assistance till the family saw better days.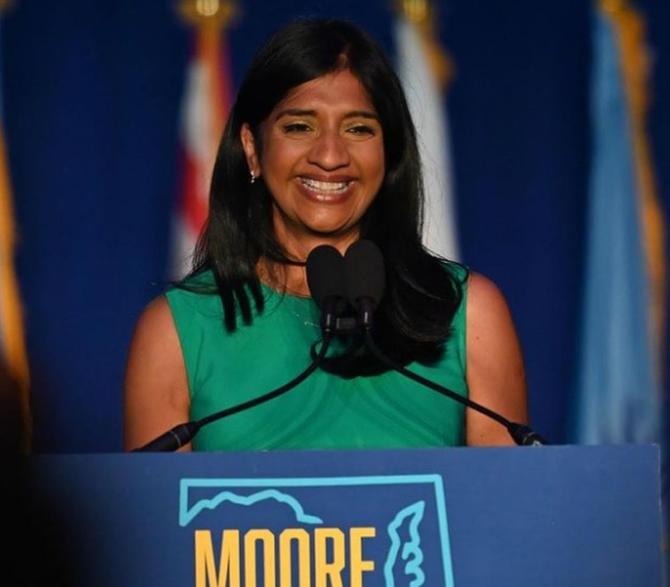 Raj Udiaver Kumar and Maria Teresa Kumar: The founding president and editor in chief of Devex, a global development media platform and the author of The Business of the Changing World.
Raj worked with Bill Clinton when he was president. Once called one of the 10 most influential women in Washington, DC, Maria is the Bogota, Colombia born, CEO of Voto Latino and a political rights activist.
Sanjay Mehrotra: A co-founder of memory card giant SanDisk, he is the CEO of Micron Technology, that produces computer memory.
This Kanpur-born, Berkeley and Stanford graduate owns some 70 patents.
Aruna K Miller: She was sworn in as Maryland's lieutenant governor in 2023 and was the first Indian American to be elected to the second most powerful position in any US state.
The mother of three grown up daughters, Aruna Katragadda immigrated to the US with her parents in 1972 when she was seven and became a citizen in 2000.
'Ultimately, the job of myself as lieutenant governor is about the daily aspect of implementing policies and addressing constituent needs. That is what's most important. It's not about lights, camera, action, and you're in front of the media. It's really about rolling up your sleeves and implementing exactly what we said that we were going to do'.
Dr Vivek Hallegere Murthy: Britain-born Murthy occupied the position of America's Surgeon General for the second time in 2020. His first incomplete stint began in 2013, when President Obama nominated Dr Murthy to be the Surgeon General and he was the youngest ever to hold the office at the age of 37.
His family migrated from Karnataka to England to Newfoundland and finally to Miami when Murthy was three. He wrote Together: The Healing Power of Human Connection in a Sometimes Lonely World in 2020.
Shantanu Narayen: The Hyderabad-born CEO of Adobe since 2007, Narayen's myriad other interests include sailing and cricket; he is an investor in Major League Cricket.
Maulik Pancholy: You might remember him as Jonathan on 30 Rock, Baljeet in Phineas and Ferb, Neal in Whitney, and Sanjay Patel in Weeds and Sanjay and Craig.
He wrote The Best At It about a desi coming out gay in the US and more recently Nikhil Out Loud.
Of Gujarati parents, he grew up in Ohio, Indiana and Texas.
He came out in 2013 and became engaged to his partner chef Ryan Corvaiain front of the Taj Mahal in Agra and they later married.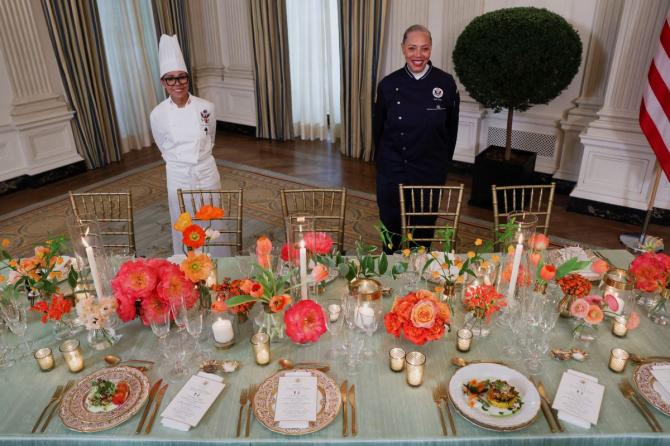 Deven Parekh: The New Jersey-raised venture capitalist, philanthropist, MD of venture capitalist firm, Insight Partners, billionaire and dynamic fundraiser for the Democrats.
He raised nearly a million dollars for Barack Obama's campaigns and $100,000 each for Hillary Clinton and Joe Biden.
He founded the Parekh Center for Interdisciplinary Neurology at NYU Langone by donating $10 million.
Tarini Parti: The Wall Street Journal's White House reporter.
Sameer Patel: An American conductor, he made his debut recently for the Chicago Symphony Orchestra and the Princeton Symphony Orchestra.
He has also conducted the Florida Orchestra and La Jolla Symphony and Chorus.
Sanjay Ramabhadran: Chairman of the Metropolitan Transit Authority of Harris County in Texas.
M R Rangaswami: The man behind Indiaspora, Silicon Valley veteran Rangaswami has worked in companies like Oracle and Baan before becomings an angel investor in 1996 and has invested in scores and scores of companies.
Punit Renjen: CEO of Deloitte from 2015 to 2022, he is now global CEO emeritus, Renjen hails from Rohtak in Haryana.
He came to the US to study at Williamette University in Oregon.
During the COVID-19 pandemic, he began Senjeevani Pariyojana which offered home care for those mildly ill with COVID-19 in India.
Dr Sudhir Sekhsaria is an allergist-immunologist from Maryland who received his medical degree from the Government Medical College in Amritsar.
Smita N Shah: An engineer, who studied at Northwestern, MIT and Oxford, and CEO of SPAAN Tech, Inc, a Chicago engineering and construction management firm, Shah sits on the board of several leading Chicago institutions and is a civic ledaer.
Her Dutch husband, present at the dinner on Thursday, Maarten de Jeu is the MD of SVM Business Advisory in Chicago, Illinois.
Jay Shetty: The 35-year-old British-born son of a Gujarati mother and a Bunt father, the celebrity life coach is the author of the bestsellers Think Like a Monk and 8 Rules of Love: How to Find It, Keep It and Let It.
Shamina Singh: Founder and president, Mastercard Center for Inclusive Growth since 2014, and executive vice president, sustainability at Mastercard, her work encompasses 'developing and implementing solutions to make the global economy work for everyone, everywhere'.
She is a board member of ADL, an anti-hate organisation. She worked in the White House during the Obama Administration.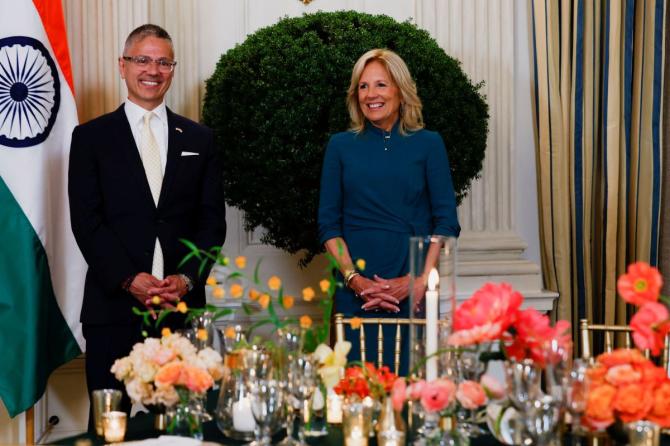 Sri Srinivasan: Judge Srinivasan is the Chief Judge of the US Court of Appeals. The first Indian-origin federal judge in the United States, Judge Sri catapulted into greatness when, as an assistant to the US Solicitor General, he became the first Indian American to argue before the US Supreme Court in November 2002.
He went on to serve as principal deputy solicitor general before becoming a federal judge. He was not only confirmed 97-0 by the US Senate in May 2013, the first confirmation to this court in seven years, but also instantly earned the buzz of a 'Supreme Court nominee-in-waiting'.
Chitra Wadhwani: Editorial director at Washington Post Live.
Rajesh Subramaniam: The CEO of FedEx, Kerala-raised and a graduate of IIT- Bombay, he is a chemical engineer by training. He got a job with FedEx in 1991 as an associate marketing analyst.
Neera Tanden: An assistant to the President and a domestic policy advisor, Tanden and her family went through difficult times in their initial years.
Soon after gaining a position in the Biden administration, she recounted the story of her mom who came to America, 'My mother Maya was born in India. Like so many millions, across every generation, she came to America to pursue a better life... But when I was five, my parents got divorced and my mom was left on her own with two children -- and without a job', recalled Tanden, who was born in Bedford, Massachusetts, to immigrant parents from India.
'She faced a choice: Return to India, where at the time divorce was stigmatised and opportunity would be limited, or keep fighting for her American Dream. She stayed, and America came through for her when times were tough. We relied on food stamps to eat. We relied on Section 8 vouchers to pay the rent. We relied on the social safety net to get back on our feet.
'This country gave her a fair shot to reach for the middle class and she made it work'.
Shri Thanedar: The US Representative from Michigan's 13th Congressional district since 2023. He was a member of the Michigan House of Representatives from 2021 to 2023 and also a candidate in the Democratic primary for governor of Michigan in the 2018 election.
Maju Varghese: The New York-born attorney,'s association with politics began with Al Gore's campaign in 2009.
He was the director of the White House Military Office till January 2022.
The son of Indian immigrants who came to the US from Thiruvalla, Kerala -- his mother was a nurse and his father a cab driver -- Varghese was the chief operating officer on Biden's 2020 presidential campaign.
Abraham Verghese: Professor of the theory and practice of medicine and vice chair of education at the Stanford University Medical School, specialist in bedside medicine, Ethiopia-born Verghese has written four best-seling books -- My Own Country, Tennis Partner, Cutting For Stone, The Covenant of Water.
In 2015 he was awarded the National Humanities Medal by President Obama in 2015. His medical training in Ethiopia was cut short by domestic unrest in the country and he and his family journeyed to America where he found work as a hospital orderly. He later completed his medical studies in Chennai.
Rahul Richard Verma: The lawyer and diplomat served as the first India-origin US ambassador to India during President Obama's second administration. He is currently the deputy secretary for management and resources, US Department of State.
Sunil Tekchand Wadhwani: Founder of the IT services firm IGATE and digital transformation services company Mastech, philanthropist, Wadhwani, billionaire Romesh Wadhwani's brother, is the managing partner of SWAT Capital.
He also looks after two philanthropic projects -- the Wadhwani Institute for Sustainable Healthcare and the Modi-inaugurated Wadhwani Institute for Artificial Intelligence, which does research in partnership with the Massachusetts Institute of Technology, Stanford, New York University, University of Southern California, University of Washington, Carnegie Mellon University, IIT-Bombay, IIT-Delhi, IIT-Madras, and the Alan Turing Institute.
A research institute for AI is being established in Mumbai by WIAI in partnership with the Maharashtra government.
Feature Presentation: Aslam Hunani/Rediff.com