'Sukh Pal Singh is not very rich where money is concerned, but his heart is rich.'
Almost 800 km from the site of the long-pending mandir-masjid dispute in Ayodhya, a Sikh cloth merchant from Purquazi town, Muzzafarnagar district in Uttar Pradesh, has donated a 900 square feet plot to build a mosque.
Purquazi has a population of about 30,000 of which two-thirds are Muslims. Sikh families number less than 200.
A border town between Uttar Pradesh and Uttarakhand, Purquazi is well known for its Suli Wala Bagh where 500 freedom fighters were hanged by the British in the First War of Independence in 1857. The event is commemorated by residents every year.
"This is the 550th birth anniversary celebrations of Guru Nanak. Sukh Pal Singh Bedi wanted to do something special to celebrate Guru Nanak's birthday and so he donated the land to build a mosque," Town Panchayat Chairman Zaheer Farooqui tells A Ganesh Nadar/Rediff.com.
"There are many masjids in our town, but this one will be special as the land has been donated by a Sikh to celebrate his religion," Farooqui adds.
"There is total communal harmony in this town. We celebrate each other's religious festivals," he says.
"Sukh Pal Singh is not very rich where money is concerned, but his heart is rich. He is a cloth merchant, an ordinary man like you and me."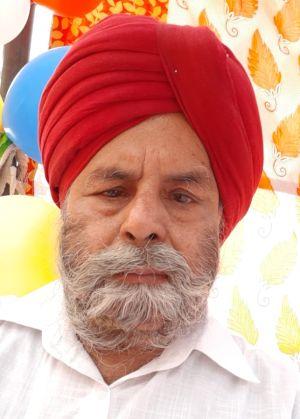 "Our Guru told us that all people are equal and we must respect all religions and that is what I am doing," says Sukh Pal Singh Bedi. "It is our Guru's 550th birth anniversary and Sikhs are celebrating the world over. I wanted to do something special to commemorate the event and I am sure my deed must have made my Guru happy."
Bedi, left, was born in Delhi three years after Independence. His family moved to this town when he was three years old and he has lived here ever since.
He started a cloth shop in 1967 as a young lad and is still running it after more than five decades. He gets his cloth from the wholesale market at the district headquarters in Muzaffarnagar. He has travelled to Mumbai once in the eighties, he recollects fondly on the phone.
Bedi has two sons and a daughter. "When I decided to donate the land I consulted my family. They all agreed that it was for a good cause and I must do it. They all supported me," he says happily.
Last Sunday, at an event organised by the panchayat, he handed over the land documents to the town.
"God gives us everything, we must use it for the good of the maximum people possible," Bedi Tells Rediff.com. "We must always share whatever we have because everything is given by God. Nothing belongs to us."
Some 20 years ago, when the town needed land for a road, Bedi had given up land wholeheartedly for the purpose. Clearly, he believes in what he advocates.
---
A Ganesh Nadar, a journalist for a quarter of a century, is the author of two books. He can be contacted at ganeshn@rediff.co.in