After several years of travelling, Guru Nanak settled down at Kartarpur as a farmer.
His followers were the first Sikhs of an order that was to prevail for many years to come.
A fascinating excerpt from Sondeep Shankar and Rishi Singh's Sikh Heritage: A History of Valour and Devotion.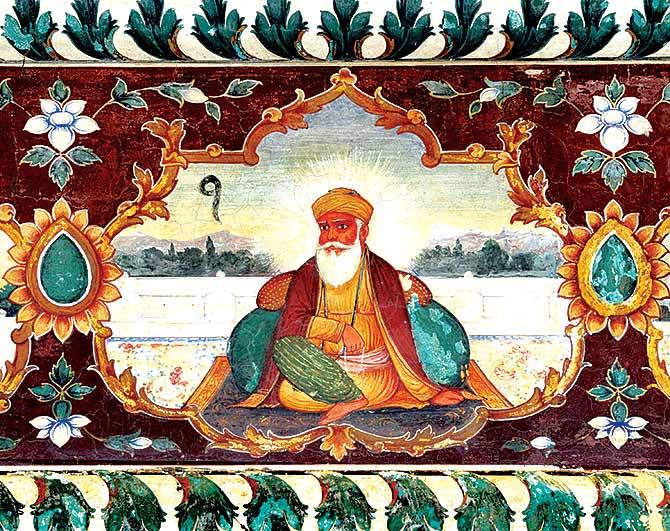 Since his early days, Guru Nanak showed sensibilities that clearly proved that he was a blessed child and engaged himself in sharing his divine wisdom with all.
As a child, he was a fast learner demonstrated by the fact that at the age of seven he learnt arithmetic and bookkeeping, besides reading and writing in Devanagri script.
Further he went to a local maulvi to study the Persian and Islamic literature.
At the age of nine, the young Nanak refused to wear the janeu, the holy thread.
At school, young Nanak wrote simply the first alphabet of Persian script alaf and conveyed the message of oneness in the spirit of God.
His desire to know about the metaphysical world led him to engage more with the holy men of all religions.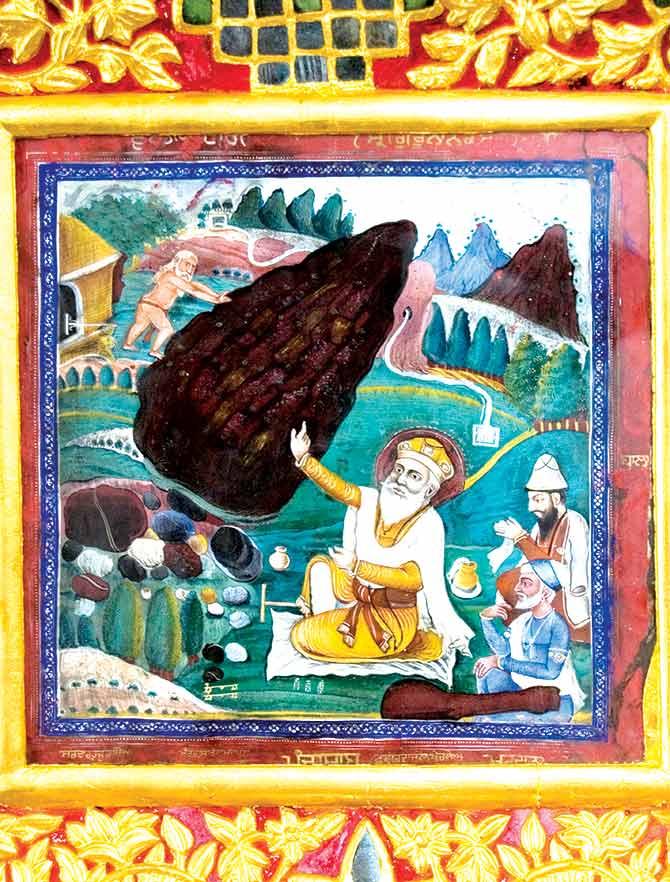 Guru Nanak passed his childhood and young age in Nankana Sahib where a number of gurdwaras now stand to mark the incidents associated with him.
Nanak was married to Bibi Sulakhani, the daughter of Mulchand Khatri of Batala, who bore him two sons, Srichand and Lakhmi Das.
His sister Nanaki and her husband invited him to come over to Sultanpur and assisted him in securing a job as a storekeeper of the government storehouse under Nawab Daulat Khan Lodhi.
One morning, as always, when Nanak went to the River Bein to take bath, he reappeared after three days and on his return, he uttered: 'There is no Hindu and no Musalman'.
It is believed that Nanak was in communion with the Divine power for that time.
In time, he laid the foundation of a new energy that was to overwhelm the land of five rivers -- the faith of Sikhism.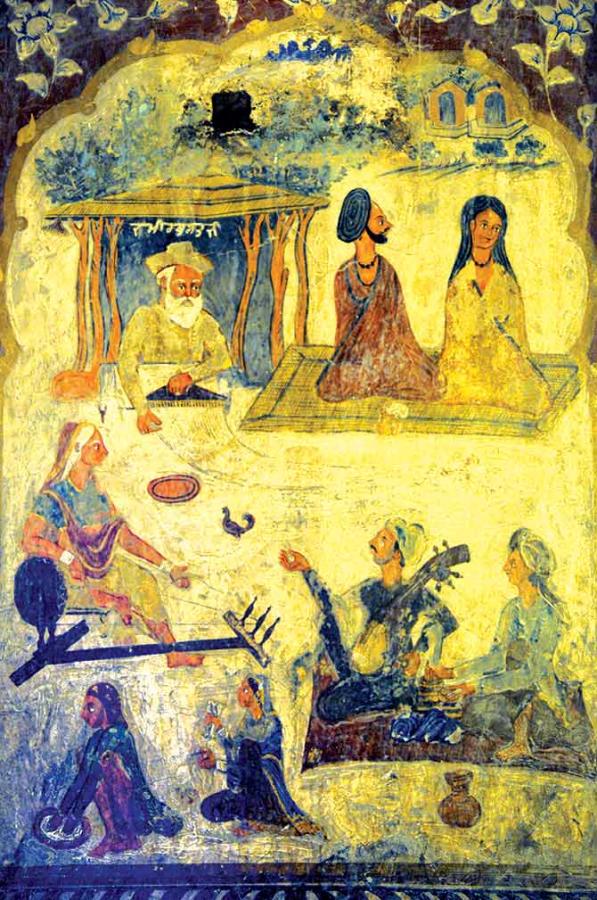 Nanak's utterances created waves that impacted people from all walks of life -- rich and poor, soldiers and farmers, political elites and common men, and led to an increase in the number of his followers.
He travelled to far off lands, carrying the divine message revealed to him.
He was accompanied by Bhai Mardana, his rebeck player.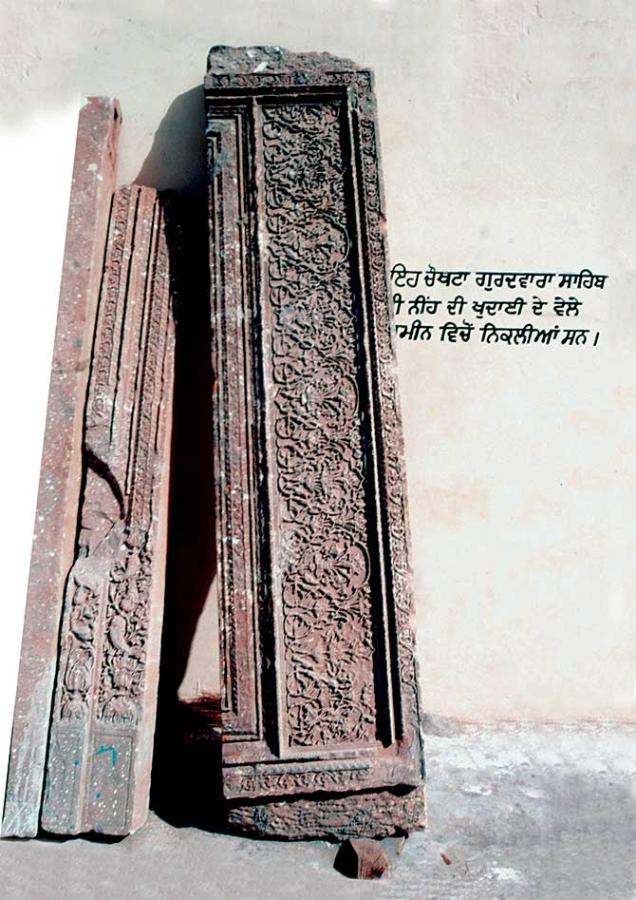 These journeys that Nanak undertook are known as Odysseys, or Udasis.
He tried to visit the holy places of all the Indian religions en route, especially on the occasions of festivities at those sites.
He witnessed the rituals, engaged with the spiritual leaders and guided the followers according to his own understanding.
He stopped at Kurukshetra during solar eclipse, an important occasion when a large number of Hindus come together to take a holy dip.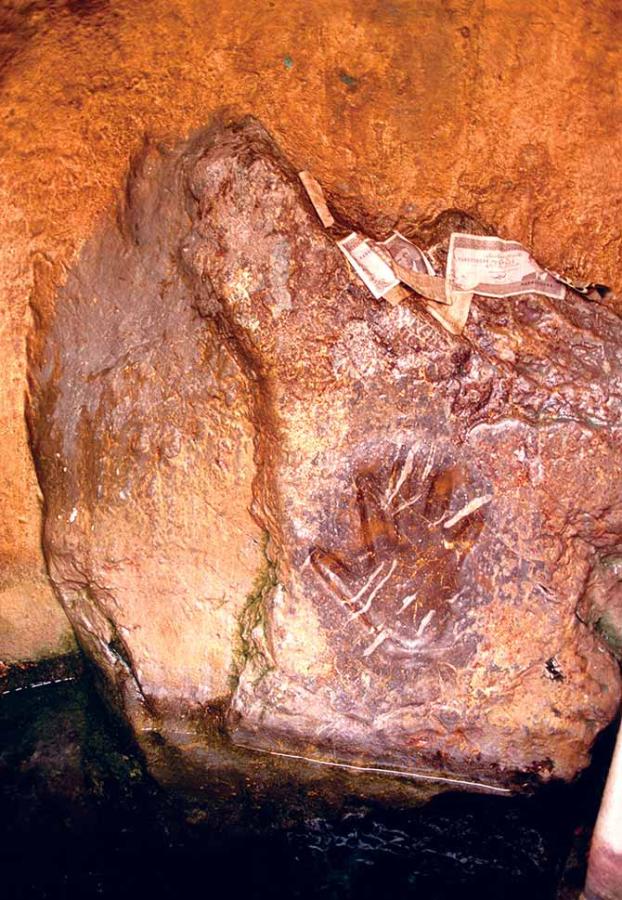 Afterwards through Panipat and Delhi he reached Haridwar - one of the most important religious destinations for Hindus, on the banks of River Ganga.
He engaged with a number of pilgrims who were pouring water towards the sun as a ritual.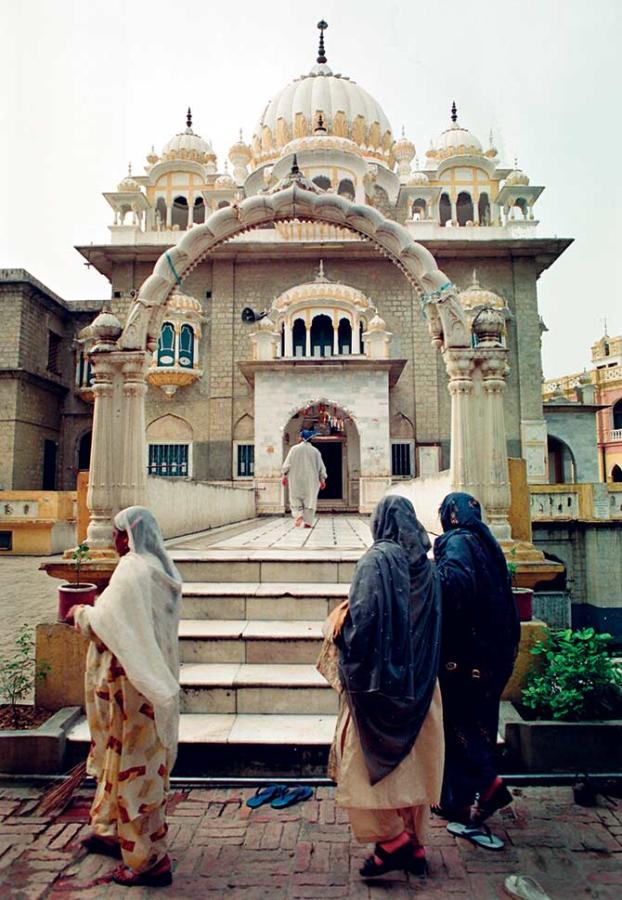 Guru Nanak performed the same ritual in a different manner by pouring water in the other direction.
The other devotees gathered there were surprised and asked him the reason for this action.
He replied, 'If you can make the water reach the sun, many millions of miles away, mine will surely reach my fields in Punjab, only a few hundred miles away.'
Nanak, who had been acknowledged as a Guru by now, acquired many followers during his journeys.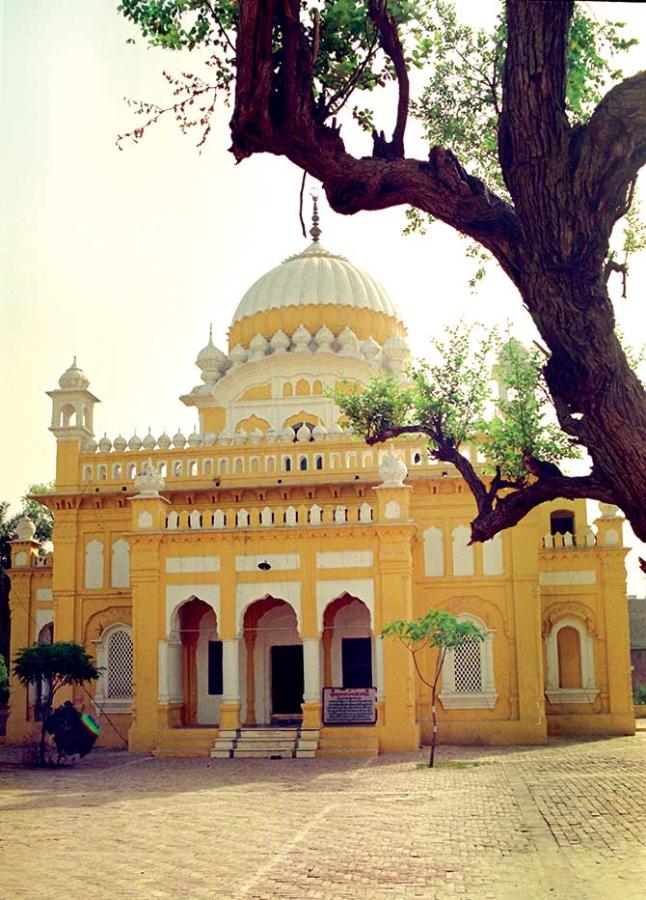 After Haridwar, he reached Benaras, an important intellectual centre of the Hindus, on the occasion of Shivaratri.
There he engaged with Chatur Das in a religious discourse, who subsequently became his follower and spread the word of Nanak.
From there, Nanak travelled to Gaya and Patna where a jeweller named Salis Rai became his follower and shared his message with people.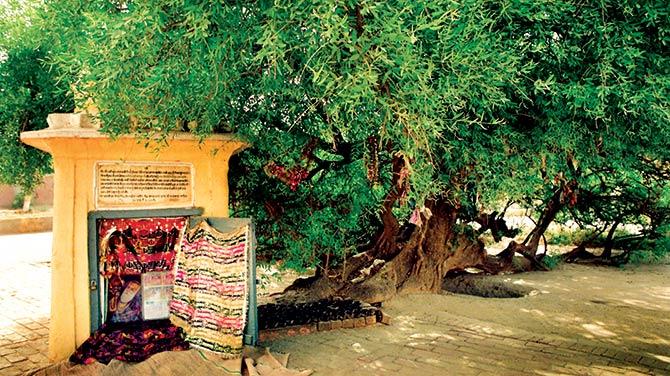 From Patna, Guru Nanak travelled to Assam and then to Dacca along with Mardana.
On his return, he visited Cuttack, where now stands Gurdwara Datan Sahib.
At the Jagannath Temple in Puri, one of the holiest places for Hindus, Nanak, instead of joining the aarti along with the congregation in front of the deities (idols), began singing the aarti he had himself composed, thus revealing his message to all those present in his unique way.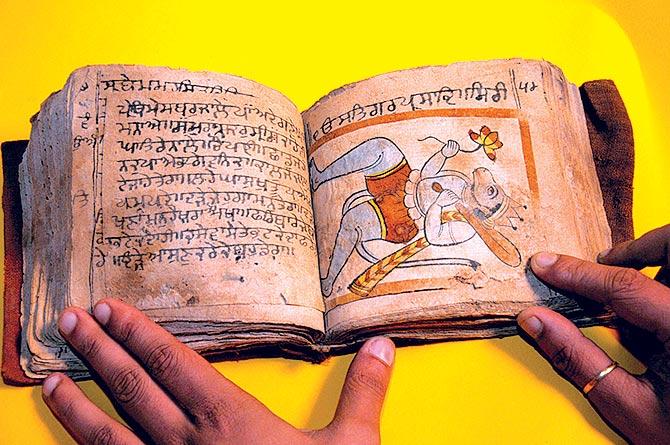 The Guru began his second journey, but just before doing so, he established a new town, on a piece of land offered by a disciple named Karori of Lahore.
He established the town of Kartarpur there.
He travelled south, where his visits have been marked with gurdwaras all over the Indian peninsula as far as Ceylon.
He met Shivnabh of Jaffna in Ceylon, who had earlier been introduced to the ideals of Nanak by the merchant Mansukh.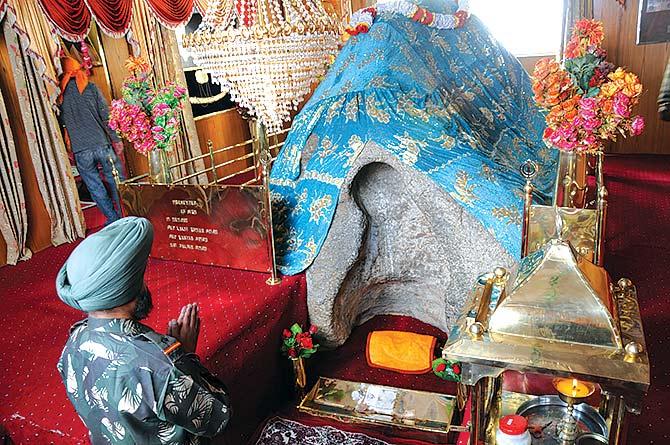 The Guru's next odyssey was towards the north.
He met Gorakhnath yogis at Gorakhamata in the Himalayas, while travelling with Hassu, a blacksmith and Sihan, a washerman.
The place is now known as Nanakmata.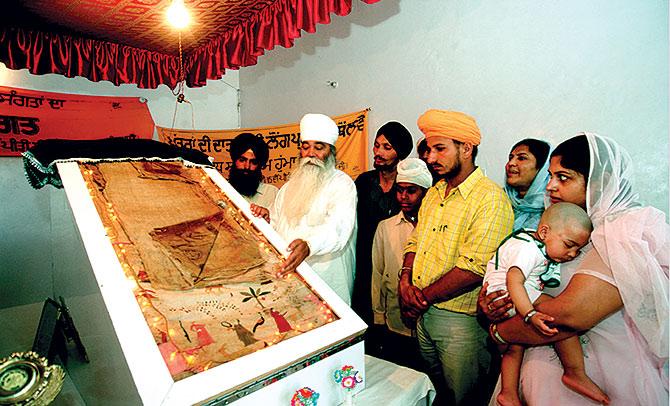 Subsequently, Nanak travelled further north to Tibet and Nepal and visited the famous Mansarovar lake, and on his way back, returned through Leh, where he rested at a place now known as Pathar Sahib.
He further reached Punjab via Srinagar.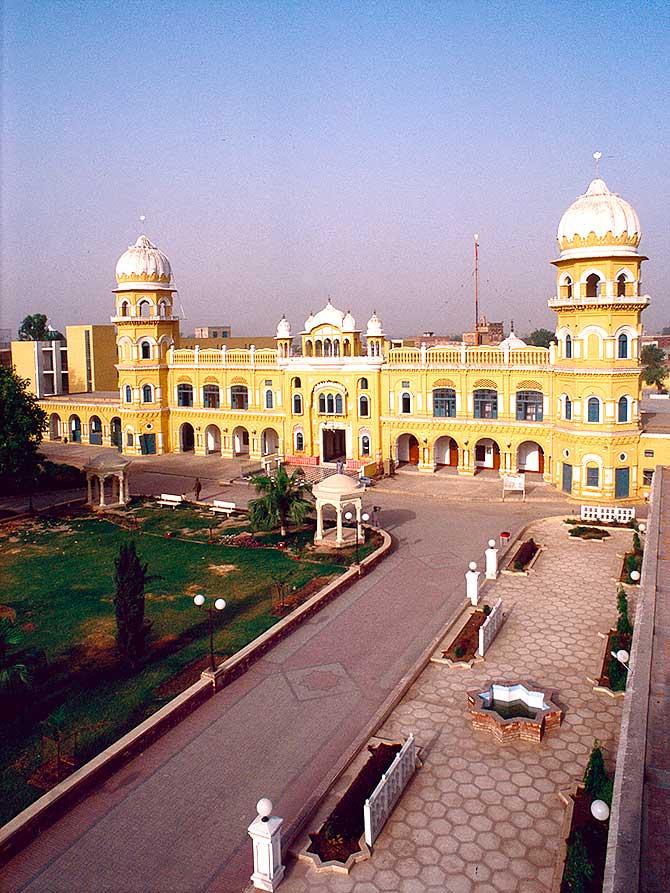 His fourth odyssey took him to the west.
Accompanied by Mardana, he travelled to Mecca, the most revered place for the Muslims, where he went to sleep with his feet directed towards the holy shrine.
This was objected to by a man who along with others was annoyed at what he saw, and told Nanak that his feet were pointing towards the abode of God, to which Nanak replied, 'Turn my feet where God is not.'
The message was well taken by those present.
On his return to Punjab via Baghdad and Persia, he witnessed the sacking of Saaidpur by Babur -- a beginning of a new era in Indian subcontinent's polity.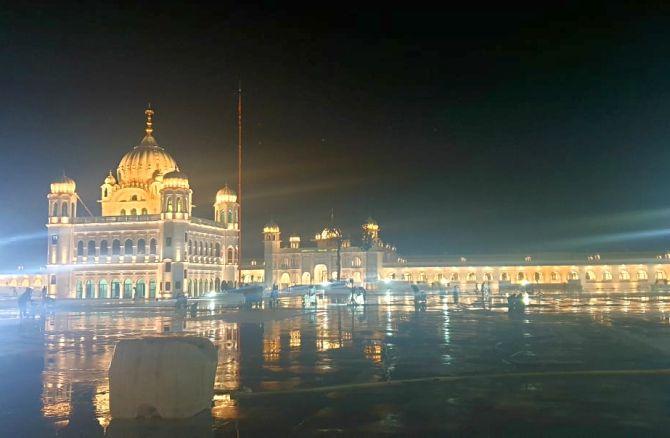 After several years of travelling, Guru Nanak settled down at Kartarpur as a farmer.
His followers were the first Sikhs of an order that was to prevail for many years to come.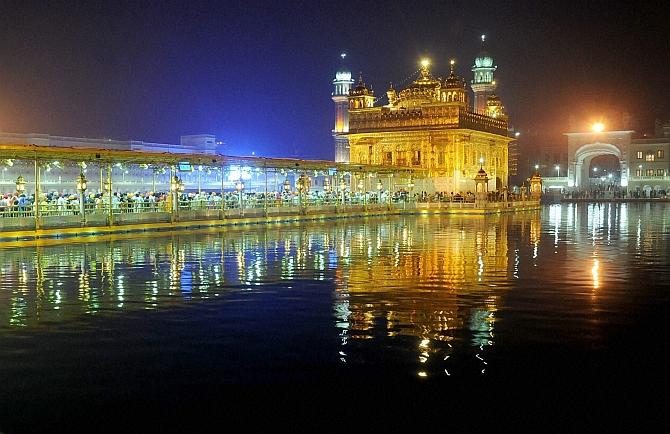 For these Sikhs, Guru Nanak needed a leader who had been through all the tests of becoming an ideal Sikh.
He chose Guru Angad and proclaimed him to be the next Guru for the Sikhs.
On September 7, 1539, Guru Nanak left the world.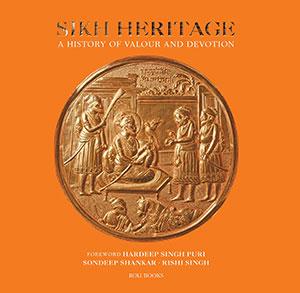 Excerpted from Sikh Heritage: A History of Valour and Devotion, by Sondeep Shankar and Rishi Singh, with the kind permission of the publishers, Roli Books.