'The Sena is always ready for any and every eventuality.'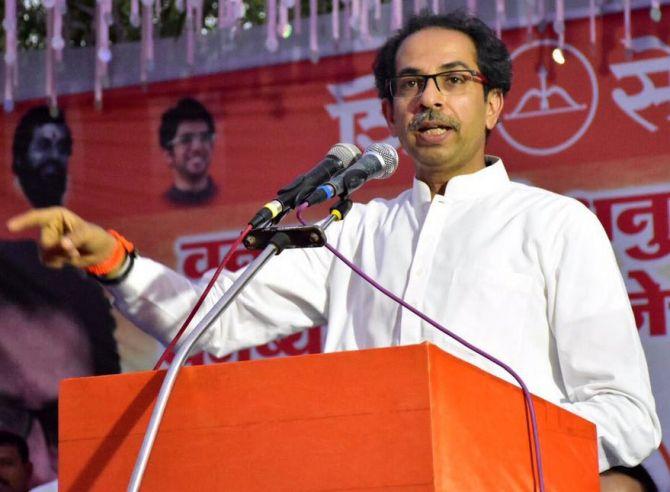 As speculation mounts that the Bharatiya Janata Party leadership, tired of the shoot-and-scoot tactics deployed by its ally of long-standing, may consider the dissolution of Maharashtra assembly and go in for fresh elections, the Shiv Sena on Tuesday said it is fully prepared for any eventuality, including early elections.
"The Shiv Sena is not frightened of early elections," Shiv Sena leader and Maharashtra Industries Minister Subhash Desai told Rediff.com's Prasanna D Zore.
"The Shiv Sena is always ready for any and every eventuality," he added.
Desai also targeted the BJP for turning to turncoats to win elections.
"We don't have to import people from other political parties or entice them to our party by giving them tickets to fight the Vidhan Sabha elections. Those who indulge in such malpractices need time to get ready for such events," he said referring to the BJP's recent Palghar Lok Sabha by-election win where it fielded former Congress leader Rajendra Gavit.
Expressing complete faith in his party's strength, Desai said, "Our original people are with us. Our party has support from all sections of Maharashtra and we have a strong base of loyal and committed Shiv Sainiks. So, we won't require much time to fight a mid-term poll."
If the Lok Sabha election is held today, Desai asserted, the Sena is well prepared for it."
"Do whatever you want, the Shiv Sena is always prepared to take anybody on. Shiv Seneche Shiv Sainik tayar aahet, agdi sajja (Shiv Sena workers are prepared, fighting fit for early elections in Maharashtra)," he declared.
Commenting on Shiv Sena chief Uddhav Thackeray's interviews to Saamna Executive Editor and Rajya Sabha MP Sanjay Raut, Desai said, "One should not read too much politics into the marathon interviews of Uddhavji. He had given such interviews last year too on his birthday. This has become a tradition now."
When asked about the timing of these interviews, coming after the Opposition's no-trust motion against the Narendra Damodardas Modi-led National Democratic Alliance, during which the Shiv Sena abstained from voting, Desai said, "These interviews are just an opportunity for our party president to open up before the people of Maharashtra. Te aapla man mokla karat aahet (he is expressing his feelings openly)."
"He speaks to the people as the head of a family, (on) personal as well as political (level). He speaks about his hobbies too. There is no need to dissect such interviews to draw (political) inferences," he added.
Pointed out that the Sena has only been targeting its ally of 33 years and behaving like an adversary, the industries minister said, "If he is attacking the BJP today for its misadventures and bad policies in Maharashtra, tomorrow he can launch such attacks on the Congress, too."
Shiv Sena spokesperson Neelam Gorhe said Uddhav Thackeray was the right authority to talk about an early election.
"Just read Uddhavji's interviews today, tomorrow and the day after," Gorhe told Rediff.com, "you will get answers to all the questions the people of Maharashtra are asking today."