Indrani is in a buoyant and energetic frame of mind these days -- in a full-on Mood Positive.
She has a tell-all book titled Unbroken out, that she terms as an 'eet ka jawab kalam se' and appears in media interviews all over the place, when she is not kick-boxing, doing yoga, or travelling, visiting temples,or floating in shikaras on Srinagar's Dal Lake.
Vaihayasi Pande Daniel reports from the Sheena Bora Murder Trial.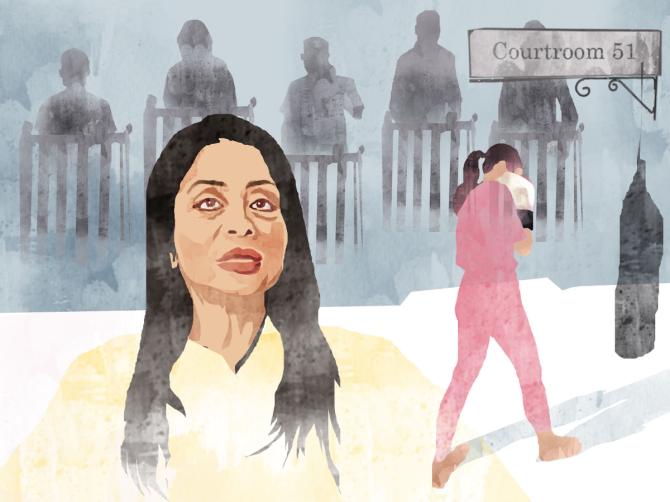 "Panch," announced Indrani Mukerjea, loudly to me on my arrival.
She was sitting, Tuesday, September 5, 2023, on a rickety bench near the entrance of Courtroom 51 of the Mumbai city civil and sessions court, south Mumbai, impeccably dressed as usual, looking younger by the day, powwowing with her younger lawyers Chaitanya Kulkarni and Harshada Shrikhande.
It was a hot rainless September morning and one had just reached the seating area outside CBI Special Judge Samarendra Prakashrao Naik-Nimbalkar's courtroom on the third floor, expecting some more exciting movement, for a change, in the Sheena Bora murder trial.
That was not to be had, as per Indrani's helpful advance intimation.
While, the pace of the Sheena Bora murder trial is quite energetic these days, on Judge Naik-Nimbalkar's watch, and with Senior Advocate C J Nandode helming the CBI prosecution end. At least four new witnesses have been shuffling through the stand every month, yet the trial has been delivered into the shadowy and almost mythological Land of the Panchas.
The bulk of the witnesses, of late, are panchas or witnesses to the series of panchnamas (testimonies) created during the police and later the CBI's investigation into Sheena's 2012 death.
As defined earlier, in a criminal case panchas are required for crime spot panchanamas, seizure panchanamas, inquest panchanamas and memorandum (statement) panchanamas and more.
Since the trial began, six years ago, in February 2017, some 79 witnesses have come through the doors of Courtroom 51, for their testimonies and cross-examinations, many of them extraordinarily colourful or theatrical, like incorrigible and of labyrinthine mind Shyamvar Pinturam Rai, the Mukerjeas' driver and Accused-No-3-turned-prosecution-witness, who spent well-nigh unto six months in the witness stand keeping the defence dancing; Sheena Bora's gloomy father, Siddharth Das, who cut a bit of a sorry figure in the box and was all but missing from his daughter's life, even after her death; Indrani's high-strung secretary Kajal Sharma and the lady who waved her shoe the courtroom; the goofy DNA expert, Shrikant Lade, who filled in portions of the all-important electropherograms, inexplicably, by hand; the super-efficient forensic professor Dr Shailesh Mohite; Mekhail Bora, Sheena's complicated only brother from Guwahati; and, more recently, still-grieving Rahul Mukerjea, Sheena's partner and Indrani's less-loved stepson.
So, in a way, the trial has exhausted itself of its quota of star witnesses. And the colour has drained out of proceedings at Courtroom No 51, making covering each new trial date like reporting on a dull, faded black-and-white picture.
There are close to 85 witnesses to go, which may take up to a year for the completion of the trial, and for Sheena to finally get justice, inshallah, in 2024, 12 years after she was killed. Many of these less relevant 85 are more like procedural witnesses or the tiny, tedious building blocks or screws and bolts of the prosecution's case, quite a few of them panchas.
Panchas are critical parts of a police/CBI investigation or a prosecution's case because they are the silent witnesses, who were there to testify what the police actually did while investigating and when they did it. Like seizing a will or a cellphone from an accused's home, witnessing an identification parade and vouching for how ethically the police conducted it and so on -- the Crucial Little Guy.
But the Sheena Bora murder investigation required about 65 to 70 panchas and getting that quota of panchas is pretty tough. The CBI and the police are necessitated in relying on their various contacts and methods (or the hold they allegedly may have over individuals) to quickly get a man/warm body to the right spot at the right time, over and over again.
Very often these panchas are clueless and are allegedly (although it's plain to see in court) parroting what the police asked them to say or do and it's not even certain, as they relate it in the witness stand, if they actually did or saw what they are saying. The same panchas might appear in multiple cases and are familiar faces for trial lawyers working in the sessions court.
Since Rahul Mukerjea left the witness box end November, it's been mainly a parade of these boring panchas hitting the stand, and the odd bystander that could be hotel clerks, bank employees etc, like the patrician general manager of Kolkata's Tollygunge club, who vouched for Indrani's location there on the day after the murder.
But some flutter of excitement, once again enters the courtroom proceedings at No 51, when a poor pancha stumbles awkwardly while reciting his/her testimony, or in the heat of a cross, and says amazing, unbelievable stuff, like admitting to signing a panchanama that was recorded in Hindi when it was in Marathi or more home-run type material for the defence. Panchas often almost serve as human devices that trip up the prosecution's case.
In the recent past, on two occasions the pancha fare was highly entertaining.
Prosecution Witness No 72 Sandeep Rajendra Prasad Maurya, 35, was a simple, smiley and rather obliging chap from Khar, who worked in a cloth shop, knew just a little Marathi and came to court on June 20.
When asked by Accused No 2 Sanjeev Khanna's defence lawyer Niranjan Mundargi how it came to pass that he was called by the Khar police station, north west Mumbai, the first investigators of the case, to act as a pancha, he guilelessly stated that he had a friend who "em>worked" as a pancha at the Khar police station, who told him to come. The courtroom erupted in gales of laughter. Technically a pancha cannot work for the police, because by the nature of his assignment he is a neutral observer.
Or take the case of pancha Sheeba Abdul Rehman Siddiqui, 40, PW 78. She took the stand wearing a burkha (the identity of this Mohammed Ali road 'pardanashin' housewife was separately confirmed in a court anteroom by a 'Celeena Lopes') and had been the woman who witnessed the identity parade conducted in Byculla jail for Indrani among some five or six other women in 2015.
Sheeba told the court, in as many words, that Prosecution Witness 12, Sandeep Patil -- who allegedly had seen Indrani on April 25, 2012, the day after the murder, at Gagode Khurd in Raigad, where Sheena's body was disposed of -- had to identify Indrani at Byculla Jail and was unable to do so. The defence had no need to conduct a cross that day, because Sheeba gave the defence an accidental or 'own' goal.
Last Tuesday, September 5, 2023, it was the turn of an Assamese government employee, Imdadur Rahman, 54, on the stand.
Indrani and her former husband Peter Mukerjea were present in court and Sanjeev Khanna arrived, suitcase in hand, after proceedings ended, breathlessly, off a flight from Kolkata.
Shyamvar Rai appeared in the doorway, in jeans, a crisp white shirt and sneakers, as the trial re-commenced, offering a deeply exaggerated bow and namaste, to the judge, his eyes popping, a tick of his, and then retired to some unknown part of the corridors, never seen again, since as an approver he is not allowed to be in the courtroom.
Witness Rahman, in 2015 was working as a senior section engineer for the New Guwahati division of the Northeast Frontier Railways in Guwahati and stated that on October 9, at 6 am he was taken in a car by the CBI to the home of Mekhail Bora to watch them collect some documents.
A serious and meek man, with a neat moustache, attired in a green striped shirt, black slacks, black and white sport shoes, he was rather subdued and a gent of few words in the witness box.
His trip in the pre-dawn hours of October 2015 with a CBI officer apparently named Gurum, was unexpected, abrupt and he was given no details except that they had to go to a house because "jaane hai, kaam hai (have to go, there's work)" and later that "makaan ko search karna hai (the house has to be searched)."
They drove to a home near a Honda Service Centre on "Joo road" (the judge hastily had the confused stenographer make a correction in the court record "Z-o-o road") where they met a Mekhail Bora and collected various documents, including Indrani's mother's will, bank papers, photographs and made a 'seizure list."
Indrani's lawyer Ranjeet Vishnupant Sangle -- these days sporting a grey beard, and looking trim -- conducted the cross examination, briskly and tidily, over 15 minutes and established two things: That when the CBI showed up at Mekhail's doorstep, when he was probably still in bed, not having had his morning chah (tea) even, to conduct a search and whisk away a few of his personal possessions, he showed no astonishment and raised no hue and cry, according to Rahman.
Sangle: "Mekhail Bora ne shock and surprise nahin dikhaya (did he show shock and surprise)? Kuch hallagulla hua (was there some uproar)?"
Rahman: "Aisa kuch nahin (nothing like that)."
It was apparently routine for Mekhail to greet the CBI at sun-up and hand over a bunch of his official papers.
Secondly, Rahman had no way of knowing that he had actually met a Mekhail Bora, because he showed him no identification via a PAN card, Aadhaar card or passport or anything else.
Before Sangle began his cross, Indrani buttonholed the advocate to offer her own briefing.
For her legal team, Indrani might be both a dream client as well as the client from hell. Nearly half a lawyer herself, six years later, from meticulously studying all the trial documents and endless note-taking, she knows all the ins and outs of the case and so-called possible missteps by the prosecution, which is clearly evident from her conversations with her lawyers. She likely can recite most of the most intricate details from memory.
Indrani is in a buoyant and energetic frame of mind these days -- in a full-on Mood Positive. She has a tell-all book titled Unbroken out, that she terms as an 'eet ka jawab kalam se' or 'a reply given to the bricks by pen' and appears in media interviews all over the place, when she is not kick-boxing, doing yoga, or travelling, visiting temples, holy men or floating in shikaras on Srinagar's Dal Lake (her WhatsApp status buzzes).
She has styled herself as a 'philanthropist, author and entrepreneur' and puts in efforts to rehabilitate former women prisoners.
Her eyes are livelier, snapping with enthusiasm, and her smiles broader than ever before, as she lives up her freedom or release on bail after seven years in jail. She isn't a woman who can be put down easily.
Co-accused Sanjeev Khanna spends most of his time in Kolkata with his elderly mother and has been trying to move the court to allow him attend via video conferencing. The matter is now pending with the Bombay high court.
Peter, who was looking natty, Tuesday, in khaki-grey jacket and a checked shirt with black jeans, is in Goa a lot, and has not yet had an opportunity to meet his elder son's family and is possibly writing another book too.
The next hearing is scheduled for September 14. And, yes, it is a pancha.
Feature Presentation: Aslam Hunani/Rediff.com