The prosecution's pursuit of this tiny detail was because they believed the charge from Google, on Indrani's account, was to restore Sheena's Gmail account, via the Google account recovery toolkit, since Indrani did not have the password.
Vaihayasi Pande Daniel reports from the Sheena Bora murder trial.
Illustration: Dominic Xavier/Rediff.com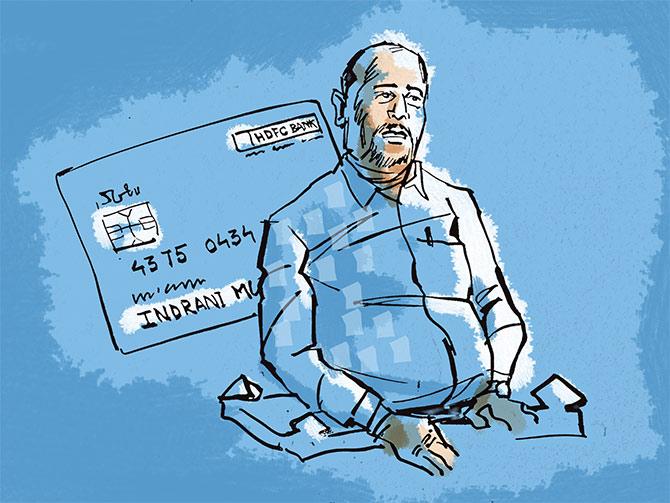 Winter is dead.
Spring has reappeared in court.
Again.
In the CBI Special Courtroom 51, where the Sheena Bora murder trial has been taking place for the past three years and four springs, at the Mumbai city civil and sessions court, facing the verdant Oval Maidan cricket grounds, south Mumbai, the fans were again grindingly too slow and the room overly warm.
But does spring mean anything in the lives of the legion of undertrials who troop into court daily in dismal clumps?
For those who cannot see the fresh green grass?
Or smell the brand-new flowers?
Or taste the seasonal fruit?
For those in jail for the past five to ten years?
That is about the average time spent behind bars in India, before undertrials are convicted or set free, being part of a system/nation that spends a minute, miserable .08 per cent of its GDP on the judicial system and whose prisons are filled 68 per cent with undertrials.*
As of November 2019, 20,92,398 criminal cases were pending in Indian courts for more than 10 years. Some 300,000 cases had been stuck more than 20 years. And 54,886 cases beyond 30 years!**
The re-arrival of spring, and its warmth, can only symbolise the mind-numbing, mind-deadening repetition in the cycle of seasons... And nothing more for this lot, termed by the Supreme Court, years ago, as 'unfortunate forgotten specimens of humanity'.
Thursday, February 13, 2020 was Bank Day at this murder trial, over which CBI Special Judge Jayendra Chandrasen Jagdale presides.
Prosecution Witnesses 62, 63 and 64 came to the witness box in swift succession like a parade.
But in order of the importance of their designations.
A chota (small) throng of faces, voices and backgrounds, not terribly vital to this case, flitted desultorily through.
They were all from banks.
Nanjay Ramesh Bhatia, branch manager, HDFC Bank, Worli seaface, south central Mumbai.
Satyaprakash Kumar, 32, an employee of the Union Bank of India from Varanasi.
Anant Sadashiv Ghanekar, 62, another employee at Union Bank of India from Dombivili.
Kumar and Ghanekar were panchas*** called in to verify the handwriting and signature of Kajal Sharma, Indrani Mukerjea's former secretary who had testified as Prosecution Witness 3 in 2018 (yes, two long years ago, who must have since gotten on with her life perhaps finding a fresh career or welcoming additions to her family, while the lives of her former bosses stagnate).
Bhatia was brought to the stand to verify a solitary transaction on a credit card belonging to Indrani, Accused No 1.
Indrani banked with his HDFC Bank branch. And had at least one credit card from HDFC Bank in her name as the primary card holder.
The lone transaction, that was highlighted in court, was to Google Accounts Help.
It was made on June 17, 2012. For Rs 110.72 or nearly $1.99, as per 2012 exchange rates.
Sheena was killed on April 24, 2012, less than two months earlier.
The prosecution's pursuit of this tiny detail was because they believed the charge from Google, on Indrani's account, was to restore Sheena's Gmail account, via the Google account recovery toolkit, since Indrani did not have the password.
Restoring the account was important so Indrani could send out e-mails from Sheena's account in Sheena's name to her friends, Peter Mukerjea etc, as if Sheena was still alive, is the prosecution's belief/claim.
Bhatia, bearded, largely bald, tall, was probably in his 30s. Crisply attired in a light blue, checked full-sleeved shirt with black pants, polished black shoes, white socks, three silver rings and a gold one, and a kada (silver bracelet), he was a tad officious.
In clipped tones, he didn't say either too little or too much, although he was no doubt articulate.
He had been the branch manager in 2015 and was still the branch manager in 2020. He had joined HDFC Bank in 2005 and appointed to the branch manager's post in 2010.
His testimony lasted 10 minutes, maybe three or four minutes more than the panchas, that followed him to the stand, post lunch.
On November 21, 2015 he received an e-mail from the CBI from a Surender Kumar, asking for a credit card statement for a particular period in 2012 for Indrani's card.
The e-mail Bhatia was certain, strangely, was from the CBI, although he did not verify that. Instead he sent the request on to his bank's credit card department asking them "to share the statement with us."
They came back with details of the transaction, on e-mail, which he forwarded to the CBI.
He was well aware, at the time, of the case against Indrani and had read about it in the newspapers, he said, during his cross examination by Indrani's lawyer, the young and capable Gunjan Mangla.
Mangla wondered: "Was your e-mail available to the CBI?"
Bhatia shrugged and said flatly: "How would I know?"
Mangla checked if before receiving the e-mail had anyone from the CBI been in touch with him on the telephone or had visited him.
Bhatia said he could not remember, but later mentioned that he vaguely recalled the Khar police station speaking to him on the phone, but the details were hazy. The Khar police, northwest Mumbai, had initially handled the murder investigation before the CBI took it over.
Mangla, asking who had allowed him to go ahead with the CBI request: "Also, you did not receive a call from a senior in your bank?"
Bhatia shook his head, adding: "Nobody (more) senior in the bank apart from me."
Mangla established if the transaction with Google was done by the primary card holder or if it could have been done by an add on card holder on the same card.
Bhatia could not remember. He asked to see the statement.
Checking it out, he verified that the transaction was by the primary card holder.
Mangla: "And not necessary that the primary card holder was the only person using the card?"
Bhatia, tightly: "I would not be in a position to say."
Mangla persisted.
Judge Jagdale ruminated aloud: "It happens in a normal way of life. Father gives (his credit card) to the son, wife to the husband, father to the daughter."
Bhatia, sticking to his guns: "We issue a card to an individual. I would not know."
Mangla, dressed all in black, hands behind her back, deliberated on why the statement for that period, given to the CBI from the bank, only showed that particular Google transaction, all by itself, and there were no sister-brother transactions on the same sheet of the same day or a day before or later.
The CBI would have wanted for a certain broad period, not knowing then that the transaction had occurred precisely on June 17, 2012, but the sheet delivered up to the CBI, courtesy Bhatia, had just the Google payment on it, as if the other transactions had been consciously kept off the sheet.
Bhatia didn't offer a convincing answer.
Closing her cross-examination, Mangla smartly told Bhatia: "It is my suggestion to you that you intentionally did not put on record the rest of the transactions, at the behest of the CBI."
Before the lunch break, Indrani, in an orange kurta and white churidar, worn with brown mojris, went to CBI Special Public Prosecutor Manoj Chaladan to ask him, hopefully, a persuasive smile playing on her face, about his reply to her bail argument.
He said it would take him a few days more.
Indrani asked why he was delaying his answer.
Chaladan calmly: "I am not delaying it. Why can't you wait?"
Kumar and Ghanekar came to the stand after the lunch recess.
Kumar was formally and tidily dressed in a pale blue shirt and black pants. Ghanekar, sporting a scruffy beard, arrived, dressed in a pink and white striped T-shirt and slacks.
Both their offices had been, probably, at Nariman Point, south Mumbai, and they had been independently, it would seem, called by Kaushal Kishore Singh, the investigating officer of the CBI in this case, to the investigation agency's nearby office, to verify the handwriting on an envelope.
This envelope was a critical one.
It had contained Sheena Bora's resignation letter to Mumbai Metro One, where she had worked till her death.
Kajal Sharma assisted by Pradeep Waghmare, Prosecution Witness 4 (2018), who was the peon and cleaner at the Mukerjeas's residence and office, according to the prosecution's case, had couriered this letter to Sheena's office on receiving instructions from Indrani.
The secretary, oddly, in her testimony could not remember if she had written the address on the envelope or if Waghmare had.
In an effort to verify this, both Waghmare and Sharma had perhaps been called separately to the CBI for handwriting and signature specimens.
Kumar had been the pancha verifying the documents when Waghmare visited. And Ghanekar when Sharma visited.
Kumar said he did not know Ghanekar.
Mangla, cross-examining both of them, ascertaining who had been at the CBI office when they went there, concluded that both had been lying.
She told Kumar that when he had verified and signed the documents for the CBI, no one else had been there and that he had done this job at the say so of his bank's HR department and had been called separately to the CBI office.
And Ghanekar, according to Mangla, had not hung around for the whole process and had come at some point and given his signature.
Both denied it.
And Thursday's hearing came to an end.
The accused had spent a longish day in court on Thursday, all having lunch there too. Indrani, who has bird-like eating habits, never seems to eat much at all and can only be ever spied munching on nuts, fruits or nibbling on chocolate.
Both the Mukerjeas, now no longer related by marriage, enjoy chocolate.
Peter's sister Shangon Das Gupta, who had just returned from visiting her daughter abroad, brought him, to his delight, some wafer mint chocolates.
She also brought some children's Hindi and English alphabet books for Peter.
Peter -- who said to those sitting with him, that he is counting the days till his release, which should happen in March, once the Supreme Court decides on his bail -- uses these books to teach a fellow inmate at the jail hospital where he is still lodged.
This young undertrial can't read or write and late in life, while in jail, is trying to learn to do both with Peter as his unlikely masterji. That's part of those statistics -- 70 per cent of undertrial prisoners are illiterate or barely literate, and most are young and desperately poor.
Teaching inmates is something Peter has been doing on and off ever since he reached the bustling, overcrowded Arthur road jail, south central Mumbai, after his arrest in November 2015, more than four years ago.
And his sister regularly brings him schools supplies – notebooks, erasers, pens, pencils.
If the inmates are learning English and Hindi, at Peter's elbow, Peter is learning Marathi, his sister hopes.
One wonders what Peter will do once he is released on bail.
Firstly, he will surely get out of the white-shirt-and-khaki pants uniform he has been wearing to court for three years, his definition of dressing 'formally' for court.
Secondly, perhaps a gourmet tour of Mumbai is on the cards.
And what will he do?
Maybe he will still visit the jail to teach his pupils.
Or start classes for illiterate adults in the Worli slums, near his home.
Peter's summer certainly looks promising.
*Indian Justice Report 2019 and National Crime Records Bureau, 2019
**India Today
**In a criminal case panchas are required for crime spot panchanamas, seizure panchanamas, inquest panchanamas and memorandum (statement) panchanamas. 'It is to be noted that the panchas are to be two or more independent and respectable persons -- persons who are not of disrepute. If there is no eyewitnesses to an offence and the case is totally based on circumstantial evidence, then such a panchanama is of immense value'.
---
Vaihayasi Pande Daniel covers the Sheena Bora Murder Trial for Rediff.com.
You can read her brilliant coverage here.