Over the weekend and Labour Day, a change seemed to have come over the former secretary and her memory had all but deserted her.
Not unexpectedly, Kajal Sharma had lost much of her exactness.
Her vocabulary had shrivelled to four or five words.
Vaihayasi Pande Daniel reports from the Sheena Bora murder trial.
Illustration: Dominic Xavier/Rediff.com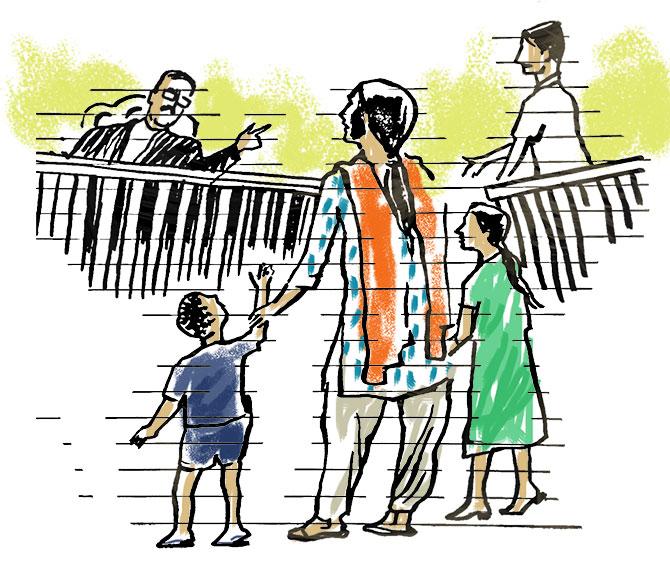 She came quietly into Courtroom 51 at the Mumbai city civil and sessions court, Kala Ghoda, where the Sheena Bora murder trial is taking place, on Wednesday May 2, trailed by a little boy, 3, and a girl, probably 10.
Wearing a blue-and-white checked kurta, edged with colourful embroidery, and an orange churidar and chunni, she hovered near the entrance behind the prosecution lawyers and the CBI officers. She was carrying a purse and a Phoenix Mills mall Food Hall bag of refreshments.
The judge spied her and the children immediately.
"Who is this?" queried CBI Special Judge Jayendra Chandrasen Jagdale, in Marathi.
Special Public Prosecutor Bharat Badami turned around to scrutinise her.
CBI Investigating Officer K K Singh replied: "Shyamvar ke missus."
Sharda Rai, wife of the Mukerjeas' former driver Shyamvar Pinturam Rai, came hesitantly forward and asked one word of the judge: "Bail?"
Rai, Accused No 3 and the approver in the case, who is lodged in the Thane jail, filed a bail application on April 3, exactly a month ago, which is still pending before the court, awaiting the CBI's reply.
He sought bail on humanitarian grounds because he said his family needed his financial support and he had finished testifying to the court.
Mrs Rai, who said she hailed from near Nagpur, was asked to wait outside.
She parked herself on a wooden bench. Her children, who seemed quite comfortable in the court environs, chattered away asking many questions of her. They wanted to know what was going on and wondered who the two or three journalists were.
She told them patiently: "Paper mein aata hai. Information dete hai (It comes in the paper. They give information)."
Both children had lively black eyes that snapped with excitement. The boy was wearing blue -- shorts and top. His T-shirt had PEACE written on it in capital letters and showed a vintage plane. He is Ashish.
The girl, Shraddha wore, maybe especially for this outing, a silky turquoise dress with silver embroidery embellishing it, a white hair band and heeled chappals. She looked just like her father.
Ashish, who couldn't sit still, jumped about making naughty noises. Sharda kept attempting to discipline him, "Shanti! (Quiet!)" and, amusingly, indicating the black-robed judge to him, visible through the door, said, "Shhh. Masti nahin Sir marega. Juice nahin milega. (No naughtiness. Sir will beat you. I won't give you juice)."
Tight-lipped and tense, she wouldn't say much, a fierce expression was stamped on her face.
A scowl furrowed her forehead. She said she had decided to come to the court on her own to find out about Rai's application: "Aise hi aayee (I came just like that)."
K K Singh came out to meet her briefly and spoke to her in low tones.
Then she went away, not unhappy, more resigned, holding her son's hand firmly as they shuffled off towards the staircase, and Kalina, north west Mumbai, and an uncertain future.
That was Wednesday. It was the day the CBI had to reply to the defence on the report they requested for the laptop and pen drive deposited by Indrani Mukerjea's secretary Kajal Sharma with the Khar police station, north west Mumbai in August 2015, after Indrani's arrest for her daughter's alleged murder.
It was also the day Rajendra Sadashiv Nikalje aka Chhota Rajan received his sentence for the murder of journalist J Dey.
By contrast, the corridors outside Courtroom 51 were funereal quiet. Badami commented wryly: "Nothing is going to happen here today. Everything going to happen up."
Indeed all the excitement was unfolding two floors up in the high-security Courtroom 57 where only pencils and paper were allowed in.
A poker-faced Rajan, who with his dyed bouffant of hair and flabby, floppy cheeks looked more like an aging Mumbai businessman than a gangster, had been beamed in from Tihar Jail, New Delhi, against a background of white bathroom tiles, to hear his sentence.
Thursday, May 3, saw Sharma's cross-examination resume.
The crisp, competent, Kajal Sharma, who left the witness stand on Thursday, April 26, and the Kajal Sharma, wearing a red kurta with gold embroidery and shiny leggings, who turned up at the witness stand on Thursday were two different people.
Over the weekend and Labour Day, a change seemed to have come over the former secretary and her memory had all but deserted her.
Not unexpectedly, Sharma had lost much of her exactness.
Her vocabulary had shrivelled to four or five words -- "shayad (maybe), dhyan mein nahin aa raha hai (it is not coming to my mind)", mostly.
Each of those words made Indrani's defence lawyer Sudeep Pasbola go up the wall.
"Mostly?!!!" he would exclaim sharply, and in intense bafflement, when Sharma used it as an answer to even the simplest of questions. Her efficiency at answering on the stand had vanished.
Every time the name Rai came up, Sharma would carefully ask which Rai, suggesting there were numerous Rais in focus.
"Shyamvar Pinturam Rai?" she would enquire warily, perplexed, as if it was more likely that Pasbola was asking about film star Aishwarya Rai rather than Rai who once was the Mukerjeas' driver.
The hearing got off to a troubled start with Pasbola and Special Public Prosecutor Kavita Patil quarrelling over the vouchers Pasbola had requested the prosecution produce.
These were vouchers, Sharma had initially said existed of payments made by the Mukerjeas' company INX Media, especially to Rai, that were seized. But the prosecution produced on Thursday just a Reliance Internet bill and not anything else.
Pasbola used the word "bewakoof banana (make fools of us)" and ranted on "Nahin hai to bolo nahin hai (If it is not there, say it is not there). You are present before the court. You know what the witness is deposing. It is not happening behind your back."
Patil, wearing a black sari with gold edging, took umbrage to the word "bewakoof" and Pasbola's bellowing and huffily said it was not the way to talk, reprimanding him, "Decency should be maintained before the honourable court."
Judge Jagdale cut in: "You are senior lawyers. You should not address each other this way. In what context she is asking? She is not aware."
He suggested Pasbola write another application stating more exactly which vouchers he referred to.
Pasbola climbed down, agreeing with the judge via several "Yes, my lords."
To the prosecution, he said with an ironical smile, "I will have to learn decorum from the CBI (even though) Madam, I am on the verge of retirement."
Thereafter began a long and trying exercise to have Sharma recollect that she had spoken about the possibility of there being vouchers for payments made to Shyamvar Rai, on Indrani's behalf, that she had handed over to the Khar police station's Inspector Dinesh Kadam in 2015.
Though Sharma had indeed said it last Thursday and it was on the court records, she dutifully denied it on Thursday and wondered what vouchers Pasbola could at all be talking about.
At the point K K Singh smiled pointedly at Pasbola.
The lawyer attempted to ask the same question a few other ways, hoping for a better result. He said he was using logic.
Judge Jagdale: "She is not supposed to answer logic." So Pasbola amended his question.
The Mukherjeas' former personal assistant continued to dispute the existence of any other vouchers other than the Reliance one for which a panchnama (a statement created when documents or material is seized) had been done.
Pasbola accused her of lying, "The CBI officer has told you to say this!"
Sharma denied that too.
Thereafter, every query Pasbola put to Sharma had a painful lag time, with Sharma greeting each question with an innocently puzzled where, which or when.
She no longer owned any ready answers. She asked -- even questions that had already been explained -- to be repeated, signalling that whatever easy comprehension skills she earlier had no longer mysteriously existed.
One blinked at her in wonderment, pondering the transformation.
Wasn't the woman, who offered quick answers with conviction till last week, a much more significant witness?
A long Q and A on travel bills was a non-starter.
Every time Pasbola asked about a bill, Sharma would be right back at him, wondering which kind of bill he was he referring to and enumerating that there were so many kinds of bills.
Was he asking about an e-mailed bill, a soft copy of a bill or a hard copy and she required five-six clarifications more.
She was getting very good at it -- at killing time.
Every question was greeted with another reasonable question back.
Her questions back were always logical. So when Pasbola lost patience, fulminating and hollering at her to answer, the judge would intervene kindly saying she had a valid question.
At one point when Sharma was analysing Pasbola's question to death, providing no immediate answer, the judge smiled broadly. So did Singh. So did her husband sitting in the front seat in office clothes -- a blue striped shirt and black trousers.
Pasbola inquired if she had a record of Indrani's arrivals into India. "Madam bahar rahti thi. Kab kab aayi? Kahan kahan gayi? (Madam lived abroad. What about the dates she came and where she went?). You were her secretary. Did you keep a record?"
Badami complained plaintively: "Multiple questions."
Pasbola to Badami: "Relax, my friend."
Judge Jagdale jokingly pointed out: "Jab! jab!"
Sharma, in not a promising tone: "Khaas record nahin rakhte the (I didn't keep any special record)."
"Khas!" groused Pasbola.
Pasbola ploughed on asking her if she had any recollection of the visits Indrani and Peter made to India.
He now referred to Peter as Peter Sahib and Indrani as Indrani Madam, as if Sharma was the house help and not a secretary.
Sharma said she could not remember when they came and went or any dates of their trips.
She backtracked and said she remembered that they came in April 2012.
Sharma: "I said they had come in April."
Pasbola offering mock relief that she remembered something after all: "Bas (fine) I am happy."
Badami: "I am also happy."
Pasbola: "I am very happy."
Pasbola wanted to know the actual dates in April.
Sharma: "Exact yaad nahin. Doh ya teen tareek (I don't remember exactly. It was the 2nd or the 3rd)."
Pasbola mischievously: "Madam aise yaad karo thoda thoda! Kitne din tak thi? (Madam start remembering in this manner, little by little. How many days was she here for?)"
Sharma: "Abhi is waqt dhyan mein nahin aa raha hai (At this moment, it is not coming to my mind).
Sharma always had elaborate language in which to express her loss of memory. Not for her, the banal yaad nahins that the previous witnesses used.
Pasbola wondered what waqt she was referring to and made a wisecrack, saying people's memory was always stronger at the CBI office.
Judge Jagdale offered with a huge smile: "Memory is a weird thing."
The hearing next headed to the main question of the day.
Pasbola probed if Sharma remembered giving Rs 50,000 to Rai to take with him to Goa to give to Indrani in that week in April 2012.
Sharma prevaricated, offering no substantial answer.
Pasbola got more and more irritated, his volume shooting up.
Pasbola acerbically: "Mein yaad dash fresh karu? (Shall I refresh your memory?)
Sharma: "Exactly dhyan mein nahin aa raha hai. Shayad kiya (I cannot recall exactly. Maybe)."
Pasbola angrily: "Exactly? Shayad kya hota hai?! (Exactly? Maybe? What does this mean?!)"
Badami piped up with wise advice: "Dheere se puchenge toh jawab milega (If you ask nicely and quietly you will get an answer)."
Pasbola then requested the court clerk to pull out some documents.
Out came a hand-written note by Sharma saying she had had Rai cash a cheque of Rs 50,000 to take to Goa to give Indrani.
Pasbola: "Yeh aapka astakshar hai? (Is this your handwriting?)"
Sharma: "Astakshar kya hota hai? (What does astakshar mean?)"
Sharma examined the document for a long time, which was apparently a handwritten note from her.
She asked what she needed to do. Pasbola again questioned her on whether it was her handwriting and was she was saying it was NOT.
She looked doubtful, unsure and said maybe it was.
Sharma: "Mostly toh mera hai. Shayad (Mostly it could be mine. Maybe)."
Pasbola squeaked in surprise: "Mostly?!"
He requested her to look at the papers again and give a simple answer of yes or no
Sharma, confusion on her face: "Dhyan nahi aa raha hai. Hoga (It is not coming to my mind. Could be)."
Pasbola roared, "Dhyan nahin?!"
Indrani, standing between Peter and Sanjeev in the rear accused enclosure, in a beige printed sleeveless kurta, matched with a light green silver speckled chunni and pale green salwar and a light green bindi, laughed loudly. She was all smiles.
Sharma reiterated: "Shayad (Maybe). Mostly."
Pasbola astonished: "Shayad mostly kya hota hai?! (What is this maybe, mostly?!)
He laughed and repeated stupefied, "Mostly?!"
He again asked her sarcastically about the cheque and the note she had written.
"Madam yeh mostly aap ne likha tha? Mostly? Shayad se? (Did you mostly write this Madam? Mostly? Maybe?)"
Sharma: "Diya hoga, shayad se (Maybe I gave it)."
Pasbola: "Dhanyavad Madam (Thank you Madam)."
So ended the hearing on Thursday. The cross examination will continue on Friday, May 4.
Shangon Das Gupta, a tall woman with a warm smile, sat with Peter behind to give him his lunch.
She shuttles between Bengaluru and Mumbai, trying to be in Mumbai every time Peter comes to court, living a life in limbo, like he is, generously sacrificing her time for her elder brother.
Till Indrani doesn't exit the courtroom to go back to jail, no one does, hanging onto their chairs, just in case she files some surprise application, seconds before departing, like did she did last week, for a divorce, via her lawyer Edith Dey.
As a colleague joked, this movie isn't finished till the credits ends, just in case something pops up.
As an exhausted and perhaps fretful-looking Sharma exited the courtroom with her husband, a team of two entered.
It turned out, they -- a CBI officer and a lawyer -- were there to quickly depose some papers towards businessman Vijay Mallya's court hearing in London.
The lawyer would not offer any further details on who they were, saying their secrecy was "In the interest of the nation."