Indrani called her personal assistant Kajal Sharma from the UK, May 3, 2012, and told her she had to sign Sheena's resignation letter as if she was Sheena signing it.
But she had to first practice the signature and send Indrani proof of her proficiency in signing Sheena's name before sending the letter off.
Sharma said she was reluctant and told the court that she told Indrani as much, but Indrani demanded it of her.
Vaihayasi P Daniel reports from the Sheena Bora murder trial.
Illustration: Dominic Xavier/Rediff.com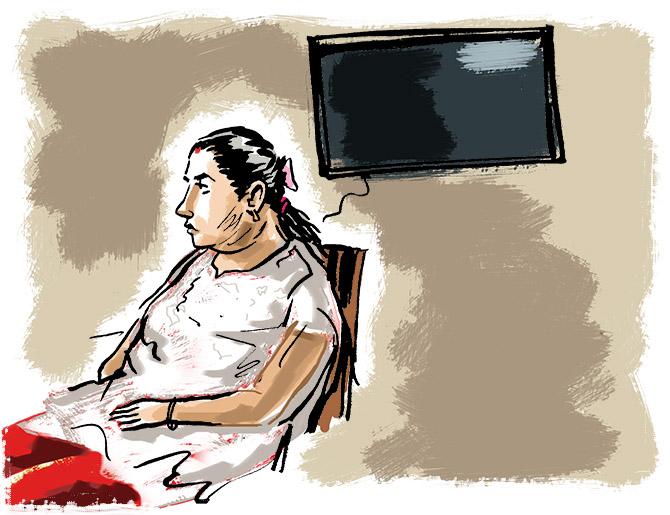 Kajal Sharma was a surprise package on her first day in the witness stand on Wednesday, April 18.
Indrani Mukerjea's personal assistant at INX Media, Sharma had already made two trips to Courtroom 51 at the Mumbai city civil and sessions court, south Mumbai last week. On both those trips, as Sharma awaited her turn in the stand, she came across as anxious and perhaps edgy.
The woman who took the stand on Wednesday turned out to be quite a different kettle of fish.
In a clear, soft but determined voice she testified before CBI Special Judge Jayendra Chandrasen Jagdale, looking him straight in the eye, as she impassively recited the events of 2012 with precise clarity, supplying readily names, spellings and numbers -- be it dates, sums of money, lengths of time or timings.
Confidence was not something Sharma lacked, evidently in spite of her gentle manner.
Wearing a white, cap-sleeved kurta with little flowers on it, red leggings and black flat oddly-pointed shoes, Sharma looked from time to time into the face of the black-and-gold-sari-clad Special Public Prosecutor Kavita Patil, who was guiding her very kindly and soothingly through her testimony.
Sharma's eyes never strayed to the back of the room, to the accused enclosure, where Accused 1 Indrani, Accused 4 husband Peter Mukerjea and Accused 2 former husband Sanjeev Khanna were sitting, although from time to time Indrani gave her a sharp look, when she wasn't whispering to Sanjeev.
Nor did Sharma look at CBI Investigating Officer K K Singh who had been granted permission by the judge on Monday to sit in the courtroom rather than roam the corridors outside.
The former secretary spoke quickly, in a mixture of fluent possibly Sindhi-accented Hindi and fluent English, blurting out details at rapid speed.
The judge occasionally had to stop her in her tracks, with his signature benevolent smile, because he was not able to keep pace, while recording her statement.
When she was not speaking, Sharma, whose hands clasped each other and the witness box wooden railing, looked down and sometimes closed her eyes, but she never sat down on the stool there. Nor did she appear uneasy in the box.
A tall man, with a receding hairline and a tilak on his forehead, who was likely her husband, sat in the front row of Courtroom 51. He listened attentively and somberly to Sharma's statement, as he held her floral-patterned bag and her small red purse.
Sharma, who graduated with an MCom from a Mumbai college and enrolled in Bright Computer Classes, Dadar, central Mumbai, for further training in computers, began working for INX Media straight after that in 2004.
Judge Jagdale interrupted Sharma's train of conversation to tell Peter across the room, with a huge laugh, "You need not have to salute him every time you see him. He is going to be in the courtroom all the time now."
The judge explained he was talking about Peter saluting K K Singh.
Peter agreed: "Yes, your honour."
Singh gave a bemused smile.
Shrikant Shivade, Peter's lawyer joked, "I feel humiliated," in reference to losing his bid to keep Singh out of the courtroom.
"There is no need of humiliation," Patil added in a placating voice.
Sharma continued: In 2006, she said, she took a break. "Mera chota baby tha. Usko sambhalne ke liye chhoda (I had a small baby and to take care of her/him she left INX Media)."
She moved, shortly after, with her family to Hong Kong.
On her return to India in June 2011 she went back to work with Indrani for Rs 30,000 per month, after she was contacted by Indrani's office and met Indrani at "19 Marlow," the Mukerjea residence in Worli, south central Mumbai.
At the time, incidentally, the Mukerjeas' driver Shyamvar Rai drew Rs 10,000 a month, as per his statement of July last year to the court.
Sharma made it a point to backtrack and add: "Mein bolna chahti hu ki us beech mein Indrani Mukerjea ke saath koi contact nahin tha (I would like to say that in between I had no contact with Indrani Mukerjea)."
She was still speaking rather low. Both the judge and Indrani's lawyer Sudeep Pasbola asked her to raise her volume.
By the time Sharma rejoined INX Media, which once a multi-million rupee operation, it was briskly shrinking.
From an office in Lower Parel, central Mumbai, Sharma detailed, they moved to the garage of the Marlow building, and the staff had dwindled to a three-member team – Sharma, office-boy-sometimes-Mukerjea-sweeper Pradeep Waghmare and "Shyamvar Pinturam Rai" ("Hum unko Shyam kehte the" or "We called him Shyam.")
Marlow society office bearers objected to this unsanctioned use of a building garage for a media company.
Or as Sharma put it "Wahan ke society walle ne objection uthaya. Garage mein office nahin ho sakta hai (The society members objected. An office could not be in a garage)."
So the premises of the company and its tiny band of three employees shifted to rented shop space in the Amrapali Arcade, Thane West, outside Mumbai.
The way Sharma described it, Rai was his own boss.
She was careful not to sound critical or put in words anything actually unfavourable, but it seemed Rai must have been a cocky fellow who didn't take any real orders from her and came and went at will.
He had no cars to drive -- Sharma vouched for it -- because INX Media and probably the Mukerjeas had none, but he was still the company driver and handled sometimes cash or cheque payments for INX.
She said matter-of-factly, "He was very close to Indrani. He did all her work. Plumbing, electrical work... Aur unka confidential kaam bhi (And her confidential tasks too)."
At that, a small smile travelled across the court room. There seemed to even be a hint of a smile on Sharma's face.
Rai was someone Indrani trusted more than she did Sharma or Waghmare, it was clear from the secretary's testimony. Sharma was instructed to teach Rai how to use Skype in March 2012.
Once the Class-10-educated driver was up to speed with the Estonia-invented telecommunication software, when Rai and Indrani spoke on Skype, Indrani told Sharma, she and Waghmare should not even be on the INX Media premises.
"Indrani instruction diya ki jab woh Shyam ke saath communicate kar rahi thi hum aur Pradeep Waghmare offices premises ke bahar jaye (Indrani instructed when she was talking to Shyam on Skype she and Pradeep Waghmare needed to leave the office premises)."
Sharma must have mentioned the three words "Indrani ke instructions" about 15 to 20 times during her testimony on Wednesday.
It was colourlessly said, but in repetition was underscored, indicating Indrani must not have been an employer easy to work for.
At times, while relating her version of events, Sharma skipped ahead, not sketching in the exact details. Patil would haul her back asking her to add the "who, what, where."
Other times Sharma went beyond the narrative Patil was coaxing out of her, and would tell the judge "Mein yeh bhi bolna chahti hu (I would also like to say this)" or "Mein yeh bhi share karna chahti hu (I would also like to share this)" and then would provide additional details.
Like the complicated financial transactions which occurred, via her, between Rai and Indrani, with Rai's appetite for money increasing, it seemed, when he wanted the full Rs 125,000 he was promised by Indrani and had gotten Rs 86,000.
Or the Rs 60,000 Indrani sent her parents Durga Rani and Upendra Kumar Bora and Mekhail Bora each month in Guwahati, interest out of Rs 80 lakh fixed deposits at the Axis Bank.
Patil: "Who was Mekhail?"
Looking at the judge, Sharma clarified she always thought he was Indrani' brother until she heard on television that Mekhail was her son after Indrani's arrest in August 2015.
Sharma -- who handled, she said, all of Indrani's bank transactions, accounts, domestic flight bookings, a few international flight bookings, hotel bookings, car bookings, dealing with agencies like Mystic Travels, south Mumbai, and Gayatri Tours and Travel, Thane, for air tickets and AM Motors, Worli for cars -- remembered March and April 2012 to be a month of uncommon occurrences in her career at INX which spanned approximately six years.
She described the series of curious tasks she was assigned long-distance by Indrani, who was in the UK, both those months.
Apart from teaching Rai Skype, Sharma had to send Rai to Delhi and Kolkata ("Shyam Delhi and Kolkata ka trip lagaane wallah tha, uske paisa lagenge" or "Shyam will be making trips to Delhi and Kolkata and will need money"), and then make arrangements for Indrani to travel to Calcutta on April 25.
Indrani flew in from the UK on April 23 and Rai absented himself from the Thane office during that period, right from "April 19-20 to the 25th."
On April 24 Sharma said Indrani called her to "19 Marlow."
When she arrived no one else was home with Indrani. She and Indrani went and made bookings for a Mr Khanna at Hiltop (sic) Hotel, near Marlow. Sharma said, "She said ek guest aa rahein hai (a guest is coming)."
"Indrani April 27 ko aayi vapas (from Kolkata). Tab tak Peter Sir bhi aa gaye. April 28th ko dono Goa chale gaye (Indrani came back from Kolkata on April 27. By then Peter Sir had arrived and they both went off to Goa)."
On May 1, the couple was winging their way back to the UK -- "Vapas London chale gaye (They went back to London)." Sharma pronounced London in that particular way it is pronounced in Hindi -- "Lun-dun."
By May 2012 things had not returned to normal. They, in fact, got more bizarre and the month brought some further and stranger requests from Indrani.
Sharma received three e-mails from Indrani. One was a scanned copy of Sheena Bora's signature ("Ek bara scanned signature"). Two were resignation letters from Sheena to the company who had employed her -- Mumbai Metro One.
Indrani called Sharma from the UK, May 3, 2012, and told her she had to sign Sheena's resignation letter as if she was Sheena signing it.
But she had to first practice the signature and send Indrani proof of her proficiency in signing Sheena's name before sending the letter off.
Sharma said she was reluctant and told the court that she told Indrani as much, but Indrani demanded it of her.
"Usne mujh ko kaha ki Sheena jo hai US mein hai. Uska koi Internet facility nahin hai aur sadhan bhi nahin hai. Uska office call kar rahein hai. Uske paas sadhan nahin tha insist kar rahi thi... woh humein urgently keh rahi thi. I didn't have any option than to obey the orders of my boss (She said Sheena was in the US and had no Internet or means and her office was calling repeatedly. She insisted I do this)."
Once printed out and signed, Indrani had a set of further "instructions".
It was to be put in a white envelope and couriered -- in stealth -- to Mumbai Metro One's Andheri, north west Mumbai, address.
"Phir akele jaake courier karna hai (She said I should go and send it by courier alone). She told me ki Andheri mein koi crowded place mein jana jahan CCTV nahin hai (She said go to some crowded place in Andheri where there are no CCTVs and send it) Mein akele nahin gayi (I didn't go alone). I took Pradeep Waghmare with me."
Sharma said she and Waghmare went to the Mulund, north Mumbai, office of Maruti Courier Services. She felt it didn't make a difference if it was sent from Andheri or Mulund because the letter would reach the Mumbai Metro One office within a day.
Once again -- as always on Indrani's instructions -- "Ek PCO coin box se Sheena ke office phone kiya (I called Sheena's office from a public coin phone)," and told them to expect the courier.
In July another odd request and e-mail, quite like the May 3, 2012 one, arrived.
This time it was a copy of Sheena's leave and license agreement with her landlord. Sharma was to sign a letter terminating it.
"Indrani ne phir se instructions diya ki mein sign karu (Indrani again gave me instructions to sign it)."
Judge Jagdale looked puzzled: "Mark my signature?"
Sharma: "Sheena's signature."
Judge Jagdale to the room, with a smile, complimenting Sharma: "She is quite alert about it."
This time too, Sharma told the court she protested and said she had forgotten how to sign the way Sheena did.
"Mein ne bola uska sign bhool gayi (I said I had forgotten her signature)."
This time too Indrani insisted. She told her to practice again and send her evidence that she had mastered the signature.
Said Sharma: "I was under compulsion. Mere paas koi option nahin tha (I had no other option). After disagreeing also I had no other option."
The documents were signed and handed over to Rai, who then apparently did the needful.
There was a request after that from Indrani to create an e-mail ID for Sheena in Hotmail. Sharma said she did that, but she specifically added she no longer remembers what happened to that ID nor could she remember its password.
That was where Sharma's testimony ended on Wednesday.
Patil got up to mention that she would like permission to have certain documents displayed. The judge looked a little baffled at the abrupt ending or shutdown of Sharma's evidence.
Pasbola, Indrani's lawyer, interjected wryly, "That's all she has prepared today."
The afternoon of April 23 was chosen for the next hearing.
Peter took the stand to request permission to eat the lunch his sister Shangon Das Gupta had brought him.
The judge said, like last week, that food was a basic necessity and added with a laugh, "Don't demonise me. Every time it sounds like I am preventing you from having food!"
This time there was no tasting ceremony required by the police.
Sanjeev too took the stand. He had still not been able to see a doctor for his leg rashes or his retinal issues and 12 days had passed.
"They have not sent me," he said politely to the judge as if he was talking about permission to attend a tea party, rather than a visit to a hospital for symptoms that needed timely attention.
It transpired that they had fixed for Sanjeev to go to the Sir JJ Hospital, central Mumbai, on April 11, but Sanjeev had to come to court and opted to keep his court commitment.
Judge Jagdale was astonished that Sanjeev had not yet received medical help and said he would pass another order to make sure it happened.
Earlier, Pasbola got up to seek permission to speak to the accused -- Indrani -- privately, in the courtroom, but out of earshot of the police and CBI for five minutes. Permission was granted.
But the overzealous police weren't listening to the judge.
The police had been in full force on Wednesday, right from the time Indrani stepped off the jail van and made her way to the court building, wearing a white shirt, khaki trousers and black shoes, actually what she was wearing at her last court hearing, after which she took ill and was hospitalised.
The Indrani who floated into view, walking quite swiftly, minutes before the court hearing time, followed by Peter and Sanjeev, had recovered rather well from her illness brought on, hospital records said, by an overdose of drugs.
She was pale and not her bouncy pre-JJ-Hospital-visit self, but the heat on Wednesday was overpowering and was getting to everyone, including Peter, who looked droopy and drained.
Indrani told one of Peter's friends, whom she met on the third floor outside Courtroom 51, that still she wasn't feeling 100 percent yet.
Her police security were feeling a proactive 200 per cent as they guarded her every step and move.
Some 16 cops were in action watching over mainly Peter and Indrani.
Many or all of them seemed to be over-zealous, new faces. Likely, the earlier lot of policewomen, who accompanied Indrani to court, could be in the doghouse following reports that she allegedly consumed something she obtained on the court premises.
This new lot of police personnel followed Accused 1 around like bloodhounds.
Two women cops, with the Mumbai police's new blue baseball hats, stood on either side of the accused enclosure during the court hearing. They peered intensely at Indrani intermittently, ready for action.
So when Pasbola requested time alone with Indrani, the cops were not having anything of it. Indrani came to the front row of the courtroom, under Judge Jagdale's eagle eye to sit with her lawyer.
She was diligently shadowed by five police personnel, who on the orders of two senior stone-faced women cops edged suffocatingly even closer.
Pasbola lost his cool. He got up and stomped away, growling that he had enough and didn't want to speak to his client.
The judge pacified him and asked the over-enthusiastic cops to back off.
They extravagantly retreated a few inches and Pasbola began to urgently, and perhaps sternly, speak to Indrani along with lawyers Gunjan Mangla and Siya Choudhry for a good five minutes.
She then recounted something to them in a low voice and they were all in deep discussion.
The ring of policewomen kept up their suspicious 360 degree surveillance looking at them narrowly and anyone left in the courtroom.
After a bit, the police began to object again, saying time was up and fiercely crowded in closer.
The judge once again told them off.
When the time was up, Indrani was efficiently and hurriedly rushed out of the courtroom, through the corridors and down the stairs to the jail truck parking area, ringed by cops.
Sharma and her husband left nearly half an hour before. They too hurried out of the courtroom the moment the hearing ended, after Patil gave them permission to leave, stopping to talk to no one, Sharma's red messenger purse swinging.
"She (Sharma) must have been at the top of her class at school," a colleague quipped, "and an ace at ratoing (rote learning)."