'Here was a man who played a major part in helping the Bengalis of East Pakistan create a new nation, secured the merger of Sikkim into the Indian dominion and built R&AW into a formidable outfit, comparable to the best in the world.'
Rameshwar Nath Kao shunned the limelight, hated to be photographed and preferred to work behind the scenes.
A revealing excerpt from Nitin A Gokhale's much awaited book, R N Kao: Gentleman Spymaster.
Illustrations: Dominic Xavier/Rediff.com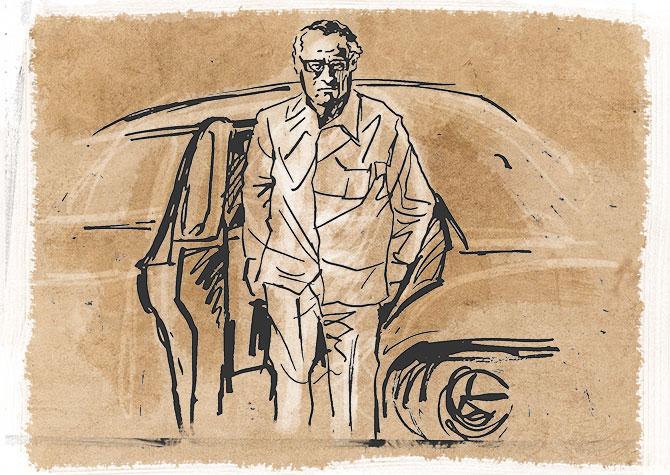 'He was a noble man!' This was how Malini Kao, the frail 99-year-old widow of Rameshwar Nath Kao, described her husband as she sat at the dining table in the Kao household in July 2019.
Even though largely confined to her bedroom and most of her faculties failing her, she seemed energised when she was told that a book on RNK was at a planning stage, and that the author wanted to meet her.
'He had an outstanding career,' Malini Kao added as an afterthought. Straining to remember their life together (they were married for 60 years), she described RNK as a loyal and gentle man, who never thought ill of anybody.
RNK, a devout Hindu, was deeply spiritual and practiced meditation and puja every day. A devoted family man, RNK and Malini Kao had stayed with RNK's younger brother and his wife as a joint family under one roof all their life.
In the Kashmiri Pandit community, the brothers were known as 'Ram-Lakshman ki jodi' (pair) because of their close bond.
Their bungalow in Vasant Vihar is, in fact, aptly named Saketa (Ayodhya), the abode of Prabhu Ramchandra. RNK had an unparalleled sense of duty, which he fulfilled as the family's patriarch.
Their daughter Achala Kao, now Achala Kaul, remembers RNK as a man with strong convictions about right and wrong.
'He never pontificated and always led by example. He used to say, "nasihat mat do, namuna ban jao (Don't advise, set an example for others to follow)." That was the essence of the man,' Achala says, her face glowing with justifiable pride.
Malini Kao narrated the incident when the couple had met Ma Anandamayi. RNK greeted her with a pranam, when she asked, 'Kya naam hai tumahara?' When he told her that his name is Ramji, the saint said, 'Jas naam thata gun (The man has attributes that go with the name).'
In the Hindu religion and mythology, Ram is considered an epitome of duty and principle. The saint apparently saw similar characteristics in RNK. He was well versed in the Gita and the Ramayana.
A very disciplined and punctual man, RNK disliked sloppiness. His routine was set. Breakfast at 9 am, lunch at 1:30 pm and dinner at 9 pm.
'When he used to ask us to be ready by 8, we made sure that we were ready by 5 to 8,' Achala recalls.
A teetotaller and vegetarian, RNK nevertheless was an extremely gracious host and served alcohol to his guests. Malini Kao was a good cook and enjoyed entertaining people.
Meticulous to the core, he always wore three-piece suits during winters and white, khadi bush shirts in summer months. He had immaculate taste and was particular about dress and manners.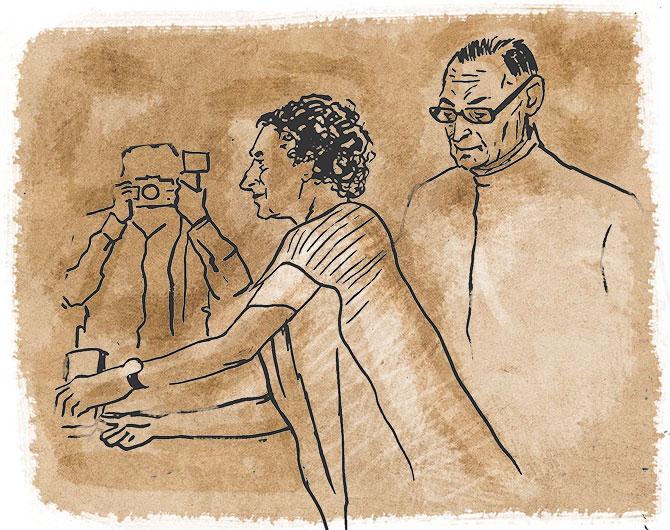 Hormis Tharakan, who headed R&AW between 2005 and 2007, has a memory of his last meeting with RNK.
'I met him for the last time in the winter of 1998 just before I left Delhi on transfer. When Molly, my wife, and I reached Vasant Vihar, Mr Kao, wearing a perfectly-stitched pinstripe suit and Mrs Kao, with a smiling face as always were waiting in the drawing room to receive us. Caught up in the evening Delhi traffic, we were about 15 minutes late. As I expected, Mr Kao remarked on the delay with some displeasure. He was always a stickler for time. But thereafter, he got fully involved in hospitality. Although he had only a soft drink, he would pour me nothing but Scotch (that too, Black Label). Though I said I would get the second drink myself, he did not agree. He got up with some difficulty, and poured another drink for me.'
The couple were mentors to two generations of RAW sleuths. Vikram Sood, who joined the agency in 1972 and rose to become its chief in 2001, says, 'The impression I formed about RNK in the first meeting was only reinforced over the years; he was a father figure who led by example.'
This sentiment is echoed across the board -- by his colleagues, by his subordinates and by the people who interacted with him professionally.
Sankaran Nair who succeeded RNK in 1977 as the second chief of the department -- albeit briefly -- had this to say about Kao, 'Ramji ... a person of high intellect, a true Hindu and a man who will not harm his worst enemy. Once I found one of our ex-colleagues, who had retired, waiting to see him for some favour. I queried Ramji why he was willing to help this man who had been spreading false rumours about him. His reply was that rumours would not harm him, but any assistance provided to our ex-colleague would help him.'
The friendship and professional collaboration between Nair and RNK is legendary in the secretive world of foreign intelligence.
Their contribution in building an organisation from scratch is a rare success story in post-Independence India.
RNK and Nair were different like day and night, but their bond went beyond their individual personalities. And RNK's saintly demeanour amused and irritated his friends, such as Nair, no end.
As he remarked to RNK with reference to the above cited incident, 'Ramji, you should be sitting in a cave in the Himalayas contemplating your navel. But don't forget to store scotch in the cave for my occasional visits!'
But RNK was not all about official work alone. He had an artistic bent of mind -- a man who loved to sculpt and someone who had an eye for beauty.
He worked with wood, clay and stone. He was a man with a strong sense of smell and loved fragrant flowers. 'In our house, fresh flowers used to be changed twice a day,' Achala fondly recalls.
In his post-retirement years, RNK pursued his hobby of sculpting more vigorously and frequented the Garhi village in Delhi. He was a great patron of young artists and encouraged them, since RNK felt that artists always struggle for survival.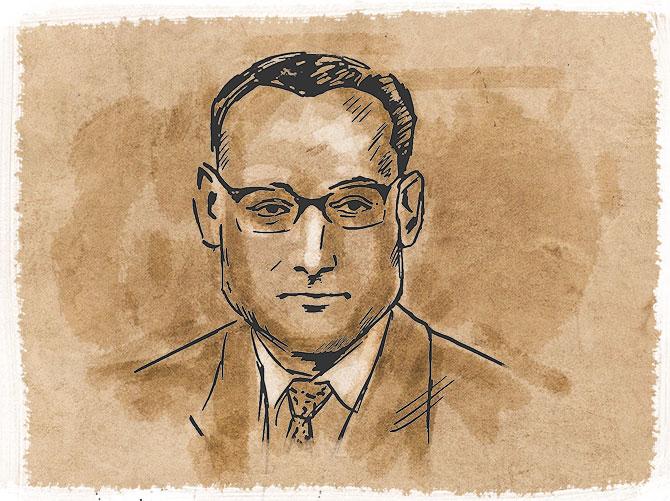 During his frequent visits to Garhi, he came across a young artist named Mohammad Sadiq and worked with him.
Today Sadiq is settled in London but still keeps in touch with the family. 'We always receive Diwali greetings from him every year,' Achala says.
RNK had great love for animals. Very early in his police career, RNK had developed a love for horses. Dogs were always a part of the household.
Later in life, when all the pet dogs died one after the other, RNK would make sure stray dogs in the locality were fed and sheltered properly.
Achala remembers, 'If it was raining and RNK noticed a stray trying to find shelter, he would tell the domestic help, 'woh phatak ko khol doh, unhe andar rahne doh (Open the gate. Let them stay inside).'
'He was, of course, very protective about me and he was very discreet about keeping a watch on me. Every morning, he would gently and casually ask, "So what's your programme?" I didn't realise back then, but there was always someone around discreetly keeping an eye on me.'
'I remember, once I had gone to watch a movie in the old Odeon theatre with a friend when electricity failed. There were a very few people in the hall.'
'We were waiting for the lights to come back when a man came and said, "Madam, yeh bijli aane mein do-tin ghante lag jayenge. Aap chale jayiye. (It will take two-three hours for electricity to be restored. You should better leave)." Much later, I realised that he must have been the minder sent by Daddy,' Achala recalls.
As the Kao brothers got on in age, Anil Kaul, a corporate professional who worked in Mumbai, decided to shift with them in Delhi. ;There, during RNK's later years, Anil experienced the awe in which RNK was held.
'After Mr Kao's demise, once I was out for my usual walk in Vasant Vihar when an elderly gentleman taking a stroll with his wife stopped me and asked, "Are you Kao's son-in-law?" When I nodded yes, he remarked, "What a man! What achievements. Faristha tha (He was an angel)".'
'The gentleman just wouldn't stop praising Mr Kao. Just then, his wife butted in and addressing me she said, "Do you know, even my husband was a governor?" The moment she said that, the old man flared up and said, "Kya baat karti ho! Kahan Kao Sahib, kahan mein! (What are you saying? Look at Kao Sahib's stature and look at mine!)".'
'On another occasion, I was passing by the Senior Citizens Club in our locality when an elderly man stopped me and after confirming I was Mr Kao's son-in-law, broke down, resting his head on my chest and sobbing away. I didn't know how to react. I just stood there, dumbfounded. That is the kind of respect and veneration he commanded,' Anil Kaul said.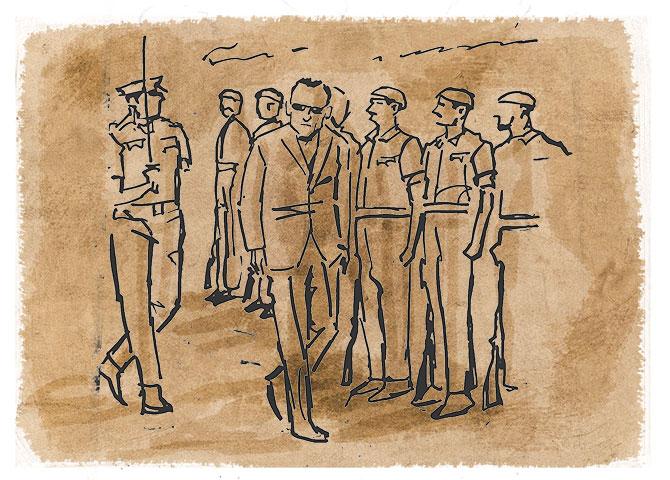 There are many other happier memories Kaul has about RNK -- the avuncular patriarch of the house -- such as the way he treated the domestic help, the subordinate staff and even strangers who asked for assistance.
Once, on a flight from Bombay to Delhi, Kaul had spotted Field Marshal Sam Manekshaw. He went up to him and introduced himself as RNK's son-in-law.
Sam, as Mankeshaw was generally known, broke into a genuine smile and exclaimed, 'Ramji, my good friend! How is he? Son-in-law, huh? Sit, sit. Tell me, how's Malini? How are they keeping?'
Manekshaw was beside himself just at the mention RNK's name. 'For the next 15 minutes, he made me sit next to him and chatted about their times together,' Kaul remembers.
Sam and RNK, besides others, were the pivotal figures in India's 1971 campaign to liberate East Pakistan. They not only had a genuine professional partnership but had developed a close personal bond as well.
On another occasion, Kaul accompanied RNK to a big function to honour the Dalai Lama. It was organised at the convention centre of the Ashok Hotel in Delhi. More than 1,500 people attended the event.
As was his wont, RNK had preferred to sit many rows away from the front in an aisle seat. As the Dalai Lama arrived, everyone in the hall stood up. As he made his way to the stage, the Dalai Lama was responding to greetings from people on either side of the passage, when he suddenly spotted RNK.
'The moment he recognised Mr Kao, the Dalai Lama's face broke into a big, broad smile. He stopped, clasped Mr Kao's hands with both of his hands and said, "Kao! How are you, my friend?" The Dalai Lama was beside himself with sheer joy.'
'Mr Kao, on the other hand, was embarrassed by the public recognition. Fortunately, the organisers gently took the Dalai Lama forward,' Kaul remembers vividly.
Even foreign interlocutors had only words of praise for RNK. B Raman, another former R&AW officer, quotes a French spy chief, Count Alexandre de Marenches, who included RNK as one of the five great intelligence chiefs of the 1970s.
De Marenches had remarked, 'What a fascinating mix of physical and mental elegance! What accomplishments! What friendships! And yet, so shy of talking about himself, his accomplishments and his friends.'
It was this loyalty, a sense of purpose and innate shyness that prevented RNK from writing his memoirs or give interviews.
Despite being active till the end, for 18 years after giving up his formal positions in the government, RNK did not speak at any public function, refrained from interacting with the media or write his autobiography.
And he had so much to share and reveal! After all, here was a man who played a major part in helping the Bengalis of East Pakistan create a new nation, secured the merger of Sikkim into the Indian dominion and build the R&AW into a formidable outfit, comparable to the best in the world. In this context, one incident comes easily to mind.
In 1996, several functions were held in Delhi to commemorate the 25th anniversary of the birth of Bangladesh, which was attended by many who were associated with it in one way or the other.
At one such meeting, a Bangladeshi citizen, familiar with Delhi's who's who, noticed a handsome, impeccably dressed man sitting at the back of the room, as if trying to make himself inconspicuous.
The Bangladeshi realised it was RNK. So, he went up to him and said, 'Sir you should have been sitting at the centre of the dais. You are the man who made 1971 possible.'
Embarrassed at being spotted, RNK replied, 'I did nothing. They deserve all the praise.' After that, he quietly left the hall.
Many others have similar stories about his simplicity, his obsession with keeping a low profile and polite behaviour even at the peak of his power and influence.
Vappala Balachandran,an IPS officer of the 1959 batch, who joined R&AW in 1976 after spending 17 years in the Maharashtra police, worked closely with RNK in his post-1977 years.
After his retirement in 1996, Balachandran has been a prolific commentator on national security affairs. Speaking to me at his elegant flat in Mumbai, Bala, now in his early eighties, recalls an incident at an Intelligence Bureau conference in December 1975.
In August of that year, Bangladesh's founding father, Sheikh Mujibur Rahman, and nearly 40 members of his family were massacred by disgruntled Bangladeshi army officials, sending shock waves across the subcontinent.
There were also whispers about R&AW's failure to prevent the carnage. Middle-level police officials from all states in the country were attending the DIG-CID conference in Delhi.
RNK was one of the speakers at the three-day meeting. After RNK's opening remarks, a DIG from Madhya Pradesh, perhaps wanting to confirm the alleged failure of R&AW in not being able to save Mujibur Rahman, asked, what seemed an impertinent question to the audience.
As Balachandran remembers, 'DIG Qureshi from MP asked a particularly loaded question as to why our external intelligence was caught napping about the Bangladesh coup. As we all squirmed in our seats at the expected explosion from RNK, who was at the peak of his power and influence, all that he was willing to say in his inimitable style was, "I can assure you that we were not surprised at the developments".'
'There was no attempt to browbeat the questioner on the basis of his seniority or to show off his foreknowledge -- instead a factual understatement was provided, which was the hallmark of the traditionalist, British-trained spy chief.'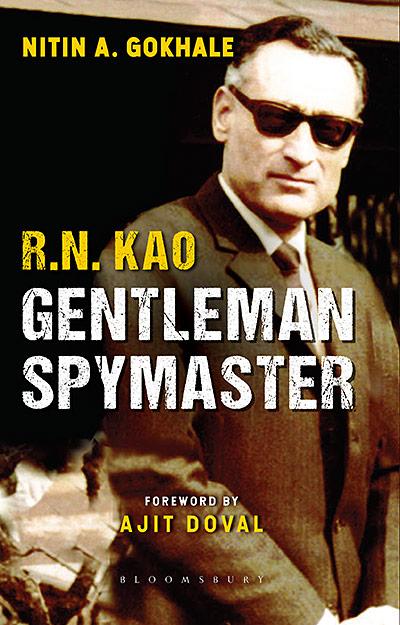 Vikram Sood, amongst the first to join R&AW from allied services (he came from the Indian Postal Service), and who rose to become one of its most respected chiefs in the early 2000s, remembers RNK to be suave, extremely polite and very stylish right after his first encounter with the legend.
'After I was told by my service that I have been shortlisted to be deputed to a new organisation (in those days, no one spoke of R&AW, as it was all very secretive), I was interviewed by Mr Sankaran Nair followed by Mr Kao. Even after all these years, I remember being dumbfounded in Mr Kao's presence, although the interaction was brief. He was not looking for knowledge or cunningness from me. There were no tricky questions either.'
'All that Mr Kao and Mr Nair were doing was to size me up. Of course, they asked me if I was prepared to spend my life in this organisation. That was easy. I had no intention to spend the rest of my career in the postal service.'
Sood, who has recently authored an important book on the art and craft of intelligence, and is now something of an elder statesman for the outfit, says, 'RNK inculcated a habit for precision and meticulousness in our functioning. We could not make a mistake in our report. We could not be anything but be meticulous in our reporting. Each word had to be weighed. Sometimes, your report would come back marked with a tick and a remark, 'off '. Aap raat bhar sochte rah jaate, kaise miss ho gaya? (You would think the entire night, how did you miss that?)'
'That is the kind of precision he wanted in your communication; he led by example. He did not shout even if he wanted to be stern with someone. He was very particular about conducting meetings. RNK did not like anyone speaking out of turn or anyone interrupting when a conversation was on.'
Sood says he will remember his last meeting with RNK forever. 'We used to have an annual get together where serving and retired officers used to come together for an evening. That particular day in 2001, I got delayed in official meetings since there was an alarm -- false as it turned out -- about terrorists having entered the Doordarshan headquarters.'
'As I reached the headquarters, almost 90 minutes late, Mr Kao spotted me. "Okay good, now that you have come, I can go." Embarrassed, I said, "You could have left any time, Sir." "How can I go before the chief has come?" Mr Kao remarked.'
'That was the last I saw him. I still have a picture, a rarity, from that meeting,' Sood reminiscences as he looks back at the remarkable man who shaped R&AW's destiny.
That was quintessential Kao. A private man, who shunned the limelight, hated to be photographed and preferred to work behind the scenes, even in his personal life.
Nitin A Gokhale, one of South Asia's leading strategic analysts, is a renowned author, media trainer and founder of the specialised defence-related Web sites BharatShakti.in and Strategic News International (sniwire.com).
His previous books include Securing India, the Modi Way; Rashtriya Rifles: The Home of the Brave; Beyond NJ 9842: The Siachen Saga; 1965: Turning the Tide: How India won the War; Sri Lanka: From War to Peace and The Hot Brew.
---
Excerpted from R.N.KAO GENTLEMAN SPYMASTER by Nitin A Gokhale, Bloomsbury, with the author's kind permission.