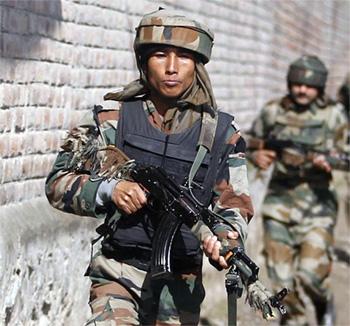 'After General Raheel Sharif took on the Tehrik-e-Taliban Pakistan, some sections of the military establishment may have felt unease as to whether the crackdown could be extended against friendlier 'non-State' actors like the Lashkar-e-Tayiba,' says Rana Banerji.
While it has been customary to use the media grapevine or pliable journalists to blame Indian intelligence agencies for whatever goes wrong in Pakistan, the Inter Services Public Relations May 5 press release, issued after the corps commanders conference the same day, 'taking serious note of RA&W's involvement in whipping up terrorism in Pakistan,' is certainly unusual in the sense that such a direct charge proximate to domestic events has not been made in the recent past.
Defence Minister Khwaja Asif -- who descends from a notable Muslim League family close to Jinnah, and who is currently engaged in a factional squabble within the ruling PML (Nawaz) party against Interior Minister Chaudhry Nisar Ali -- duly weighed in with a Geo TV cameo, alleging that RA&W had been 'formed to undo Pakistan' and 'wipe it off the map of the world.'
The Pakistan foreign office duly followed up on the ISPR charge on May 6 by stating that it had 'reminded' India several times in the past to avoid interfering in Pakistan's internal affairs, though Dawn quoted the new foreign office spokesman, Qazi Khalilullah, as admitting that they 'were unaware' of any 'fresh proof' against R&AW other than alleged involvement in FATA and Baluchistan, which had been brought to the notice of the Indian authorities in the past.
The ISPR statement could be indicative of new pressures on the Pakistan army chief's team from within the senior collegiate generals' lobby in the army to take a more hardline position on India policy.
After General Raheel Sharif took on the Tehrik-e-Taliban Pakistan militants in FATA under the Zarb-e-Azb operation, some sections of the military establishment may have felt unease as to whether the crackdown could be extended against other friendlier 'non-State' actors like the Lashkar-e-Tayiba or even the sectarian Lashkar-e-Jhangvi who are still deemed valuable.
As Cyril Almeida explained (Dawn May 3), this may have necessitated a 'balancing act' to increase 'hawkishness on India and Baluchistan' by 'several notches'.
If the recent army promotions are examined, this impression of collegiate army generals' pressure on Pakistan army chief General Raheel Sharif to undertake course corrections seems to get corroborated.
Soon after he took over, General Raheel Sharif took the unprecedented step of appointing a serving general, Lieutenant General Zubair Hayat, as the director general of the Strategic Plans Directorate, SPD, easing out the legendary professional, Lieutenant General Khalid Kidwai (retd), who was well regarded in the West as a responsible nuclear proliferation proponent.
General Hayat's positioning at the SPD was seen by some military analysts in Pakistan as a possible side-tracking, with General Sharif's blue eyed boys -- Lieutenant General Ishfaq Nadeem, chief of the general staff, and Director General, ISI, Lieutenant General Rizwan Akhtar emerging as favourites for succession as the next army chief when General Sharif's term ends in November 2017.
General Hayat has now made a comeback as chief of the general staff, a post traditionally regarded as very important in army career planning. An artillery officer, he remains in the race for army chief, having already completed a brief tenure as corps commander in the 31 Corps, Bahawalpur.
His brother Omar Hayat, who is from the ordinance corps, also makes it as lieutenant general, going to the Pakistan ordinance factories, Wah post, as chairman.
Lieutenant General Ishfaq Nadeem goes as the new II corps commander in Multan, though he is not from the armoured corps, but hails from the Azad Kashmir regiment. Lieutenant General Mazhar Jamil, the erstwhile military secretary and also an artillery officer, has moved as the new director general, SPD.
General Sharif is now almost mid-way through his term as army chief. In overall terms, his actions seem to have had general popular endorsement, especially in regard to the war against terror.
He is seen as not being afraid to take big decisions, and quickly enough, marking him out differently from his dithering predecessor, General Ashfaq Kayani. Yet he may face some constraints in regard to moving strongly against entrenched right of centre conservative radicals, both in civil society and internally, within the army and ISI.
There may be other compulsions. On April 11, unidentified gunmen shot dead 20 labourers working on a bridge construction site near the Sohrab dam in the Gagdan area of Turbat district in south west Baluchistan.
This revived the spectre of insecurity for outsiders working in the province, especially the Chinese, on the eve of President Xi Jinping's visit to Pakistan and forcing the army chief, on a Quetta visit, to accuse 'foreign spy agencies' of arming terrorists in the province.
After the raid on 90, Azizabad, MQM leader Altaf Hussain's home in Karachi, on March 11, Malir Superintendent of Police Rao Anwar accused RA&W of training MQM militants.
This has been an oft repeated charge, but the Karachi police officer was promptly suspended for exceeding his brief. Yet the charge was allowed to float around till Altaf's own sarcastic speech, and subsequent emotional apology, about why RA&W had not helped MQM more wholeheartedly!
The crackdown on the MQM is seen very much as a continuation of the DG, ISI General Rizwan Akhtar's policy from his erstwhile assignment as DG, Pak Rangers, Sindh.
It received only grudging political support from the Pakistan Peoples Party-dominated Sindh administration and also from Prime Minister Nawaz Sharif. There have been rumblings of discontent within other sections of the political and military establishment on ties with the MQM, some woven during General Pervez Musharraf's honeymoon with the latter, which still reflect sympathy for the beleaguered Mohajirs.
(Lashkar-e-Tayiba terrorist) Zaki-ur Rehman Lakhvi's release on bail by the judiciary remains an embarrassment internationally for Pakistan and generates some unease in both the political and military establishment.
Though the Lashkar-e-Taiyba has been asked to lie low at present, there is a lurking apprehension that its cadres may not like to remain braided indefinitely and provoke some incidents against India.
This could needlessly raise the ante and force the army to face a hostile two front situation at a moment when it is engaged in crafting a fragile peace negotiating arrangement between a recalcitrant Afghan Taliban and the new Ashraf Ghani dispensation.
The calculation to warn RA&W could have stemmed from a pre-emptive motive to ward off any such eventuality.
Rana Banerji is a former Special Secretary, Cabinet Secretariat. He is currently a Distinguished Fellow at The Institute of Peace and Conflict Studies.