There is little doubt that the Dongria Kondhs are facing their biggest challenge.
Being small in number, they need special attention and care in order to fight this deadly virus, reports Rashme Sehgal.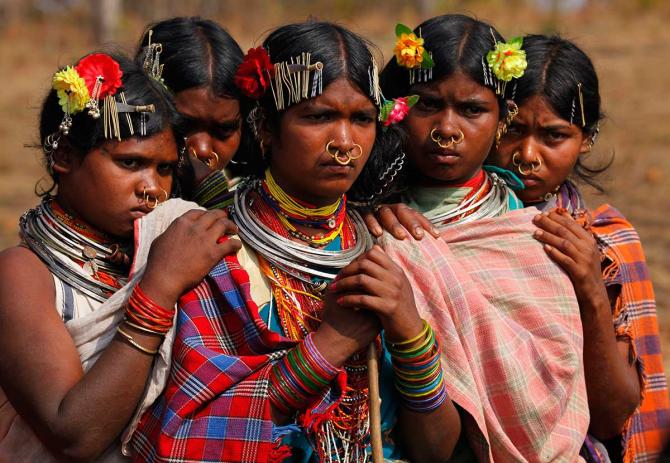 The Odisha government needs to take a leaf out of the way the Kerala government has handled the COVID-19 epidemic amongst tribal communities living in tribal villages some distance from Palakkad.
When the Puthur Domiciliary Care Centre received an SOS from the tribals informing it that some members from this community had developed high fever, a team of doctors trekked a considerable distance by foot to treat members of the Irula, Mudugar and Kurumba tribes many of whom tested Covid positive and were brought back to Puthur for treatment.
Sadly, this concern is missing completely in the case of the 10,000 or so Dongria Kondh tribal families living in 102 villages situated in and around the Niayamgiri hills spanning 240 sq kilometres of dense tropical forest across the Rayagada and the Kalahandi districts of Odisha.
The Dongria Kondh is considered one of the most vulnerable tribal groups in the country. These tribals regard this hill 'as their father, their mother, their god and their goddess,'.
The Dongria Kondhs had waged a determined war to ensure that no mining was done in the Niyamgiri hills and their determination paid off despite continuous and repeated efforts by the Vedanta group to start mining here.
They waged a David versus Goliath war and showed unanimity in 2013 when they voted against allowing mining to start in the Niyamgiri hill under a Supreme Court ordered referendum that was personally supervised by a civil judge of the Cuttack high court.
The state-owned Odisha Mining Corporation was supposed to provide the bauxite extracted from the Niyamgiri hills to the Vedanta refinery.
But activists working with these tribals are now fearful that this highly vulnerable group should not be felled by the COVID-19 virus.
They are also worried that the Odisha government may show stepmotherly treatment towards the tribals because of their steely resolve not to give up their traditional land.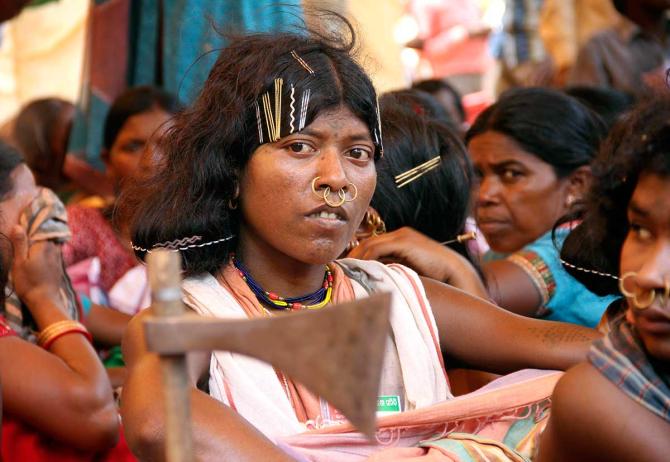 On Monday, May 24, 122 fresh cases were recorded from Kalyansinghpur, Bissam, Cuttack and Muniguda blocks where the Dongria Kondh tribes reside.
On May 27, the first death of a tribal sarpanch, Sasanka Nahaka, was reported.
Bissam Cuttack District Collector Saroj Kumar Mishra blamed test hesitancy as being one of the reasons why early detection did not take place amongst the tribals.
Phulbani Collector Brundha D had sent a medical team under the supervision of Block Development Officer Abhimanyu Behera and Tehsildar K K Pradhan to conduct rapid antigen testing for Budelipada and Jharmundapada villages where the tribals have been suffering from high fever and flu-like symptoms.
Over 80 people from Budelipada and Jharmundapada villages have been suffering from high fever and flu-like symptoms for the past week.
Meanwhile, the administration has declared Burangia village under Daringibadi block as a containment zone after three persons tested Covid positive.
Ten tribals from various blocks have been admitted to different hospitals.
The problem is that there is so much suspicion in the minds of these villagers that they flee their village when they see medical teams approaching forcing the administration to seal entry points in order to collect swab samples.
Swab samples of 43 persons were collected on the day for testing and medical aid provided to the ones experiencing symptoms.
"Preventing community infection among Dongria villagers will be a major challenge for the administration," says Aflatoon, national general secretary of Samajwadi Jan Parishad.
"But it is important for the government to use a sympathetic approach while dealing with the Dongria Kondh villagers," Aflatoon adds.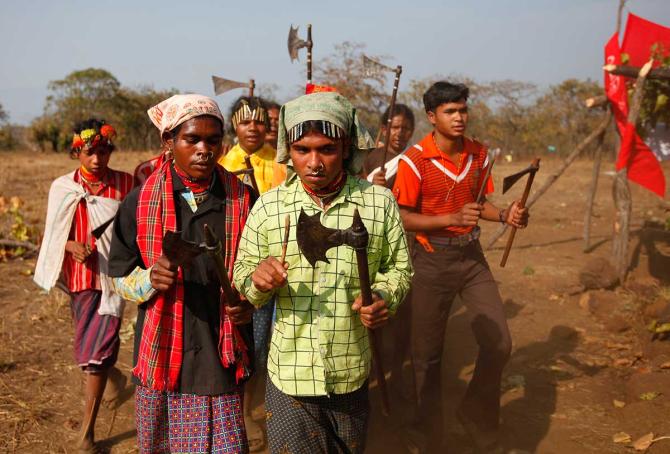 Lingaraj Azad, Samajwadi Jan Parishad national president who has been leading the protest against the setting up of the Vedanta alumina refinery in the foothills of the Niyamgiri hills, points out, "They believe in community living and do not understand the concept of being isolated. We are trying to build some huts so that those who have COVID-19 can live there for the period in which they have to be isolated."
"for nearly two decades now these tribals have faced an onslaught of hostility from the state administration as also other vested interests," Lingaraj Azad, who has led several anti-mining agitations and who is also adviser to the Niyamgiri Suraksha Samiti, asserts.
"the Niyamgiri hills contain a bauxite reserve whose worth has been calculated as running into millions of dollars. They have become extremely suspicious of outsiders and view these attempts by the administration in that light," Azad adds.
"For too long, tribal communities have been pushed off their land in the name of development and industrialisation, their attempts to defend their lands brushed aside or brutally suppressed. Over these years the state government has made little attempt to reach out to them," Azad explains.
There is little doubt that the Dongria Kondhs are facing their biggest challenge.
Being small in number, they need special attention and care in order to fight this deadly virus.
A petition has been sent to Chief Minister Naveen Patnaik pointing out that home quarantine measures will not work for them as the tribals believe in a commune culture.
Prafulla Samantara, an environmental activist and recipient of the Goldman Environmental Prize, has urged Patnaik to set up quarantine centres close to their villages as also door-to-door surveys by trained volunteers from villages for a regular monitoring of the symptoms.
Activists point out that the Odisha government showed tremendous will power when it decided to eradicate malaria in the state.
They cite how several innovative methods were used to bring down cases of malaria from nearly 450,000 in 2016 to around 55,000 two years later.
Odisha has a large tribal population many of whom belong to the most endangered categories.
"Paying attention to their safety should be paramount," says Lingaraj Azad, "especially since they are the guardians of our forests without which no nation can survive."
Feature Presentation: Ashish Narsale/ Rediff.com