'She had a curiosity which she translated into action and was always open to new ideas and suggestions for the betterment of society.'
Malti and Mudit Jain remember Indu Jain, the chairperson of the Times of India group, who passed into the ages last week.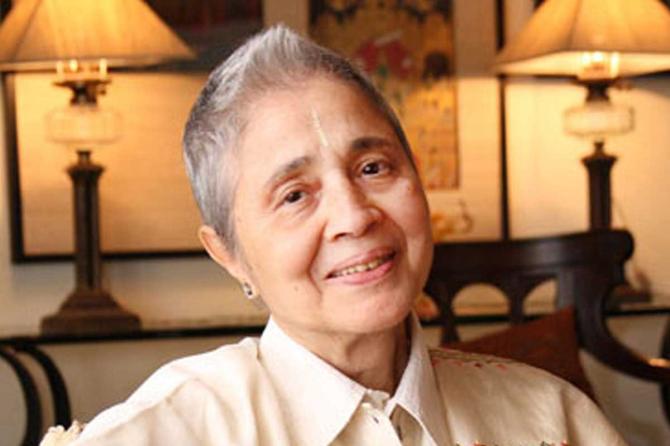 Indu Jain, September 8, 1936 - May 13, 2021
How does one begin to write about a dear aunt, Taiji, who was both an institution as well as a dear relative?
The personal life is mixed with public life and since so much is written about her public life, I will share vignettes of personal experiences with her with my wife, Malti, whom she adored.
Respected Taiji, as we would address her, was full of life and while unconventional was also very practical.
She made Malti and me undergo Art of Living courses and the initial Wholeness course of the Isha Foundation at her residence in Mumbai as she felt it would provide us a new dimension to life as we were going to get married soon.
We learnt something new and also delved deeper into exploring the alternate reality which I explored further going on a Dhyan yatra in the Himalayas led by Jaggi Vasudev and also participating in courses in the ashrams.
She used to host many meetings on many varied subjects such as leadership, espousing social causes, Jainism, cleaning up of the Vrindavan, the playground of Lord Krishna, vegetarianism...
At these meetings she personally used to serve people food or 'prasad' as she called it and galvanised them into action by providing support to their activities.
She also started holding meetings at The Times of India office at Boribunder, Mumbai, for NGOs conducting focused seminars on topics of public interest.
She started a group of women's movement for prosperity and peace to encourage women to enrich themselves with ideas for self development.
At many dinners with her in which Malti and I partook, she always kept a pen and paper ready to explore and investigate any ideas that came out of our conversations.
She started the Times Foundation, modeled on the Ford Foundation, to bring awareness to matters of public interest as well as personal individual development.
Being a seeker, she used to explore all aspects of inner growth and well being from landmark education to Osho to new age gurus etc.
I used to say she was a Guru's Guru.
In any personal problems, which Malti and I shared with her openly, she used to offer both practical and useful suggestions to deal with them.
She enjoyed travelling and sightseeing and Malti was with her on one such trip to Europe where they visited museums, monuments and met people enjoying life in a way that is meant to be.
She also enjoyed good vegetarian food and went to many restaurants in London recommended by Malti.
She had a curiosity which she translated into action and was always open to new ideas and suggestions for the betterment of society.
She hated negativity and replaced it with action to do something positive.
Whatever the causes that she encouraged, she took a deep interest in it and connected others to take it many steps ahead.
Her dignified presence will be missed and her actions for a better world will continue to live on as she will in the memories of those that she touched.
She has crossed over to the other side submerging with the Divine.
Mudit Jain is Managing Director, DCW Limited.