'There's a cycle of fear where everyone fears each other. We are keeping a distance from everyone'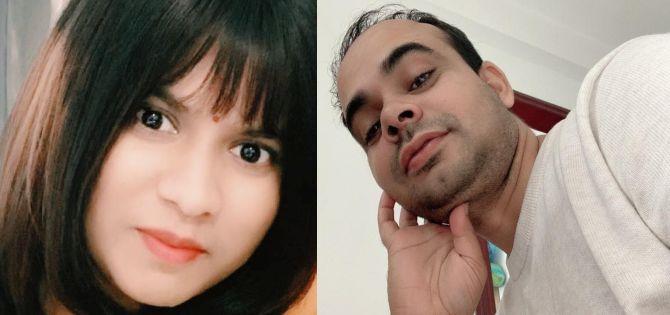 Ashish Yadav, an associate professor at Wuhan Textile University, and his wife Neha Yadav, a native of Etah in Uttar Pradesh, have been stranded since January 22 at their home inside Wuhan University, epicentre of the coronavirus outbreak in which more than 2,000 people have died in China alone.
The couple had earlier appealed to the Government of India to rescue them and waited eagerly for India's aircraft to evacuate them from the living nightmare.
India has despatched a C-17 Globesmart, the largest military aircraft in its fleet, to bring back on Friday the remaining 100 or so Indians left in Wuhan. Air India has already evacuated more than 600 Indians from the city.
Ashish and Neha spoke to Syed Firdaus Ashraf.Rediff.com over the phone from Wuhan of waiting to come back to India.
Ashish Yadav
At present we don't know what time the flight is coming. The only thing we know is that we are going to leave Wuhan tomorrow. We are only hoping that we come back to India soon.
All the buildings around my home are sealed. In fact, a university hostel close to my building has been converted into an isolation ward.
My Chinese neighbours are helping me to get food and drinking water.
I have not spoken face to face with anyone since January 22. There are only nine of us in our building and they all are Chinese.
Like us, they also stay indoors all the time. The fear is so palpable that no one steps out and talks to one another. Each of us thinks the other is positive for coronavirus.
The Chinese government hasn't ordered people not to interact, but the atmosphere of fear lingers heavily all over.
The Chinese authorities have asked people not to walk in groups and try to remain solitary.
The person who delivers food to us messages on the WeChat app and then at a decided time he drops food at the main gate of our building. We are not allowed to go and pick up the food immediately. After the delivery boy leaves, we are allowed to leave our flat after 30 minutes and pick up our order. This is a rule that everyone has to follow in the university campus.
The delivery boy fears we might have coronavirus and we, on the other hand, fear that the delivery boy must be carrying coronavirus so it is a cycle of fear where everyone fears each other. We are keeping a distance from everyone.
On January 24, I tried to walk around our campus. I saw a man walking towards me, but suddenly he changed direction, fearing he would contract the virus.
I don't know how far things have improved in Wuhan. Yesterday, one Chinese news article stated that water in our pipes might be contaminated with coronavirus. I have no idea whether this is true or not. And therefore we have stopped using tap water too. We used to boil tap water and drink, but now we depend on bottled water.
I have stopped watching the news because I get more worried after watching the news. I don't feel like working too. And even if I call my family back home, how long can I talk?
I keep fearing the worst every time I feel feverish or sneeze leading to many sleepless nights.
If that wasn't enough, when you go to any store to buy medicines for fever, the employees inform the doctors and you are forced to go to hospital for a check-up.
Earlier, they would check our body temperature every two hours to find out whether I have contracted coronavirus or not; that routine changed to one day a week and now they have stopped that.
I believe we are in the safe zone now.
Rumour mongering regarding coronavirus is very rampant.
Some say inhaling dust particles could lead to being tested positive, forcing many to shut their windows. However, how long can one stay in an air-conditioned room?
We cannot even dry our clothes as we have to keep all our wet clothes inside the room because we now fear coronavirus might enter through air.
The Chinese government is cracking down on people who are spreading rumours and till date 15,000 people have been arrested. The government is trying its best to control rumours, but they refuse to die.
Another rumour was that garlic water was a cure for coronavirus. The other was that if one drank whiskey or wine you wouldn't be affected by the virus. This resulted in a rise in sale of whiskey and wine. Soon, there was no whiskey and wine was available in Wuhan.
Neha Ashish Yadav
I had a miscarriage and returned home on January 22. On that very day, the entire city of Wuhan was shut down.
I am thankful that I came back on January 22 or else I would have been confined to a hospital which would have been worse.
The worst day for me was when the doctors came to our home to check whether we were infected with coronavirus or not. There were 10 of them, all dressed up like astronauts.
I cried and cried because I felt if I am found positive for coronavirus I would die in China and never see my country again.
Luckily, I was not positive. And rumours spread so fast on the university campus that we were detected with coronavirus which was untrue.
The only way to spend our time is the WeChat group all the Indians staying in Wuhan have formed. We have become friends as we are all in the same boat.
Every day we feel the Air India flight will come, but it has not come yet.
We have run out of food and we don't have flour. We are only eating rice. There is no bread, butter or jam too.
We have stopped eating breakfast and eat lunch at 11 am. In fact, we have stopped enjoying meals and only want to come back to India.
My family is worried as they know that the isolation ward has come very close to our home; it is only 20 metres away from our home and it is just a crossing away.
Our government is trying its best to bring us back.
We were told yesterday that we have to keep our belongings packed and ready as the plane could come anytime from India.
Now we are waiting for that official phone call from the Indian embassy that will finally say that the flight has landed, and to come back home.