'While I am talking to you, I have no idea whether I'm infected or not.'
'I just want to go back home safely.'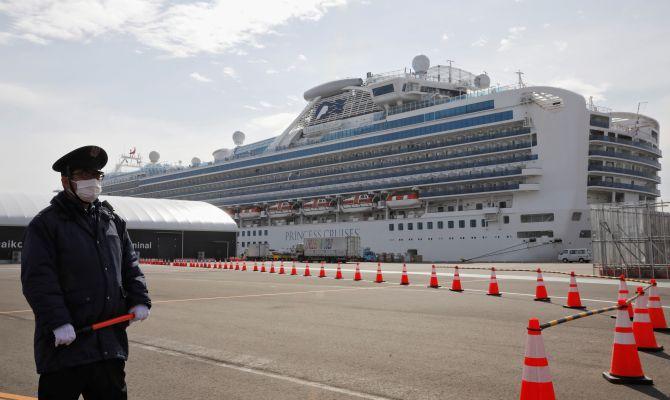 Every two hours, Binay Kumar Sarkar measures his body temperature with a thermometer, his hands shivering at the fear of mercury reaching 37.5 degree Celsius.
Sarkar is an Indian crew member on board the cruise ship Diamond Princess which has been quarantined off the Japanese coast following the diagnosis of coronavirus cases on board.
A day ago, Sarkar's colleague -- whom he does not want named -- a resident of a township near Mumbai, found his body temperature to be above the 37.5 degree mark.
He was immediately quarantined and told not to leave his room on board the ship which has 3,711 people on board of whom 174 people have so far been diagnosed with coronavirus.
Sarkar's colleague joined the list of coronavirus patients soon after a Japanese doctor tested his sample to be positive.
Another Indian of the 138 crew members on board the ship has also tested positive for coronavirus.
Earlier, a video of Sarkar and colleagues, in which they drew attention towards the plight of people aboard the ship, went viral.
Sarkar spoke to Rediff.com's Syed Firdaus Ashraf from the ship that remains quarantined at Yokohama port, 45 minutes from Tokyo.
His story, in his own words:
---
Along with my colleagues, I am in a situation which is worse than war.
In war, at least you know from where the enemy will attack you. But here, we don't know when, from where and whom the coronavirus will attack.
It is just a matter of luck. If you are infected, you will be quarantined and sent to hospital.
As a precautionary measure, you have to check your body temperature every two hours. Every member on the ship is scared to go through this process.
Everybody prays that their temperature is not above 37.5 degree Celsius.
On Tuesday, February 11, we were shocked to find out that one of the Japanese doctors who came to test us also tested positive for coronavirus.
He risked his life and came to save us, but he too got infected.
At present, while I am talking to you, I have no idea whether I'm infected or not.
Those who are strong may survive for a longer while. But people with a weak immune system are the most vulnerable.
The Japanese government is giving us all help and so is the Indian government.
Unfortunately, international law says we have to remain quarantined and there is no way the Indian government can take us out of here.
Our company, Carnival Support Services India Private Limited, which has 51,000 employees, is helping us a lot in these times of crisis and giving us hope.
I am told that after February 19, those who are not infected will be allowed to leave. I am hoping to go back home.
There was another cruise ship, Dreamland, that went to Hong Kong and then went to India. I believe the Indians on board the ship were allowed to go after being quarantined for some time. I am hoping that happens with me too.
My brother and my wife constantly talk to me on the phone. Every two hours they call to ask my body temperature.
We have food supplies in plenty and we can watch movies for entertainment. But the fear of catching the disease is not letting us enjoy anything.
The only constraint put on us is that we are asked to sit in groups of not more than three people to prevent the spread of the virus.
There's still a week to go. We are facing death every minute.
I just want to go back home safely.