'The emotions I saw in the eyes of the survivors when we pulled them out of the sea into our helicopter will remain with me for the rest of my life.'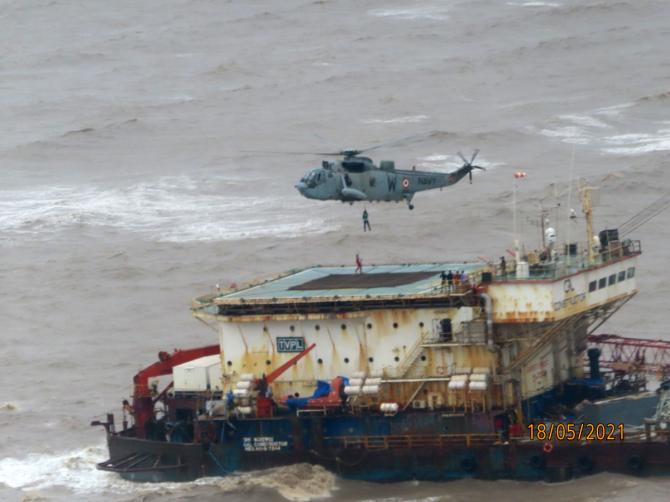 Seven naval helicopters were launched from INS Shikra, the heliport in Mumbai, to rescue survivors from the sea in one of the worst cyclones last week.
Naval pilot Commander Deepak Dewan, Chief Flight Diver Prahlad and INS Shikra Commanding Officer Captain Dushyant Purohit look back on that tumultuous day with Rediff.com's Archana Masih.
---
'It's our job to save lives'
Commander Deepak Dewan, pilot, Sea King helicopter
Our helicopters took off for search and rescue operations at first light on May 18.
The area identified was 80 nautical miles from the coast of Mumbai. Indian Navy ships were already carrying out search and rescue the previous day and night. We coordinated with the ships which directed us to the area where survivors needed aerial rescue.
The winds were at 80-90 km/hour. There were heavy clouds. The weather was marginal. I was flying the Sea King helicopter and was accompanied by my co-pilot, diver and winch operator.
The survivors in the water were easy to identity because they were wearing orange life jackets.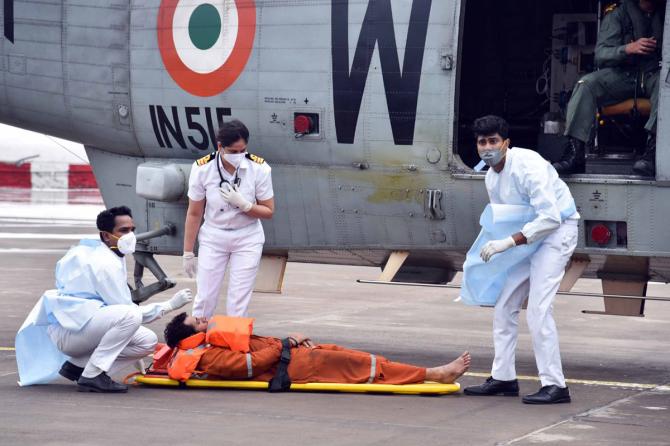 'Holding the aircraft steady was a challenge'
A helicopter is a very unstable machine. Coming to a hover was a challenge when the wind speed was 80-90 km/hr and wave height was 5-7 metres.
Maintaining hover 50 odd feet above the survivor in those winds was challenging.
We had to hold the aircraft steady as we positioned the helicopter above the survivor. One wave, and he would drift 10 metres away.
We had to anticipate the movement of the wave and move the helicopter accordingly so that we were above the survivor for the diver to go down and pick him up.
It took 10-15 minutes to maintain steady hover.
The survivor had been adrift for than 16 hours. A person can survive without food and water in a calm sea for a maximum 24 hrs. In a storm, he consumes a lot of sea water.
When he was winched up it was an emotional moment because one life saved is one family saved.
It was like a second life for him.
It was with this intention that we were trying to pick up as many survivors and operating at our maximum limit of endurance. It was emotional, but we also had to be practical and save as many lives as possible.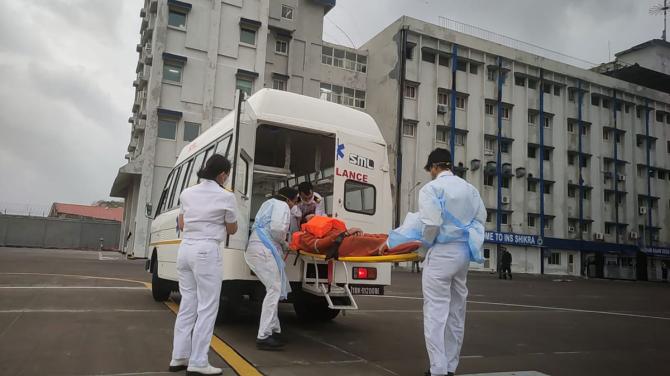 'My chopper did not let me down'
It was a challenging mission, but the Indian Navy trains us for moments like these.
After picking up the survivor, it took us 45 minutes to fly back to our base INS Shikra where a medical team was waiting.
After this rescue, we went back to look for more survivors. Our brief was to rescue the lone survivors who had drifted far from groups.
I wanted to pick up maximum survivors and get myself, my crew and my helicopter back safely. We pilots know our helicopters in and out; we know its limitations; we know what is the maximum we can ask of it.
I asked the maximum out of my helicopter -- and it did not let me down.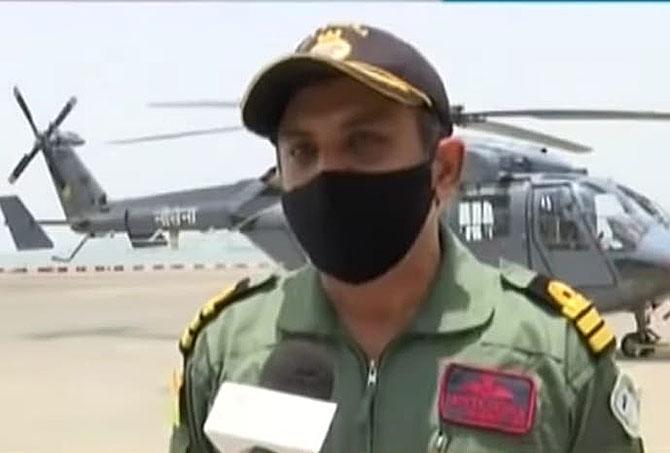 'Saving lives is a wonderful feeling'
I experienced Cyclone Hudhud in 2014 when I was second in command of my ship and we rescued survivors off the coast of Vishakhapatnam.
Hudhud was not as severe as Taukte.
Saving lives is a wonderful feeling. I did four-hour missions and flew for 20 hours over three days in the search and rescue efforts.
Our team of helicopters rescued 39 survivors.
This mission will remain close to my heart because my helicopter operated in very tough conditions. The emotions I saw in the eyes of the survivors will remain with me for the rest of my life.
---
'Nothing is greater than saving a life'
Chief Flight Diver Prahlad, ace rescue diver and diving instructor
It is not very easy to convince a person who has battled a cyclonic storm at sea throughout the night that we will save him.
Spotting a helicopter gives them hope for survival.
When we see someone in the water, we don't know what condition he is in -- whether he is injured or whether he knows to swim or not.
We dive into the water and come out behind him so that he does not struggle. We harness him on to our chest to enable him to breathe - and then tell him that we have come to save him.
We then signal to the winch operator to pull us up.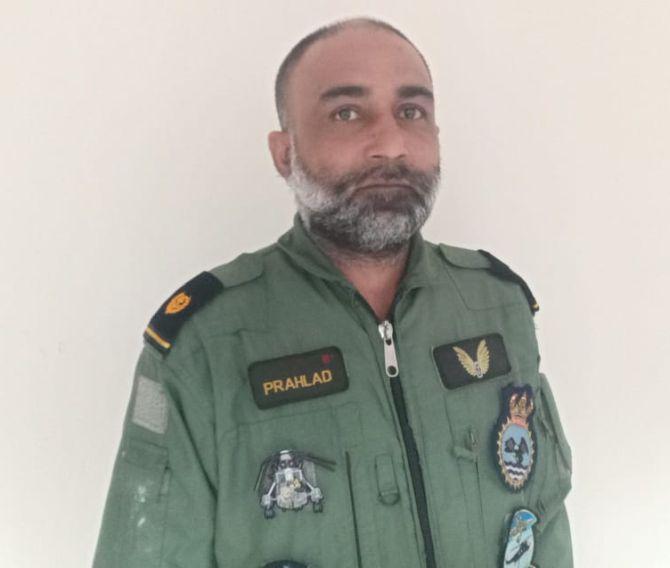 'The Indian Navy's diving course is very rigorous'
The biggest challenge is to convince the person that we are there to save him so that he does not struggle.
The Indian Navy trains us for such situations. We simulate these conditions in a swimming pool once a week for training.
The diving course of the India Navy is very rigorous and difficult. During my course, 36 had joined and only 4 could successfully complete the course.
I have also been a diving instructor for two years.
After the cyclone hit off the Mumbai coast, I rescued 4 people by diving into the sea from a helicopter. Our team also winched up 25 people who were stranded on GAL Constructor.
My family knows that someone is waiting for us to save them.
Nothing is greater than saving a life.
---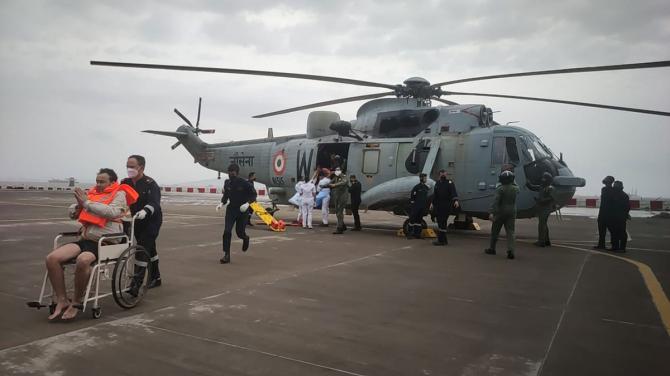 'Our mission was to search for the outliers'
Captain Dushyant Purohit, Commanding Officer, INS Shikra
We were informed about the approaching cyclone and knew there would be some search and rescue requirements after the storm passed.
We made sure that the technical team made the helicopters fully serviceable. The flying crew was identified and instructed to be ready. The weather was very bad on the first day [May 17], hence flying was not possible.
May 18 started at 4 am. The sea had thrown so much debris on the dispersal area that it took us one-and-half hour to clean up before the helicopters could be brought out and rotors started.
The debris could fly into the rotor and damage the aircraft.
The crew was charged up. The technical team had worked in extreme weather conditions -- some sheets had flown out of our own hangar and water had entered the area.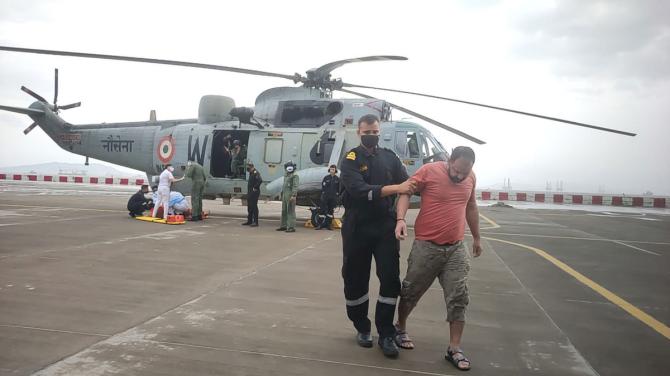 'We seized the opportunity and launched'
We got a window of opportunity on 18th morning. The wind speed was at the limit of the aircraft's endurance.
I remember standing by the aircraft, the rotors starting with my fingers crossed. The winds had briefly come within the envelope of the helicopter, but we did not know how long it would last.
We decided to seize the opportunity and launch.
Operational capability cannot be acquired in a day. Qualifications of the air crew are developed continuously and getting them fully operational is a time taking process. Every air crew is made to go through a lot of testing and exams before they reach that milestone.
I was confident of our pilots' operational capability. I knew they would be able to negotiate the weather in the air.
I was confident that INS Shikra and the Indian Navy had instilled the right qualities in the crew to carry out the mission.
But one is always anxious till the aircraft and crew returns safe while maintaining a veneer of calm.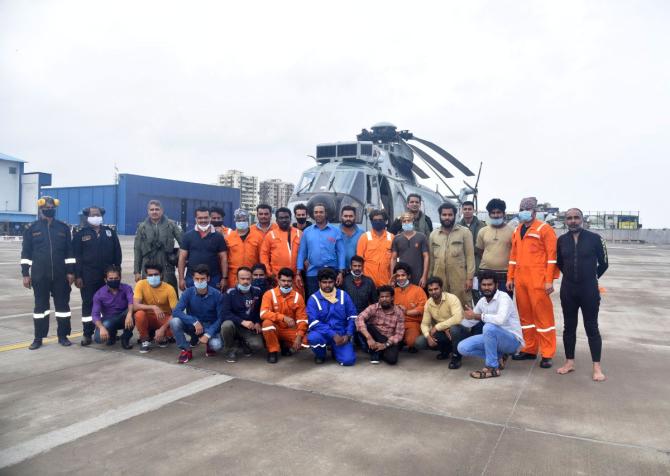 'It was a race against time'
We launched 7 aircraft in cycles from INS Shikra. This was done to maximise the rescue efforts.
We launch in cycles when we know an operation is likely to continue for more than a day because you have to keep the fatigue of pilot and diver in mind, especially in those conditions.
Our mission was to search for the outliers, those who were not in group and had drifted far from the rescue ships. Our naval ships had been conducting rescue ops nearly 24 hours before the helicopters were launched.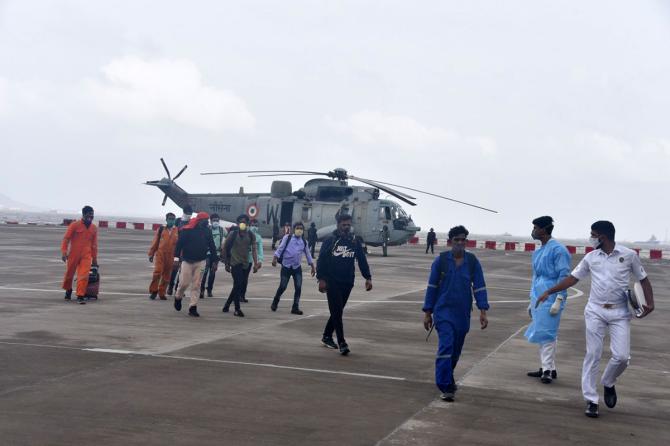 The first aircraft that took off was piloted by Commander Bipin Panicker. Chief Flight Diver Prahlad was part of that crew also. They rescued 3 people from the water.
Our choppers were also directing the ships to groups of people stranded in the water. The bigger groups were rescued by the ships; while we picked those who could not get close to the ships.
Our helicopters winched up 25 people from the barge GAL Constructor that was adrift.
A search and rescue effort is always a race against time because you need to rescue as many survivors. Recovering mortal remains is also an important part of SAR.
On their return to the base, the survivors were given first aid, blankets, biscuits etc. They could not eat because they had ingested too much sea water.
'It was a ferocious storm'
The eye of the storm was 100-120 km away, but the wind force and rain was very severe.
Usually a cyclone loses intensity after making landfall, but Taukte was so severe that even two days after it passed, the winds were very high. The sea continued to be very rough which made search and rescue very difficult.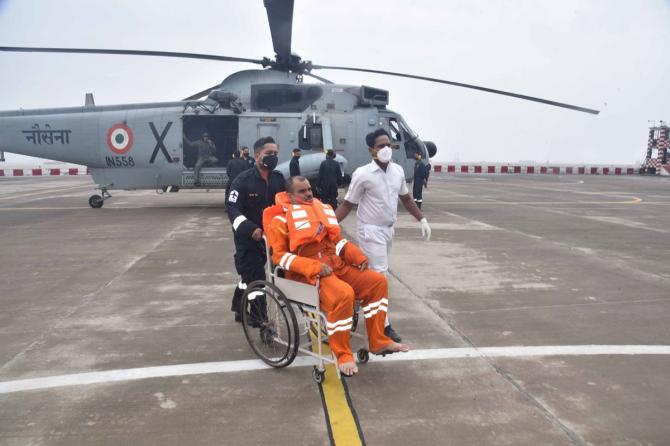 I was responsible for the machines and crew because I was putting them in harm's way. I must confess I was anxious till they returned safely. I had to keep their morale up.
I am proud of my team.
Our strength also comes from the support of our families. They are the steel frame on which our edifice is built.
Feature Presentation: Aslam Hunani/Rediff.com